Home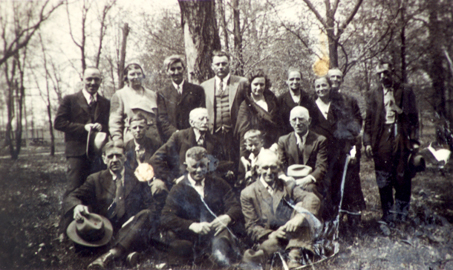 Of the many reunions of various branches of our family, none was as large in size and scope as the Younkin National Home-Coming Reunion of the 1930s and early '40s. Held at the IOOF Picnic Grove in Kingwood, Somerset County, PA (the same place as our reunions from 1986-2005), these gatherings drew more than 1,000 people a year during the heart of the Great Depression. This photograph shows one of the early meetings of the reunion committee, including cousin Charles Arthur Younkin (back row, third from left) of Charleroi, PA, who was secretary of the association, and Otto Roosevelt Younkin (next to Charley) of Masontown, PA, who was president. Charley Younkin is thought to have based the format of these events on the Harbaugh Reunions he had attended for eight years up to that time.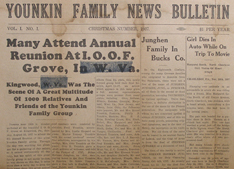 In 1937, to support the Younkin effort, Charley launched a major publishing outreach with the printing of a national family newspaper, the Younkin Family News Bulletin. Eight issues were produced between 1937 and 1941, providing remarkable insights into this massive, sprawling clan and the latest research available at that time. In 1938, cousin Horton Younkin of Ashville, OH, showed a copy to newspaper columnist Clyde Mitchell of the Pickaway County News. Mitchell later devoted an entire column to the reunion and family newspaper, and wrote:
[Horton] showed me what I believe to be the only newspaper whose news is devoted entirely to one family and which is written and published as a family newspaper.... [He] told me when he gave me this paper that he attended the reunion in 1935 and 1936...
America's entry into World War II, in addition to waning interest, was the death knell for the original Younkin reunions. In 1991, after 50 years of inactivity, they were revived by Donna (Younkin) Logan of Frederick, MD and again held at the Kingwood Picnic Grove. The tireless Donna hosted a Younkin website; published her own version of the Younkin Family News Bulletin; traveled to Germany to make connections with current-day cousins; and launched a DNA research project to determine precise Younkin bloodlines. In about 1996, cousin Diana (Younkin) Egan of Salem, OR, formed the Younkin Reunion-West in Oregon to benefit West Coast kin who could not make the long trip east to Pennsylvania. Sadly, both Donna and Diana passed away in 2006, but their legacies still live on the Minerd.com and Younkin websites, Donna's 2004-2005 travel diary, and through the Younkin Reunions in Kingwood each July.
The Younkin and Minerd-Minard-Miner-Minor families were very close, and we know of at least 12 marriages between the clans during the 19th century, including some who were truly "kissin' cousins." The earliest wedding was in about 1802, when Jacob Minerd Jr. and Catherine Younkin were married near Kingwood. Others were between Henry and Polly (Younkin) Minerd; John M. and Laura (Minerd) Younkin; Charles and Adaline (Harbaugh) Minerd; Jacob M. and Mary Jane (Christner) Younkin; James and Candace (Rush) Minerd Jr.; Ephraim and Joanna (Younkin) Minerd; Ephraim and Rosetta (Harbaugh) Minerd; William and Catherine (Knight) Younkin; William "Dayton" and Lucinda (Harbaugh) Younkin; John and Martha Ellen (Swarner) Vough Jr.; and Jacob Y. and Minnie (Enos) Kuhns. There likely are more still.
We are in the process of trying to gather original copies of each of the original eight newspaper issues, with the hope of reprinting them someday. We also are analyzing correspondence between committee members in the 1930s that is putting more flesh on the bones of this significant effort, and will be included in references throughout this website wherever possible. In some cases, the letters and notes are rewriting history in terms of which Younkins belonged to which branches. It will take many months if not years for this research and re-publishing process to be fully completed. This page will be updated accordingly when new details are brought to light.
Copyright © 2006-2007 Mark A. Miner