Minnie (Enos) Kuhns
(1876-1932)
Minnie and Jake

Minnie Ann (Enos) Kuhns was born on Oct. 22, 1876 near Normalville, Fayette County, PA, the daughter of Perry and Joanna (Minerd) Enos.
Minnie was active at the Poplar Run Church near Normalville, and in May 1892, at age 16, was elected librarian of its Sunday School.
On Feb. 11, 1896, at age 19, Minnie married a distant cousin, 23-year-old Jacob Y. Kuhns (1872-1963) of Indian Head, Saltlick Township. He was born on Oct. 18, 1872 in Saltlick Twp., Fayette County, the son of Jacob and Susanna (Younkin) Kuhns, and the grandson of Jacob J. "Dorky Jake" and Dorcas (Hartzell) Younkin. The image seen here is thought, but not proven, to be of Minnie and Jake.
They resided in Indian Head, and had two sons, Donald Kuhns and Charles Kuhns.
The Connellsville Daily Courier once said Jacob was "a lifelong resident of [Saltlick] township. He had been a blacksmith, timberman and farmer, and at one time had been employed by the Indian Creek Coal and Coke Co." The Courier also said that the Indian Head Church of God had been "built on his home farm."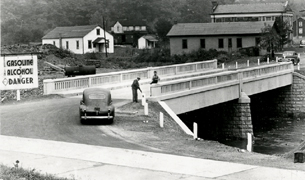 A rare postcard view of Indian Head
In 1895, Jacob and W.B. Kuhns and Clark S. Miller went to Pittsburgh "to take in the sites of the exposition," reported the Courier.
Jacob made news in the local newspaper gossip columns two days before the end of the 19th century. The Dec. 29, 1899 Courier said he "was down from Indian Head Saturday making the last purchases before Christmas. He also called at The Courier to extend his subscription for another year."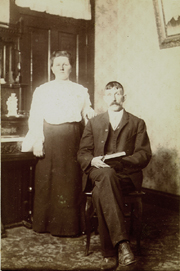 Minnie and Jake
When Minnie's father died in 1909, Jacob received funds from the estate for furnishing molasses.
Minnie died at age 60 on Nov. 12, 1932 at home, from the lingering effects of heart disease. She was buried in the Lutheran Cemetery near Indian Head.
In the mid-1930s, Jacob and his family were named in family history studies being conducted by Otto Roosevelt Younkin of Masontown, PA. The research was in connection with the National Younkin Home-Coming Reunions being held in Kingwood, Somerset County, and which drew more than 1,000 people a year during the heart of the Great Depression.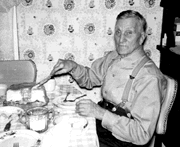 Jake cutting a cake
Click to see the actual page of Otto's meticulously typed notes mentioning Jacob and his siblings and parents (spelled "Koontz"). Click here to learn more about the much-married Younkin and Minerd families.
Jacob outlived Minnie by more than three decades. He held strong political beliefs and voted in every local election. A column in the Connellsville Daily Courier in November 1959 opined on the following:
Jacob Y. Kuhns of Indian Head holds a record that few others can duplicate. He has been voting in Saltlick Township for 66 years. Kuhns, now 87 years of age, voted for the first time "on age" as he approached 21. He is a Democrat and hasn't missed casting his ballot at a single election since he went to the polls for the first time. Despite his advanced years he requires no eye glasses when he goes into the voting booth. The Saltlick election board ... is always certain of one man coming to the polls. That man is Jacob Kuhns. He is a blacksmith by trade and works every day.
He passed away on Dec. 30, 1963, and is buried in the Sparks Cemetery. While thought to have been age 91 at death, a family story says that he was actually 99, and had he lived just a few more months would have turned 100.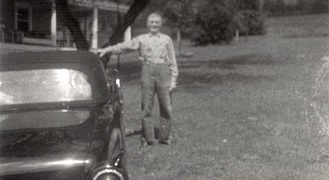 Jake with a visitor's automobile
~ Son Charles Kuhns ~
Son Charles Kuhns ( ? - ?) was born in Indian Head.
Circa 1963, he made his home in Tustin, CA.
~ Son Donald Kuhns ~
Son Donald Kuhns (1913-1961) was born on June 2, 1913 at Indian Head, and was a lifetime resident of the community.
He married Iva Gales ( ? - ? ), daughter of James M. and Nancy E. (Seese) Gales of Indian Head. They went on to have two children, Donald "Donnie" Kuhns and Shirley Ann Kuhns.
Said a newspaper, Donald "was a carpenter, employed by the Grove Ventures Co., a general construction company, of New Richmond, Ohio, and was a member of the Builders and Trade Carpenters' Union."
Iva was a volunteer with the American Red Cross and helped raise funds in Saltlick Township. She also led the youth group of the Melcroft Gospel Tabernacle.
Daughter Shirley Ann Kuhns (1934-1945) was born on Nov. 12, 1934. Tragically, as she was approaching her ninth birthday, she began to suffer from cancer of the soft tissues on a bone on her left foot. The cancer spread to her skull and spine. She finally died, relieved of her suffering, at the age of 10 years on Jan. 3, 1945. Her remains were placed into repose in Mt. Nebo Cemetery near Indian Head.
Further heartache enveloped the family in mid-summer 1961. On the fateful day of July 7, 1961, at the age of 48, Donald tragically was killed in an automobile accident about 16 miles northeast of Cambridge, Ohio. "Another car failed to negotiate a turn and went out of control into the path of the Kuhns car," reported the Daily Courier. Donald's remains were returned to Indian Head for burial in Mount Nebo Cemetery.
Now widowed, Iva spent time with the Fayette County Sunday School Association, and in 1962 and 1963 she and her son provided special music at quarterly rallies of the association's District 14, held at the Millertown Community Church and the County Line Church of the Brethren.
Iva's fate is not yet known.
Copyright © 2000, 2006, 2008, 2013, 2016 Mark A. Miner