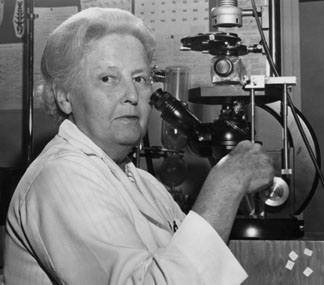 Ohio native Helen (Wyandt) Reihart, the daughter of Jacob W. and Mattie (Purinton) Wyandt, was an early medical researcher whose influence as a teacher has been felt by generations of students in the Midwestern United States and beyond. A 1918 graduate of Simmons College in Boston, she became the first trained medical technologist in Nebraska and the first medical technologist on the faculty of what now is the University of Nebraska Medical Center. Today, medical technologists are a standard part of the process of providing outcomes of care, but this was not always so. Their critical behind-the-scenes work ranges from analyzing blood and confirming diseases to identifying early cases of illness and testing for compatible transplant organs.
More than 1,800 students graduated from the UNMC medical technology program during Helen's lifetime.
A history provided by UNMC states that during World War I, Helen was recruited by one of the Harvard Medical School pathologists to become a medical technologist to replace corpsmen needed overseas. She joined the Navy, worked at the U.S. Naval Hospital in Chelsea, MA, and was recruited in 1923 to UNMC. She was one of the first 100 persons to obtain national certification and registration as a medical technologist by the American Society of Clinical Pathologists Board of Registry. Helen set up the first formal laboratory in a single small room in the basement of Poynter Hall and began immediately to train others to perform tests. By 1937-1938, in cooperation with J. Perry Tollman, M.D., Helen developed a formal nationally accredited medical technology program. In addition to her founder's role in the clinical laboratory, she later served UNMC as a research technologist in virology and cytogenetics. It was her virology lab that confirmed the first case of polio in Omaha. She also authored several papers on such topics as a study on elliptocytosis, Warfarin poisoning of young pigs, immune response to Asian influenza vaccine and the epidemiology of Asian flu in Nebraska. Helen also authored a chapter on hematology in a veterinary science textbook and papers on animal diseases with her veterinarian husband, Oliver Reihart, D.V.M.
Retiring in 1968, after 37 years of service, Helen lived to the remarkable age of 102. She passed away on July 6, 1998. Today her legacy lives on through a UN Medical Technology Founders Scholarship Fund used to award scholarship assistance to deserving students. A formal portrait of her is on display in the laboratory at UNMC, listing the names of all scholarship recipients.
Minerd.com extends its gratitude to UNMC for providing this wonderful image and career information.
Copyright © 2009 Mark A. Miner