Home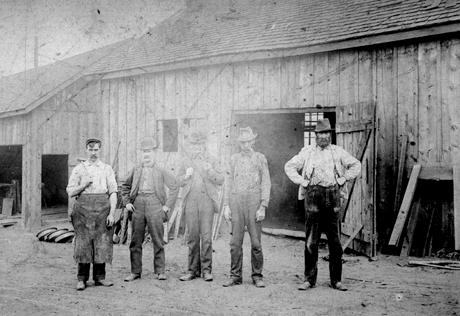 This photo is labeled "Andrew Minerd, Charles Bryner, Mr. [John] Hogan, Charles McWilliams, Mr. [Ed] Wheeler - all from Dunbar, Fayette County," presumably standing left to right. While not proven, all clues point to the man at far left as our "Andrew R. Minerd." Note the sledgehammer slung over his shoulder, the blacksmith's apron and the metal wheels lying about in the yard of this turn of the century workshop.
Andrew was a blacksmith of Dunbar and Uniontown, PA. His father and at least two of his brothers also were blacksmiths, an occupation that handled more than shoeing horses. One brother was the famed "Blacksmith Preacher," Rev. David E. Minerd. Skillful repairs to a variety of iron and steel equipment in the booming coal, coke and railroad industries would have been critical part of the region's business and economy at that time.
Tragedy struck on June 9, 1913, when Andrew "fell down the steps of a local hotel ... and died later at the Uniontown hospital," said the Uniontown Daily News Standard.
Copyright © 2004 Mark A. Miner