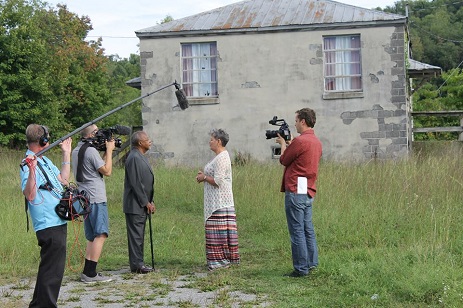 CAMERA AND SOUND MEN record an interview last September between Rhonda (Cook) Tabler and Dr. Henry Louis Gates Jr., host of the award-winning Finding Your Roots program on PBS-Television, at the old Croston schoolhouse near Philippi, WV. The episode, which explores the host's Mayle-Male family connections in West Virginia, originally aired nationwide on Nov. 25, 2014. Gates, a popular social critic, author and Emmy-winning TV documentary producer, is director of the Hutchins Center for African and African American Research at Harvard University. More on Gates.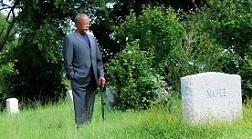 Dr. Gates in Philippi's Welch Cemetery
A member of the family of John H. Kennedy, Rhonda is one of several of our cousins whose on-camera comments made the show's final editing cut. Among the others were Amy (Nichols) Reid of the family of Opha Cleophas Kennedy and Irita (Goins) Canady of the family of Jesse "Floyd" Goins.
But it was cousin Alexandra Finley, of the family of Stephen T. Minerd, who made the most extensive comments in the episode. She presented Dr. Gates with the results of his DNA analysis showing the connection to the ancestral Mayle clan. Some years earlier, Alex's history honors thesis at Ohio State University, entitled "Founding Chestnut Ridge: the Origins of Central West Virginia's Multiracial Community," referenced Minerd.com as a source for her research.
Proprietary Minerd.com research has identified an astounding hundreds of intermarriages between the Minerd-Minard-Miner and Mayle-Male clans since 1866, the year after the Civil War ended.

VisitPITTSBURGH is the promotional sponsor of this page
Copyright © 2015 Mark A. Miner.
Photos by Amy (Nichols) Reid used with consent.