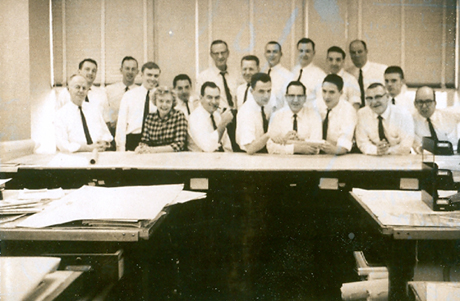 It's 1966, and a talented group of highway and bridge engineers take a break from their work designing the next phase of Western Pennsylvania's transportation infrastructure to meet heavy demands by increasingly mobile Americans. This design effort is fueled by several trends -- President Eisenhower's post-World War II desire for our nation to be connected by high speed highways, leading to the Interstate Highway Act of 1956; and the growing reliance of the Pennsylvania Department of Transportation (PennDOT) on private consultants to handle an ever-growing workload.
Seen here, engineers and draftsmen from one of the city's premier firms, Richardson, Gordon and Associates, pose on their drafting tables for a polaroid photograph. Odger "Wayne" Miner, the son of Odger and Monalea (Ullom) Miner, is third from left. The team is busy on plans, calculations and drawings for the new Crosstown Boulevard and Veterans Bridge (Interstate 579), part of the East Street Valley Expressway. Thanks to politics and the peaks and valleys of state funding, the Crosstown Boulevard ultimately will not open to traffic until 1989.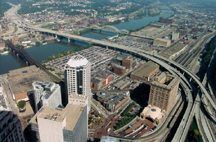 Crosstown Boulevard, Pittsburgh
(The gracefully curved highway and bridge, slicing through the heart of the city, is seen at left in a photograph taken from the top of the U.S. Steel Building in Pittsburgh.)
Over the years, the RG&A staff will finish designs for the completion of the "Bridge to Nowhere" (now known as the Fort Duquesne Bridge) leading from downtown to the North Side that ties into connecting ramps to Three Rivers Stadium and the Parkway North (I-279). The firm also will complete designs for the Sewickley Bridge, Coraopolis Bridge, White Swan Interchange of the Parkway West (leading to the new Pittsburgh International Airport), and the Ohio River Boulevard on Pittsburgh's North Side.

This is one in a series of photographic images published on Minerd.com in 2007-2008 to promote our 2008 "Pittsburgh 250" reunion and to acknowledge the family's collective, long-term connectedness to Western Pennsylvania as the city prepares to celebrate its 250th birthday, an effort led by the Allegheny Conference on Community Development.
Copyright © 2007-2008 Mark A. Miner