Home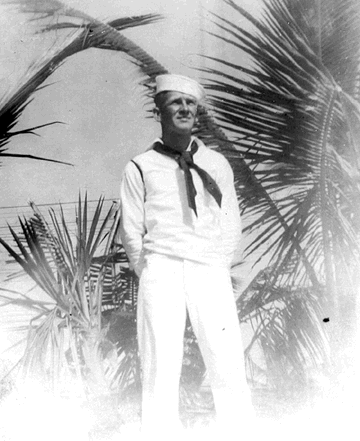 With the release of the blockbuster Hollywood film, Pearl Harbor, we want to acknowledge our own family's role in that historic event. Raymond A. Minor, seen here, served aboard the light cruiser USS St. Louis. His ship was docked for boiler repairs in Pearl Harbor the fateful morning of Dec. 7, 1941. Gordon Prange's book, At Dawn We Slept, reports that during the attack, the captain ordered the St. Louis to get under way, and the crew "did jig time" to get idled boilers ready to produce steam. The ship then sped toward the open ocean at 22 knots (in an 8-knot zone) and successfully veered away from two torpedoes. Walter Lord's book, Day of Infamy, states that the St. Louis was the only large ship to get out of the harbor undamaged. After the war, Raymond returned to his native Connellsville, PA, where he was a fourth generation laborer in the coal, coke and steel industry, employed at the Edgar Thomson Works of the United States Steel Corporation.
Raymond was a double cousin -- his grandfathers were John Ross Miner and John N. Rose. He died in 1971, at the age of 51.
If you know of another Minerd-Miner-Minor cousin or spouse who's a Pearl Harbor survivor, please contact us so his or her name can be listed in tribute. Click here to see how we honor cousin-veterans of US military conflicts dating back to the American Revolution.
Copyright © 2001 Mark A. Miner