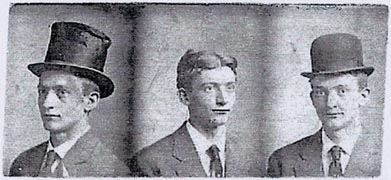 Playfully wearing a variety of hat and hair styles, ill-fated Andrew Jackson "Jack" Harbaugh (1891-1925) made his home in the Braddock neighborhood of Pittsburgh, Allegheny County, PA. The son of Winfield Scott and Ossie Catherine (Michaels) Harbaugh, he was a longtime railroader, and employed by the Baltimore and Ohio Railroad. Tragically, he was among a disturbingly high number of cousins to lose their lives in railroad and streetcar accidents.
On Christmas Eve 1925, Andrew was killed in a railroad accident in Pittsburgh. The Allegheny County Coroner wrote that the "body severed and arms and right leg due to being run over by a train, prob. accidentally." His mangled remains were laid to rest in the Chartiers Cemetery in Pittsburgh. His widow, Eva May (Miller) Harbaugh, was left alone to raise their three young children.
Adding twisted irony to the heartache was that Andrew's uncle James Harbaugh had met the same grisly fate five years earlier, in Confluence, Somerset County, PA.
Copyright © 2009 Mark A. Miner