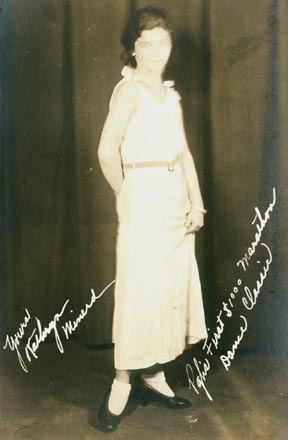 WHO IS THIS? In the 1920s or '30s, a "Kathryn Minerd" was a contestant in "Pittsburgh's First $1,000 Marathon Dance Classic." The marathon was held at Motor Square Garden on Baum Boulevard in Pittsburgh's East Liberty neighborhood. Promoters of the event produced postcard-size photographs of each entrant, such as the one seen here. It's not known if the handwriting is Kathryn Minerd's, or someone else's. The facial features are very faded in this image, so it's difficult to study her features.
As of now, we have no idea about the identity of Kathryn Minerd. There were several cousins with this name with Western Pennsylvania connections around this time. The most likely candidate was Kathryn "Cash" (Kelly) Minerd of Republic, near Uniontown, Fayette County, the wife of coal miner, union organizer and law enforcement officer Wilbert Regis "Patsy" Minerd. There are other possible candidates alive at the time, but none was of the right age, or spelled her name just that way.
This is one in a series of photographic images published on Minerd.com in 2007-2008 to promote our 2008 "Pittsburgh 250" reunion and to acknowledge the family's collective, long-term contributions to Western Pennsylvania as the city celebrates its 250th birthday.
Copyright © 2008 Mark A. Miner