Home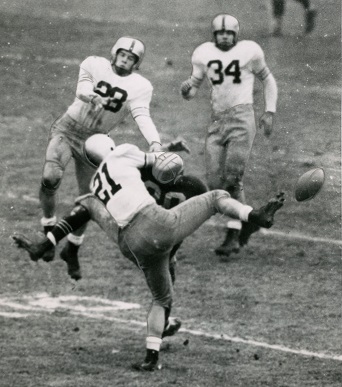 ARMY-NAVY TURF BATTLE - Late autumn marks the traditional annual Army-Navy football matchup, a gridiron rivalry which began in 1890 and has spanned 113 games. In this image, dated Dec. 2, 1950, Army's Eugene Gribble (no. 21) breaks up a pass thrown by Navy's Bob Zastrow, intended for receiver Larry Treadwell (80). Despite Gribble's efforts, Navy won the contest 14-2 before 100,000 spectators in Philadelphia, including President Harry S. Truman.
A basketball, football and track star in the mid-1940s at New Castle (PA) High School, Gribble was the son of Harry O. and Helena (Marshall) Gribble and grandson of Anawalt and Bessie Maud (Blaney) Gribble. He was accepted into the U.S. Military Academy at West Point, and played football for Army under famed head coach Earl "Red" Blaik. Said the New Castle News, he also "rapidly became one of the top broadjumpers in the country. A poll of the nation's sports writers rated him No. 4 across the land, an honor which promised an Olympic tryout."

VisitPITTSBURGH is the promotional sponsor of this page. Be sure to get your copy of the Greater Pittsburgh Convention & Visitors Bureau's 2014 Official Visitor's Guide
International News/Corbis photo by Sonnee Gottlieb used with permission under licensing agreement. Page copyright © 2014 Mark A. Miner.