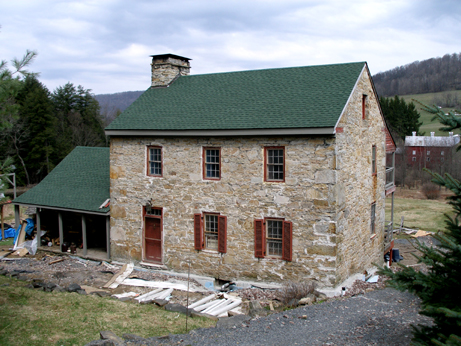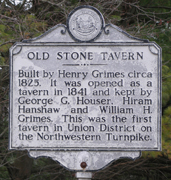 Nestled in the eastern mountains of West Virginia is the "Old Stone Tavern" building and a nearby historical marker which is one of a few in the nation mentioning one of our cousins by name -- Hiram B. Hanshaw, husband of Catherine Miner. These images were taken in the spring of 2009.

Hiram was a tavern and hotel keeper throughout his lifetime. This tavern was the first known example of his work, located along U.S. Route 50 in Aurora, Preston County, and just a few miles from the Maryland border. It was built in 1825, probably as a residence, but was not operated as a tavern until 1841. It served travelers along the busy Northwestern Turnpike (Route 50), a major east-west route stretching a span of more than 3,000 miles from Ocean City, MD to Sacramento, CA, which later became part of the U.S. Highway System.
Other keepers of the tavern were George G. Houser and William H. Grimes. Hiram and the tavern are mentioned in a booklet, Aurora Community, published in 1950 by the Aurora Community of Preston County. In 1987, the West Virginia Department of Culture and History dedicated the historical marker at the site, seen here. The marker acknowledged the tavern as the first one in the Union District on the Northwestern Turnpike ( Route 50). For geographic reference, the site is at the northern tip of what is now the 919,000-acre Monongahela National Forest.
[Note in January 2010: The building was restored in 2009 and opened on Oct. 17, 2009 as a functioning tavern under the name Red Horse Tavern.]
Copyright © 2009 Mark A. Miner