Presley Martin
(1830-1906)
Presley Martin was born in February 1830 in Kingwood, Preston County, WV, the son of Henry and Keziah (Miner) Martin. He is one of two proven Confederate soldiers during the Civil War in an extended family of more than 115 Union military members.
In the early '50s, when in his early 20s, Presley married Emeline Zinn (1823-1889), the daughter of Michael and Nancy Zinn. She was seven to 10 years older than her husband, and is thought to have brought a young son into the marriage, Elias Martin.
Presley and Emeline went on to have at least four children of their own -- William Henry Martin, Rebecca Martin, George Martin and Harriet Martin. When the federal census was taken in 1860, Presley and Emeline were farmers and made their home at Arnettsville, a town to the southwest of Morgantown, Monongalia County, VA (now WV). Arnettsville is 37 miles from Kingwood as the crow flies.
Presley "served as a soldier in the civil war, and was in the Confederate army," said the Fairmont (WV) Times.
During the Civil War, in the spring of 1863, Independence and nearby communities in Preston County came under the threat of attack from Confederate forces led by General William E. Jones, part of the famed Jones-Imboden raids. The goal of this campaign was to "destroy the B and O Railroad from Oakland, Maryland, to Grafton; defeat the enemy at Beverly, Philippi and Buckhannon; recruit for the Confederate army and control the northwest part of the state to enable the people to take part in the Virginia state elections in May," writes Stan Cohen in his book, The Civil War in West Virginia.
Confederate officials circulated pamphlets around communities stating that they had come:
...among you to expel the enemy, to rescue the people from the despotism of the counterfeit State Government imposed on you by Northern bayonets, and to restore the country once more to its natural allegiance to the State. We fight for peace and the possession of our own territory. We do not intend to punish those who remain at home as quiet citizens in obedience to the laws of the land....
While Jones attacked nearby Rowlesburg, Preston County on April 26, he was repulsed and unable to "destroy the B and O Railroad trestles across the Cheat River." Jones and his army marched through Independence en route to Morgantown, the county seat of Monongalia County, and thence to Fairmont, Marion County.
During this time of great fear and turmoil, Presley and his brothers were divided in their loyalties. One of his brothers joined the Union army -- Sylvester Monroe Martin -- while Presley enlisted in the Confederate Army on May 1, in Monongalia County, just four days after the Jones raid into Preston County.
Presley served in the 46th Battalion, Virginia Cavalry, Company C, holding the rank of private. He received a $100 bounty in return for his enlistment. Just 51 days after his enlistment, the northwestern states of Presley's native Virginia broke away from the Confederate government and were admitted into the United States as "West Virginia."
The first battle the 46th Cavalry fought was in Presley's native Preston County on July 1, 1863, at a site not yet known. The regiment later saw action at Lynchburg, VA; Hagerstown, MD; Martinsburg, WV; Fishers Hill, VA; and Buckhannon, WV; among many 36 known battles in which it was involved. Among the commanders of the 46th Cavalry were Lt. Col. Joseph K. Kesler and Maj. Henry D. Ruffner. After 21 months with the 46th Battalion, the regiment was merged into the 26th Cavalry Regiment Virginia on Feb. 2, 1865.
Rivesville's Main Street (left) and flooding in late July 1888, looking west.
The war ended in April 1865, and Presley returned home to his wife and children. He is not known to have been awarded a military pension from the Commonwealth of Virginia.
The U.S. census of 1870 shows Presley and Emeline residing near Fairmont, Paw Paw Township, Marion County, WV. That year, Presley is labeled as a farm laborer as is 17-year-old son William Henry Martin.
When enumerated in the 1880 census, the family lived in Rivesville, Paw Paw Township, Marion County, with Presley laboring as a farmer and 28-year-old son William Henry as a teamster. That year, 22-year-old Martha Musgrove boarded in their home as a seamstress. The census record indicates that Presley could neither read or write.
Emeline died between 1880 and 1900. She is believed to have been the same "Emeline Martin" who passed away in Rivesville at the age of 64 on July 15, 1889.
Presley is listed in the 1900 census as widowed, living in Rivesville and working as a farm laborer. He apparently did not know his own age exactly, and it was marked in the census that year as 63 rather than 70.
Rivesville was engulfed by major flooding in late July 1888, when Presley would have been age 58. It is not known whether he was affected by the high waters.
As she entered her final years, Presley's aged, widowed mother moved into Presley's Rivesville residence in 1884. She rented out her old house in Independence, and remained with Presley for about five years. During that time, recalled neighbor M. B. Thorn, Presley "took care of her and boarded and clothed her. She was a very old woman and cripled, when she cam to my house I had to lead her and help her down the steps." Another neighbor, E.M. Satterfield, said that "She was a very old woman, not able to do any work to help maintain herself, she also was cripled in some way." Neighbor M.V.B. Knight noted that she was "an old decrepid woman not able to work."
Presley collected no rent from his mother, or inherited any of her estate during the time she lived there.
Mother Keziah died at Presley's home in either February or April 1890 (records differ). The specifics are lost to history, but newspapers of that time will be researched for an obituary. Her burial place is unknown.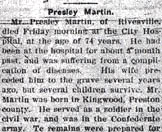 After his mother's death, Presley was only able to collect a small amount for rent of her Independence tract, and applied the funds he did receive to repairing a fence around the lot. He sued his siblings, asking for the sum of $100 per year for the five years Keziah had lived with him. A special commissioner assigned to the case ruled that Keziah's house and lot should be sold. Legal advertisements were placed in the weekly West Virginian newspaper in Marion County, and Notice to Creditors handbills were posted on the Preston County Courthouse and other public places. The house and lot in Independence were auctioned off for $200, won by top bidder Z.G. Morgan, and Presley was able to keep the amount, minus an administrative fee.
In 1906, said the Fairmont Times, suffering from a "complication of diseases," including cestitis, Presley was admitted to the Fairmont City Hospital. He died there at age 74 on Aug. 3, 1906. "He had been at the hospital for about a month past, and was suffering from a complication of diseases," said the Times. His remains, prepared at the F.L. Jenkins Morgue in the first ward of Fairmont, were returned to Rivesville for burial.
Any other details of Presley's life are lost to history.
~ Stepson Elias Zinn Martin ~
Stepson Elias Zinn (1845- ? ) was born in about 1845. His parents were not married, and he was raised in early childhood in the Preston County home of his grandparents, Michael and Nancy Zinn. When he was about five, his mother married our Presley Martin, and Elias is believed to have taken the name of "Martin."
~ Son William Henry Martin ~
Son William Henry Martin (1851- ? ) was born in 1851.
~ Daughter Rebecca Martin ~
Daughter Rebecca Martin (1856- ? ) was born in 1856.
~ Son George Martin ~
Son George Martin (1859- ? ) was born in 1859.
~ Daughter Harriet Martin ~
Daughter Harriet Martin (1876- ? ) was born in 1876.
Copyright © 2001, 2005, 2007, 2008, 2013 Mark A. Miner