Sylvester Monroe Martin
(1846-1916)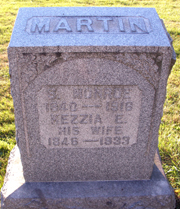 Sylvester Monroe Martin was born in February 1846 (or 1840) in Preston County, WV, the son of Henry and Keziah (Miner) Martin. He was a veteran of the Union Army in the Civil War, while his brother Presley took up arms for the Confederate cause -- a real-life example of brother vs. brother in our family.
Sylvester's grave, seen here, was bathed in such strong backlight of a late afternoon sun in October 2008 that the otherwise-legible lettering can hardly be made out.
Sylvester claimed a birthdate of Feb. 11, 1840, and a birthplace of Preston County. As an adult, he had hazel eyes, dark hair and dark complexion, and stood five feet, eight inches tall.
In 1863, Sylvester married Kesiah "Kezzie" Emeline Orr (1846-1933), the daughter of Hiram and Keziah (Menear) Orr of Scotch Hill, Preston County. The wedding took place in 1864 in Cumberland, Allegany County, MD, when he was 24. No return was made by the minister to the court of Allegany County, as it was not required by law at the time.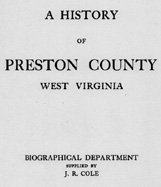 While a 1914 history book, A History of Preston County, authored by H.S. Whetsell, states that the Martins raised 10 children, the actual number may be 13. Their known children, as recorded in the Preston County Courthouse birth records and U.S. census records, were William T. Martin, Clara Belle Curtis, James C. Martin, Morgan Dale Martin, Minnie Martin, Charles S. Martin, Martha O. "Mattie" Carpenter, Ella Virginia Watson, Thomas F. Martin, Harry H. Martin, Maud Zinn and Mary G. "Mollie" McKinney, born over a 26-year span between 1865 and 1891. One other child died young, sometime before 1900. The discrepancy may involve those who lived to adulthood, and those who did not.
During the Civil War, Sylvester served in the 17th West Virginia Infantry, Company I. He joined in 1861, and at the time of enlistment lived at Zinn's Mills, Preston County. He is known to have returned home on furlough in August 1861, suffering with typhoid fever. He began to have bouts of severe diarrhea while at Buckhannon, WV in February-March 1862, and hemorrhoid problems in May 1862 while at McDowell, Highland County, VA. He was left behind in a field hospital in Little Petersburg, WV that May when his regiment was ordered elsewhere. He rejoined the 17th Infantry about the time of the Second Battle of Bull Run, in which he took part, in late June/early July 1862, but did not do any duty of any magnitude. His regiment's physician, Dr. E.C. Thomas, finally sent Sylvester in September 1862 to the Carver General Hospital in Washington, DC. Sanford Watson, a sergeant with the regiment, recalled that "I placed him in the ambulance and sent him to the hospital ... at Washington City, D.C." A little more than a month later, on Nov. 5, 1862, he received an honorable discharge for his disability.
After returning home, boyhood friend Hiram M. Massie said, "He was then reduced down with diarrhea and piles and was confined to his bed and house more or less during the winter of 1862-3. I lived within one mile of him at the time and knew he was under treatment by Dr. A. Brown." Dr. Brown himself testified: "For when he came home he was almost most dead & it took him a long time to recuperate."
With much rest and making a full recovery, Sylvester enlisted again, in the 3rd WV Infantry, Company C, on Feb. 11, 1865. He was discharged four and a half months later, on June 30, 1865, after the war ended. He returned home again a sickly man. Family friend Sylvanis L. Zinn testified that "I seen soldier at his home immediately after his discharge. He was at his home sick confined to his bed with diarrhea."
In the postwar years, the Martins are known to have owned a 127-acre farm in Kingwood Twp., Preston County. In November 1866, they sold the land to William H. Brand Jr. and James F. Brand. The acreage contained rich stands of crabapple, black gum, dogwood, chestnut, white oak and hickory trees.
In 1869, the Martins moved to near Fairmont, Paw Paw Township, Marion County, WV. When the census was taken the following year, in 1870, they were enumerated in Paw Paw, with Sylvester working as a farm laborer.

Bird's eye view of bustling Newburg
In October 1874, they moved back to Preston County, to the town of Newburg, where Sylvester was a laborer, and stayed there at least until 1890. In 1891-1897, they were near Gladesville, Preston County.
At some point in time, in about 1875, Sylvester lost the sight in his left eye when accidentally struck by a nail.
Tragedy rocked the family in the mid 1880s when the Martins lost three of their children to disease. On Nov. 25, 1885, nine-year-old son Charles S. Martin died after contracting spinal meningitis. The following year, on Jan. 21, 1886, four-month-old son Thomas F. Martin passed away after developing pneumonia. Then, on July 11, 1888, 14-year-old daughter Minnie Martin died of pneumonia at Valley in Preston County.
When the federal government undertook a special census in 1890 of Civil War veterans and their widows, Sylvester was listed as living in "Gladesville, West Va." and that he had disabilities of "Piles & Heart Disease" incurred during the war.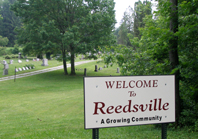 Sylvester began receiving federal pension payments in the 1890s at a rate of $10 per month. Among those who testified on his behalf were cousin James Eyster Murdock of Kingwood in October 1897. Dr. Ashford Brown, in 1888, testified that he had known Sylvester "for a bout 10 years before enlistment before he had his growth. The oportunity I had of knowing him I was his Father's Family Physician previous to his enlistment." Interestingly, Dr. Brown added that "The reason I could not give precise dates a company of Rebbles to the government under one Jones destroyed my Books in April 26 & 27 1863." Other longtime friends and neighbors supporting Sylvester's pension applications with testimony of their own included James Harrington of Newburg; B.B. Smith of Newburg; shopkeeper George M. Shaffer of Independence;
In 1891, after Sylvester's mother had died, he and his adult siblings were sued by their brother Presley. In the matter, Presley wanted the court to approve the sale of the mother's old house and lot in Independence, WV, so the funds could be used to offset costs of her care during her final years. Sylvester received a copy of the legal complaint, and apparently did not enter an objection to it. He was named in legal advertisements that year in the West Virginian newspaper of Marion County, WV.
After decades of living away in Pennsylvania, Sylvester's twice-widowed sister Rebecca Catherine Johnson Moore relocated back to Reedsville in about 1905. She moved into the Reedsville residence of David F. and Celia Zinn, and was their household servant. Catherine remained there for the rest of her life, and passed away on June 28, 1917, at the Zinn home, at the age of 89. She was laid to rest in the Gordon Cemetery, about four miles from Reedsville.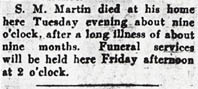 The Martins lived in Reedsville, Preston County, in their later years. In May 1912, they sold five town lots in Reedsville to John McKinney for $650, with $50 made in down payment, and $10 per month to be paid thereafter. The lots were in the Bannister Addition, fronting on Graham Street, each measuring 50 feet by 100 feet.
Sylvester suffered a stroke on Aug. 10, 1915, which paralyzed his entire left side. He never recovered, and died at home in Reedsville on May 30, 1916. Dr. W.H. Post attended him during the final illness. In a brief, one-paragraph obituary, the Preston County Journal noted that his passing followed "a long illness of about nine months." He is buried at the Reedsville Cemetery, with the name "S. Monroe Martin" inscribed on his grave marker.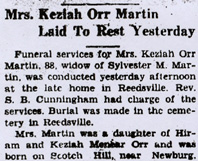 As a widow, Kesiah was entitled to draw his Civil War pension payments, but needed to complete the paperwork. A friend at the Farmers & Merchants Bank in Reedsville, cashier J.S. Lantz, assisted her in the summer of 1916 with this task.
Keziah outlived her husband by 18 years. She also survived eight of their children. She passed away of influenza as she neared her 87th birthday, on Jan. 2, 1933. She was laid to rest at the Reedsville Cemetery. Son Morgan Martin of Reedsville was the informant on her death certificate. In an obituary, the Preston County Journal said that Keziah "was a member of the Gladesville Baptist Church and was active in the work of the church. She had a wide acquaintance in Preston county and the news of her death was a shock to her many friends."
The known surviving children:
~ Son William T. Martin ~
Son William T. Martin (1864- ? ) -- his fate is lost to history.
~ Daughter Clara "Belle" (Martin) Curtis ~
Daughter Clara "Belle" Martin (1867-1937) was born in 1867.
She married Frank Curtis (1867- ? ) in about 1886. They had two children -- Kenneth D. Curtis and Bertrell Curtis.
In 1930, when the federal census was taken, the Curtises lived in Martinsville, Clinton County, OH, where Frank was a farmer.
In February 1937, as she approached her 69th birthday, Belle suffered an unknown accident, and blood poisoning ("septicemia") set in to her system. She suffered for about a month, and died at age 69 -- on March 10, 1937 -- just five days after her birthday. She was laid to rest in Greenwood Cemetery in Hamiilton, OH. Louis Hood was the informant on her death certificate.
Grandson Bertrell Curtis (1898/1909- ? ), also a farmer, married Ruth (1911- ? ).
Grandson Kenneth Curtis (1887- ? ) married Alta (?) (1903- ? ), who were 16 years apart in age. They were farmers, living near his parents in 1920 in Clinton County when the census was taken.
~ Son James C. Martin ~
Son James C. Martin (1869- ? ) -- his fate is lost to history.
~ Son Morgan Dale Martin ~

Son Morgan Dale Martin (1871-1966) apparently never married.
He was unmarried at age 28 when the federal census was taken in 1900. That year, he was employed as a teamster and boarded in the home of Uriah and Mary J. Orr in Kingwood, Preston County, who may have been an uncle and aunt. He made his home in Reedsville in 1933.
He died at the Sundale Rest Home in Monongalia County, WV at the age of 94 on July 4, 1966. The Preston County Journal said he had endured a "lengthy illness." He was buried in Reedsville Cemetery.
~ Daughter Martha O. (Martin) Carpenter ~
Daughter Martha O. "Mattie" Martin (1879-1944) married Ora E. "Orie" Carpenter (1884- ? ) in about 1902. He was a streetcar conductor while they lived in West Virginia, and later in Ohio was a house carpenter and a building contractor.
The Carpenters had at least seven children -- Opal L. Carpenter, Mary F. Carpenter, Albert Monroe Carpenter, Walter Douglas Carpenter, Edward L. Carpenter, Dorothy N. Carpenter and Pauline N. Carpenter.
The census of 1910 shows them in the Union District of Marion County, WV. In 1920, when the federal census was taken, they lived on Brighton Drive in Akron, Summit County, OH. In about 1929, they moved to a new home at 150 Elm Street in Ravenna, Portage County, OH.
In her early 60s, Martha contracted colon cancer. When she also suffered from congestive heart failure, it led to her death, on June 5, 1944, just five days before her 65th birthday. She was buried at Maple Grove Cemetery in Ravenna.
Granddaughter Opal L. Carpenter (1904- ? )
Granddaughter Mary F. Carpenter (1905- ? )
Grandson Albert Monroe Carpenter (1909- ? )
Grandson Walter Douglas Carpenter (1913- ? )
Grandson Edward L. Carpenter (1918- ? )
Granddaughter Dorothy N. Carpenter (1920- ? )
Granddaughter Pauline N. Carpenter (1923- ? )
~ Daughter Ella Virginia (Martin) Watson ~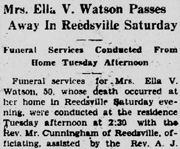 Daughter Ella Virginia Martin (1882-1932) was born in 1882.
She married Arthur D. Watson (1876- ? ), of Newburg, in about 1910. They resided in Reedsville, where Arthur was an track laborer in local coal mines, and later office building laborer.
Arthur had been married once before, and brought one son to the marriage -- Norman Watson. They also helped raise a nephew, John Byron McKinney (see below).
Sadly, Ella died of a stroke at the age of 50 in Reedsville on Nov. 26, 1932. Following a funeral led by Rev. Cunningham and Rev. A.J. Renick, along with ritualistic services conducted by the Kelly Circle, Grand Army of the Republic Ladies, she was buried in the Reedsville Cemetery. The Preston County Journal eulogized that she "had resided in this county her entire life. She was a member of the Reedsville Women's club, of the Methodist Episcopal church, the Reedsville Rebekah lodge, and the Pythian Sisters Temple of Kingwood."
~ Son Harry H. Martin ~
Son Harry H. Martin (1884- ? ) - his fate is lost to history.
~ Daughter Maud Isabelle (Martin) Zinn ~
Daughter Maud Isabelle Martin (1887-1965) married Alonzo "Lon" Zinn (1880-1970) in 1905. He was the son of William H. and Jenny (Trickett) Zinn of Gladesville, WV.
They had five children -- Virginia P. Zinn, Charles Kenneth Zinn, Thelma Zinn, William Zinn and Eleanor Zinn.
Circa 1910-1933, they lived in Morgantown, where Lon labored as a brakeman on the Morgantown and Kingwood Railroad. He eventually retired from the railroad. Sadly, Maude died in 1965, at the age of 78. Lon outlived her by five years, residing in their home in Over Cheat. He passed away in Fairmont at the age of 89 on May 27, 1970. At the time, he was survived by three grandchildren, four great-grandchildren and one great-great grandchild.
Granddaughter Virginia P. Zinn (1907- ? ) wed (?) Cooper. She resided in Monrovia, Los Angeles County, CA in 1970.
Grandson Charles Kenneth Zinn (1909- ? ) made his home circa 1970 in Raytown, MO, a suburb of Kansas City.
Granddaughter Thelma Zinn (1912- ? ) died young, but her details are not yet known.
Grandson William H. Zinn (1917- ? ) lived in Sacramento, Sacramento County, CA in 1970.
Granddaughter Eleanor Zinn (1920- ? ) married (?) Thomas. Circa 1970, she lived in Alhambra, Los Angeles County, CA.
~ Daughter Mary G. "Mollie" (Martin) McKinney ~
Daughter Mary G. "Mollie" Martin (1892- ? ) married John A. McKinney (1891- ? ) in 1908, when he was age 19, and she 18. They had four children -- Edward "Dale" McKinney, John Byron McKinney, Mrs. Howard Hoffmeyer and Mrs. Max Fisher. In 1910, they lived near Mollie's parents in the Valley District of Preston County. Circa 1933, they made their home in Morgantown and she was still living as of 1966.
Grandson Edward "Dale" McKinney (1910- ? ) resided in Morgantown in 1939.
Grandson John Byron McKinney (915-1939) made his home with his aunt and uncle, Ella (Martin) and Arthur D. Watson. He married Mary (?) and lived in Grandson , but the marriage may not have endured. While in Morgantown, John was employed as a mine engineer. At the age of 23, in early February 1939, he came down with a strep infection on top of bronchio-pneumonia. He fought the illness for a week, but lost the battle, and died on Feb. 11, 1939. He is buried in Morgantown's Oak Grove Cemetery.
One grandddaughter married Howard Hoffmeyer and in 1939 made their home in Cleveland, Cuyahoga County, OH.
One granddaughter wed Max Fisher and lived in 1939 in Cleveland.
Copyright © 2001, 2007-2009, 2013 Mark A. Miner