George Wesley Baker
(1857-1933)
George Wesley Baker was born on Oct. 5, 1855 in Madison County, OH, the son of John Wesley and Elizabeth (Houser) Baker. When George was four years old, his father died, and his mother married again, to William Baker Dillow, in 1863.
Sometime prior to 1881, George and his parents and step- and half-siblings migrated westward to Central Illinois. They settled in Nixon Township near Clinton, DeWitt County.
George was married to Mary A. ( ? - ? ). The couple eventually divorced. Whether or not they reproduced is still a question.
He is not to be confused with George Washington Baker (1857-1952), also born in Ohio, son of Daniel H. and Elizabeth Jane (Cowan) Baker, husband of Maggie Anderson (April 19, 1881-1913), who were the parents of four children -- Myrtle Helen Slenker, Olive "Hazel" Fisher, Chester A. Baker and Mildred M. Baker, who also resided in Weldon.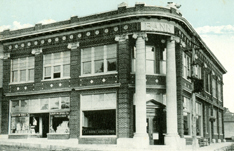 Heber Springs landmark -- Cleburne County Bank and Griffin Drug
George is counted in the 1910 census as a boarder in the boarding house of Lena Parks on Walnut Street in Heber Springs, Cleburne County, AR, having been married for 29 years and working as a house carpenter.
Circa 1917, when George's mother died, her newspaper obituary reported that he was residing in Heber Springs.
He appears in the federal census for 1920, living alone in Cleburne County, at age 64, marked as widowed and employed as a laborer in a planing mill.
By 1928, when his step-father died, George was named as making his home in Higden, Cleburne County, near Greers Ferry Lake. The 1930 census shows him living alone, as a 75-year-old widower, on Higden's Main Street. He made a living that year as a merchant in a grocery store.
George suffered from heart disease and died suddenly of its effects on May 15, 1933. He was laid to rest in a cemetery in Heber Springs City Cemetery, and a marker placed at the grave, spelling his middle name as "Weslie." The informant on his death certificate was his young half-brother, William Watson Dillow.
It is unknown whether George may also have had a daughter Mary "Mamie" Baker born in 1897 in Tennessee. Mary was taken to Illinois, where she was raised in the household of her grandmother Baker Dillow as shown in the 1900 census. That census shows the girl's mother to have been born in Ireland. In 1910, when the federal census was taken, 12-year-old Mary and her grandmother were living together, in in Kings River, Carroll County, AR, next to David Alfred Dillow. His former wife's name in one certificate is given as "Mary A. Baker."
More will be reported here when learned.
Copyright © 2007-2008, 2010, 2021 Mark A. Miner