William Watson Dillow, Sr.
(1868- ? )
William Watson Dillow was born on Dec. 11, 1868 in or near Madison County, OH, the son of of William and Elizabeth (Houser) Dillow.
As a boy, sometime prior to 1881, William and his parents and siblings migrated westward to Central Illinois. They settled in the town of Weldon near Clinton, DeWitt County.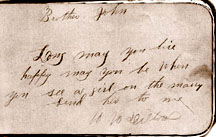 William's rare signature
William is known to have signed his name in the autograph book of his new brother in law, John Perron Shinneman, sometime in the early 1880s.
In about 1890, when William was 22, he married Caroline "Lena" Wandschneider (1874-1910), a native of Bloomington, McLean County, IL.
The Dillows had eight children -- Florence Klingman, William Watson Dillow Jr., William Roy Dillow Sr., Harvey B. Dillow, Willis Elmer Dillow, Gladys Bridges, Helen May Swanson Hausmann and Robert Eugene Dillow, born over a 17-year span from 1891 to 1908. Sadly, young William Jr. is believed to have died as a boy, or in infancy.
When the federal census was taken in 1900, the Dillows lived in East St. Louis, St. Clair County, IL. They boarded with the family of Juan and Nancy Rugg on Fifth Street. That year, William was employed as a carpenter.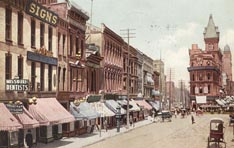 Kansas City
The Dillows moved in about 1905 to Kansas City, Jackson County, MO. William found work in the bustling midwestern city as a carpenter and builder, and they resided in their own home. The census shows that boarding under their roof in 1910 was Fred Wandschneider, apparently Lena's brother Their last two children were born in Missouri.
Tragedy struck when the Dillows' youngest baby was two years old. Lena contracted peritonitis, and died at the age of 36, on May 17, 1910. Her weary remains were laid to eternal rest in Mt. Washington Cemetery, Independence, Jackson County.
Left alone to raise his brood of children, William's burden must have been very heavy. He remained in Kansas City, and was there when his mother died in 1917.
By 1928, when his father died, William was in Arkansas, as were his brother David Alfred Dillow and older half brother George Wesley Baker. In fact, when brother George died suddenly from a heart attack in May 1933, in Higden, Cleburne County, AR, William was the informant on the death certificate.
When William's half brother James Madison Dillow died in 1943, William was named in the obituary in the Clinton Daily Journal & Public, and it said his home was "address unknown." His fate seems to be lost to history.
~ Daughter Florence (Dillow) Kingman ~
Daughter Florence Dillow (1891- ? ) was born in 1891.
She married (?) Klingman.
They had two daughters, Genevieve Klingman and Maxine Klingman.
Florence is buried in the Mt. Washington Cemetery in Independence, MO, the same resting grounds as her mother.
~ Son William Roy Dillow Sr. ~
Son William Roy Dillow Sr. (1895?-1963?) was born in about 1895.
He wedded Alta E. (?).
They had one son, William Roy Dillow Jr..
William Sr. is said to have been a career Navy officer, and to have served on the USS Medusa in Pearl Harbor when it was attacked by Japanese forces on Dec. 7, 1941, plunging our nation into World War II. (Several of our cousins also are known to have survived the Pearl Harbor attack, including Raymond A. Minor and Harold S. Fawcett.)
~ Son Harvey B. Dillow ~
Son Harvey B. Dillow (1897-1973) was born in 1897.
He never married. He resided in Bakersfield, Kern County, CA.
He died two days after Christmas in 1973, in Bakersfield, and is buried there.
~ Son Willis Elmer Dillow ~
Son Willis Elmer Dillow (1900-1987) was born i n1900.
He never married. He made his home in Long Beach, Los Angeles County, CA.
He died there at the age of 87 on May 27, 1987. His ashes are said to be scattered at sea.
~ Daughter Gladys (Dillow) Bridges ~
Daughter Gladys Dillow (1903-1992) was born in 1903.
She was united in matrimony with (?) Bridges. They lived in Grove, Delaware County, OK.
Gladys died in Grove on March 8, 1992, at the age of 89.
~ Daughter Helen May (Dillow) Swanson Hausmann ~
Daughter Helen May Dillow (1905-1995) was born in 1905.
She was married twice. Her first husband, wed on Sept. 13, 1923 in Kansas City, was Harold Theodore Swanson (1901-1954).
Harold died on June 22, 1954, in Kansas City, and is buried at Forest Hills Cemetery in Kansas City.
Helen married her second husband, Paul Hausmann ( ? -1977) on June 27, 1973, when she was age 68.
Paul died after five years of marriage, on March 19, 1977.
Helen at some point moved to Lenexa, Johnson County, KS, where she died on May 28, 1995. Her remains were brought back to Kansas City for interment beside her first husband.
~ Son Robert Eugene Dillow ~
Son Robert Eugene Dillow (1908-1978) was born in 1908.
He was joined in wedlock with Pauline Chrisman (1914-1970) on June 3, 1934 in Maroa, Macon County, IL.
They lived in Texas.
Pauline died in El Paso, TX on Feb. 16, 1970, at the age of 56.
Robert survived her by eight years. He passed away at the age of 70 in Fort Worth, TX. They both rest for eternity in Deland Cemetery, Piatt County, IL.
Copyright © 2007, 2019 Mark A. Miner