George Andrew Beggs
(1885-1966)
George Andrew Beggs was born on Oct. 5, 1885 in Dunbar, Fayette County, PA, the son of William J. and Mary Belle (Minerd) Beggs Sr.
George was married at least three times in his life.
He is said to have been the father of one daughter, Madelyn Wolfe, although this is not yet confirmed.
On Aug. 10, 1904, at the age of 19, George was joined in wedlock with 20-year-old Sidney Ann Livingston ( ? - ? ), daughter of John W. and Mary Livingston of Franklin Township, Fayette County. The wedding ceremony was performed by George's uncle, Rev. David Ewing Minerd, the famed "Blacksmith Preacher" of Fayette County.
His second spouse was Minnie Virginia Hadden (March 20, 1891-1908), daughter of Thomas and Elizabeth (Miller) Hadden. Tragically, while in the seventh month of expecting their first baby, and only 16 years old, Minnie suffered a seizure and fell. She was rushed to Uniontown Hospital, where the baby was born in a forcible delivery, but both mother and baby succumbed together on May 30, 1908. A short obituary for Minnie was printed in the Uniontown Morning Herald. Burial was in Oak Grove Cemetery.
In 1910, when George was 24 and the federal census was taken, he lived at home with his parents, and worked as a railroad brakeman. He was of medium height and build, with blue eyes and dark hair.
One of his wives passed away in May 1912.
Then on May 22, 1913, the 27-year-old George was united in marriage with his third bride, 30-year-old teacher Sadie E. Kennedy (1882-1966), the daughter of William H. and Nancy (Martin) Kennedy. She was three to five years older than her husband.
During World War I, in September 1918, George registered for the military draft. At the time, he and Sadie resided at 62 Lawn Avenue in Uniontown, and he was employed as a brakeman with the Pennsylvania Railroad Company. By 1920, census records show the pair in South Brownsville, with him now earning a living as a railroad flagman.
The Beggses later migrated to Hopwood, at 35 Little Brownfield Road. They were members of the Coolspring Methodist Church, built by George's uncle, the famed "Blacksmith Preacher," Rev. David Ewing Minerd.
In 1928, George and Sadie provided care for George's aunt, Alice (Minerd) Rockwell, in her last illness. They paid for her medication and physician visits, as well as funeral expenses. As Alice was a widow of a Civil War soldier, and drew a pension, the Beggses were eligible for reimbursement for their costs. On Nov. 30, 1928, Sadie wrote to the Commissioner of Pensions, saying: "Am enclosing Itemized bills of all I possibly can. There are two prescriptions … which I cannot get a copy as I never dreamed of needing them." Their petition was approved, and the Beggses received a total of $676.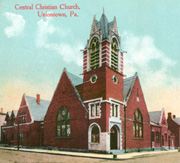 Central Christian Church
George also filed a related legal complaint in April 1929 against his mother, asking to be paid $500 as a nursing bill, since she allegedly had hired him to provide care for the deceased, her sister. Reported the Uniontown Morning Herald, "Under a provision of a will left by Alice Rockwell, Mary Belle Walls was to receive a portion of the Rockwell estate if she cared and nursed the latter woman for the remainder of her natural life. Beggs declares that the defendant herself was ill and employed him to do the nursing. He started on his employment July 26, 1927, ... and the Rockwell woman died September 29, 1928.
When the federal census enumeration was made in 1930, the 43-year-old George and 48-year-old Sadie boarded in the home of his married brother, William J. Beggs.
Circa 1940, now in their own residence, George earned a living as a flagman on the railroad.
Sadie passed away on Nov. 23, 1966, at the age of 84.
George died 11 days later, on Dec. 4, 1966, at the age of 81, following an extended illness. George's arrangements were managed by the Minerd Funeral Home in Uniontown, owned by the widow of his first cousin, Edward E. Minerd. The funeral then was led by Dr. Earl P. Confer of the Central Christian Church. An obituary appeared in the Connellsville Daily Courier.
Sadie and George are buried at Oak Grove Cemetery in Uniontown.
~ Daughter Madelyn (Beggs) Wolfe ~
Daughter Madelyn Beggs ( ? - ? ) was born in (?).
She married (?) Wolfe.
In 1966, she made her home in Pittsburgh.
Copyright © 2001, 2010, 2019, 2022 Mark A. Miner