Mary Belle (Minerd)
Beggs Walls
(1866-1939)

Mary Belle
Mary Belle (Minerd) Beggs Walls was born on July 15, 1866 at Broadford, Fayette County, PA, the daughter of Andrew and Sarah (Devan) Minerd. She was the first of the family's large brood of children born after her father returned from the Civil War.
On July 18, 1882, at the tender age of 16, Mary Belle married William Johnson Beggs Sr. (1862-1910), son of Hugh and Caroline (Lemmon) Beggs. Four days later, her brother Huston D. Minerd married Mollie Kissinger.
Mary Belle and William had seven children – Robert Clark Beggs, David Ewing Beggs, William J. Beggs Jr., George Andrew Beggs, Caroline Belle Perry Schurecht, Pearl Nabors Altman and Anna Mahoney.

Logo of William's union
The Beggses lived in Dunbar, Fayette County at the time of birth of several of their children. William earned a living as a railroad engine fireman and belonged to the Brotherhood of Railroad Trainmen, an early union-type organization. Mary Belle is known to have been a member of the Ladies' Auxiliary to the Trainmen, Lorette Chapter. When the federal census was taken in 1900, William's occupation was stated as "Engineer."
Mary Belle was a member of the Hopwood Methodist Church, where her brother Rev. David Ewing Minerd -- the famed "Blacksmith Preacher" of Fayette County -- was pastor for a time. She was active in the church as a volunteer and Sunday School member. In 1886, when a niece was born, the baby girl was named "Mary Belle Minerd" in her honor.
By 1910, the Beggses moved to Uniontown, Fayette County, with their home on Jefferson Street. William's employment was stated as stationery engineer, apparently employed by the County of Fayette.
Tragically, William was struck with a fatal infection and died from its effects on June 25, 1910. His remains were laid to rest in Oak Grove Cemetery in Uniontown. He was only age 49 at the time, and left his wife with several young children to raise alone.
Mary Belle was widowed for four years. On April 24, 1915, at the age of 49, she married for a second time, to fellow widower Samuel Benton Walls (1874-1938) of Uniontown. The wedding took place in nearby Westmoreland County, PA.
Samuel brought five children to the marriage from his previous union with Rose Ann McCardle (1874-1909) -- Pearl Kelly, Nellie May Minerd, Arthur B. Walls, Mary Elizabeth Miller and Margaret Rose Fogle.
(Stepdaughter Nellie May Walls married Henry Daniel Minerd, of Uniontown, who was a distant cousin of Mary Belle's.)
Two of Mary Belle's sons served in the U.S. Army during World War I -- William and David. One can only imagine the combination of pride and anxiousness she felt as her sons went away to answer the call of their nation.
The 1920 census shows Samuel and Mary Belle living on Farragut Street in Uniontown with her daughter Pearl and his children Arthur, Elizabeth and Margaret. His employment is shown as press man in the Herald newspaper office.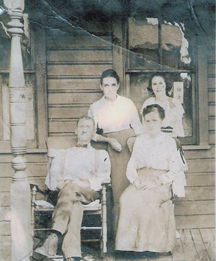 Mary Belle and Sam, with his daughters
Nellie May and Margaret
Samuel was a four-decade press operator and "one of the veteran pressmen in this district," said the Uniontown Morning Herald, working for a long time for Fayette Publishing Company, which issued the Uniontown News Standard. He also was "a lover of nature and gathers many flowers and interesting specimens on his rolls," and once presented his employer with "a beautiful bouquet of wild honeysuckles."
[Note -- Samuel is one of many in the family who have served in the printing trade, as pressmen and typesetters -- among them Hadden Miller of Uniontown, George Westland of Rochester, NY, Edward Harlan McReynolds of El Dorado, KS, James "Weston" and S. Isadore (Sutherland) Miner, Charles Emmet Harbaugh of Pittsburgh, PA, John Elmore Minor of Boston, MA, the Davidson family of Lewistown, IL, Robert Patrick Miller of Roseville, OH, Merle E. Fassett of Cleveland, OH, Charles Arthur Younkin of Charleroi, PA, Guy Emery Crabbe of Mt. Sterling, OH, Carl William Clark of Kansas City, Corwin D. Tilbury of Cincinnati, OH and Pittsburgh, PA, Allen Edward Harbaugh of Mill Run, PA, Marshall Ellsworth Rowan of Fairchance, PA and Marion Calvin Burkholder of Bartow, FL.]
In the late summer of 1925, Samuel and Mary Belle, along with her sons Robert and William Beggs and their families, drove to Washington DC for a visit with her daughter and their sister Caroline Schurecht. The Morning Herald social column reported that they returned safely from the motor trip.
By 1930, with the grip of the Great Depression taking its toll on the Uniontown economy, Samuel earned a living as a guard at a local prison camp.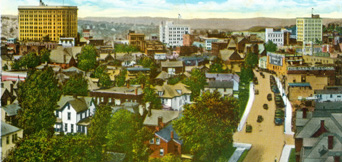 Uniontown skyline, circa 1920s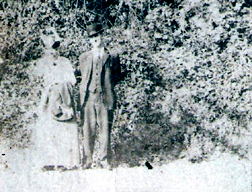 Mary Belle and Samuel
Mary Belle and Samuel are seen here on an outing and appearing to stand alongside a sloped road. Note his bowler hat.
Disaster struck in mid-August 1930 when the Wallses' six-room, frame bungalow home in Fairchance was destroyed by fire, including all of the household furniture and fixtures. The loss was estimated at $6,000, reported the Uniontown Evening Genius.
The home was situated at the foot of the mountains, near Fairchance. when the fire was first discovered the Fairchance Fire department was called. That company's pumper broke its drive chain, however, just as it was leaving the station and a hurried call was sent to Uniontown. Truck No. two responded but upon arrival it was found there was no water accessible for at least 3,000 feet. The fire, the origin of which is of yet undetermined, had gained such a headway that nothing could be done except to protect other nearby outbuildings. The Walls family was said to have been away at the time.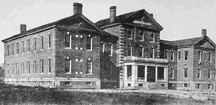 Uniontown Hospital
Samuel died at the age of 64 on Jan. 17, 1938, in the old Uniontown Hospital. Samuel's funeral was handled by the Minerd Funeral Home of Uniontown, founded by Mary Belle's nephew, Edward E. Minerd.
Mary Belle only outlived her husband by about a year and nine months. Her daughter Pearl Nabors occasionally returned home for extended stays to provide care.
On Oct. 4, 1939, at age 73, Mary Belle passed awayat her home in Hopwood. The funeral was held at the Hopwood Methodist Church, officiated by Rev. J.D. Stillwagon. At the time of her death, she was survived by 11 grandchildren and six great-grandchildren.
Stepdaughter Margaret Walls was employed by Auslander's on Beeson Boulevard in Uniontown prior to marriage. She wed Harry Fogle in March 1927. They set up housekeeping in Akron, Summit County, OH, where he worked for the Portage Hardware Company.
Copyright © 2000-2001, 2003, 2006, 2008, 2010-2012, 2018, 2022 Mark A. Miner