Catherine 'Cassie' (Birch) Weir
(1872-1925)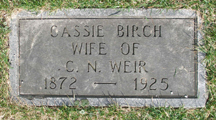 Washington Cemetery
Catherine Jane "Cassie" (Birch) Weir was born on April 27, 1872 or in July 1876 in Greene County, PA, the daughter of Samuel and Susan (Miner) Birch. Her husband was a "widely known" automobile garage owner in Washington, Washington County, PA.
When the federal census was taken in 1900, Cassie was employed as a private family servant by attorney Robert W. Irwin, who made his home with his wife Carrie and children on Highland Avenue in Washington.
When she was age 29, in about 1901, Cassie married 27-year-old Chester Norwood Weir (June 5, 1873-1931), the son of John B. and Julia A. (Bane) Weir. She was two years older than her husband.
The Weirs immediately began living in Washington, in Ward 4.
They produced one known son, Holland DeVaughn Weir, born in 1902.

Skyline of Washington in a rare, bird's-eye postcard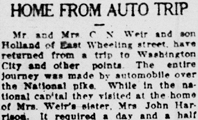 Washington Observer, 1915
The Weirs were members of the Central Presbyterian Church in Washington. Chester also was a member of the local lodges of the Elks and Knights of Pythias.
When the federal census was taken in 1910, Chester, Catherine and Holland made their home together in a residence on East Wheeling Street. Rooming under their roof were Harry and Elisabeth Brownlee.
In the summer of 1915, the Weirs drove to Washington, DC to visit Cassie's sister Mary Harrison. Said the Observer: "The entire journey was made by automobile over the National pike…. It required a day and a half to make the journey each way. On going over one night was spent in Cumberland, Maryland, and on the return trip they were in Hancock, Maryland, also for a night. They were very much pleased with their trip."
Chester got his start in business as a livery man (stable keeper), and later ran his own garage at 87 West Wheeling Street. According to the Washington Observer:
He entered the livery business as an employe of the late Addison Bane, the stable being located at Wheeling and College streets. Later he went into business for himself, operating a livery stable in Shaffer avenue. He was one of the pioneers of the city in the garage business.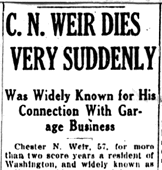 Obituary, 1931
The census of 1920 shows that the Weirs had moved to 119 Highland Avenue. Chester's occupation was shown as liveryman of a livery stable.
Cassie was burdened over the last five years of her life with hypertension and heart disease. She died from their effects at home on 119 Highland Avenue in Washington on Feb. 26, 1925, at the age of 53. Her remains were lowered into eternal repose in the Weir lot in Washington Cemetery, on the edge of the circle where the Civil War veterans' monument is located.
After Cassie's death, Chester waited about three years before marrying again. His second bride was Isabelle Mackey (Jan. 3, 1893-1973), in 1928, a first marriage for her.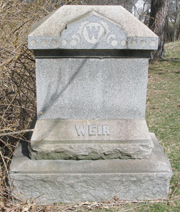 Washington Cemetery
They remained in the Weir home at 119 Highland Avenue.
In the 1930 census, Chester's occupation was given as "landlord - owns property." He was burdened in his final years with chronic heart problems, which were not treated medically.
Just before Thanksgiving 1931, Chester heard a loud sound in front of his home, and went outside to find that an automobile had crashed into the fence on his property. Afterward, after returning inside his home, he suffered a massive heart attack, and died suddenly. He sleeps for all time beside Cassie in the Washington Cemetery.
The widowed Isabelle survived her spouse by a remarkable four-plus decades. The federal census enumeration of 1940 shows her sharing a Chestnut Street home with her sister and brother-in-law Ida Mae and Ralph Vezie in Washington. She supported herself through her work as an advertiser for a retail clothing store.
The Angel of Death plucked her away at the age of 80 in Oct. 1973. Burial was in the Mackey family plot in Washington Cemetery.
~ Son Holland DeVaughn "Bus" Weir ~
Son Holland DeVaughn "Bus" Weir (1902- ? ) was born on March 27, 1902 in Washington, Washington County, PA.
He stood 5 feet, 10 inches tall, with blue eyes, brown hair and a light complexion. He weighed 165 lbs.
Evidence suggests that he attended Washington and Jefferson College in about 1926. He may also have attended the University of Michigan, where he was a member of the Phi Delta Theta fraternity.
When his father died without warning in 1931, Holland is believed to have taken over his livery garage business. His address in 1934 was 87 West Wheeling Street.
On Feb. 6, 1934, Holland was joined in marriage with 23-year-old Elizabeth "Libby" Knox (1910- ? ), daughter of R.W. and Sarah (Chaney) Knox, the father a local attorney. Rev. Alfred W. Wishart officiated at the wedding ceremony.
The couple were the parents of one daughter, Cynthia Knox Stephens Brooks.
Sometime between 1935 and 1940, the family relocated to Detroit, Wayne County, MI. There, he made a living as a salesman of electirc fixtures.
The Weirs made a home during the 1940s at 16750 Rosemont in Detroit. In those years, he worked for the U.S. Army Air Corps at 8505 West Warren Street, and that he reported to work at 341 Massachusetts in Highland Park.
Holland was required at age 39 to register for the military draft during World War II. He disclosed to the registration clerk that the person who would always know his whereabouts was R.W. Knox of 249 North Wade Street in Washington, PA.
Later, Holland became a self-employed bookkeeper. Their address in 1958 was 18410 West McNichols Road.
In May 1962, Holland is known to have traveled to Naples, Italy. By the early 1980s, they were in Hamburg, Livingston County, MI.
He passed away in Howell, Livingston County on Aug. 1, 1981, at the age of 79. A death notice was printed in the Detroit Free Press. The remains were returned for burial to Washington, PA.
Daughter Cynthia Knox "Cynner" Weir (1935-2016) was born on Feb. 19, 1935 in Washington, Washington County, PA. She grew up in Detroit. After attending Wilson College, she transferred to the University of Michigan and received an undergraduate degree in U.S. history. In late Aug. 1958, Cynthia was joined in marriage with Kenneth Hall "Ken" Stephens ( ? - ? ), son of O.P. Stephens of Detroit. The wedding was held in the Bushnell Congregational Church, and the couple honeymooned in Chicago. The news was published in the Detroit Free Press. At the time Kenneth was a student at the University of Michigan. They bore two sons, Robert "Scott" Stephens and Richard Stephens. After the birth of her second son, Cynthia began studying for a master's degree in education at Wayne State University while working part-time in a retail business. Sadly, Kenneth may have died during that period of time. Then in 1970, she wedded Charles Brooks ( ? - ? ), and the couple relocated to Grosse Pointe, a Detroit suburb. They produced a son of their own, John Brooks. Cynthia went on to spend 32 years of employment in special education teaching with Avalon Elementary School in St. Clair Shores, MI. She was active with the local Unitarian Church and in 1976 helped organize the Grosse Pointe Park Civic Association in connection with the U.S. Bicentennial. Said the Grosse Pointe News, "She was proud of her independent, resourceful and tough Scotch-Iish heritage and of a being a Daughter of the American Revolution." Twice widowed, Cynthia's retirement years were spent in Siesta Key, Sarasota, FL. There, she was a founder and leader of the Sarasota Society of Portrait Artists. She also enjoyed playing bridge. Suffering from breast cancer for a number of years, she succumbed to death at the age of 81 on Nov. 5, 2016.
Grandson

Robert "Scott" Stephens

was joined in wedlock with Dhuane Gebauer. Dhuane is a 1983 graduate of Amherst College. They are believed to reside in New York City.
Grandson Richard Stephens
Copyright © 2001-2002, 2008, 2010, 2020 Mark A. Miner