Clara B. Bowman
(1868-1890)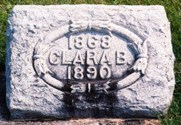 IOOF Cemetery, Hartford City
Clara B. Bowman was born in 1868 in Perry County, OH, the daughter of Jonas B. and Lucy (Danison) Bowman.
Little is known of her life, and her death is shrouded from our understanding because of the lack of records existing today. She died before the time that death records were kept by the county. Likewise, no newspapers of the era survive that might contain her obituary.
At age 20, Clara moved with her parents and siblings to Hartford City, Blackford County, IN. There, she watched as the family established the Bowman & Co. carriage manufacturing business, and as it flourished in the booming town.
In 1890, however, just four years after settling in Hartford City, Clara died, unmarried and at the age of 22, of causes unknown.
She is buried in the Bowman family plot, with her parents and siblings, at the IOOF Cemetery east of Hartford City.
Copyright © 2000, 2012, 2020 Mark A. Miner