Home

Lucy (Danison) Bowman
(1835-1925)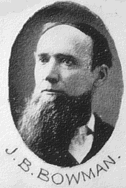 Jonas Bowman
Lucy (Danison) Bowman was born on Nov. 29, 1835 near Mt. Perry, Perry County, OH, the daughter of Absalom and Rebecca (Miner) Danison.
She and her husband were prominent citizens in the 19th century boom-town of Hartford City, IN, but she endured the tragedy of the deaths of her husband and all four of her adult children during her lifetime. In many ways their life story embodied the "American Dream," a mix of success as well as unfulfilled potential.
On Feb. 27 [or Sept. 26], 1860, the 25-year-old Lucy married Jonas B. Bowman (1835-1906), of the same age. They settled at Mt. Perry, and after a few years, they moved into the nearby town of Somerset, Perry County.
The four offspring born into this family were Aurelius A. "Rily" Bowman, Harry G. Bowman, Joseph T. Bowman and Clara B. Bowman.
As an 18-year-old, Jonas began learning the trade of building buggies in a shop in the county. When the federal census was taken in 1870, the Bowmans made their home in Duncan's Falls, Muskingum County, OH. Jonas was employed that year as a blacksmith. That year, 16-year-old niece Laura McFarland lived under their roof as a "domestic servant."
Later, after Jonas had fine-tuned his craft, and wished to seek his own fortune, he and Lucy and their four adult children moved to Hartford City, Blackford County, IN. Said the Hartford City Evening News, "they at once formed the company which has since been known as Bowman & Co., buggy manufacturers, and commanded a large business."
At first, the business was "in a little building on north Monroe street," said the Evening News. "With the growth of the business the firm increased its capacity and kept apace of the times by adding new equipment. A larger and more modern building was later erected across the street from the site of the old workshop." The newer shop was at the corner of Monroe and Main Streets, about a block from the Blackford County courthouse. (The site today features a laundry.) They lived near the shop, at 121 East Main Street in town.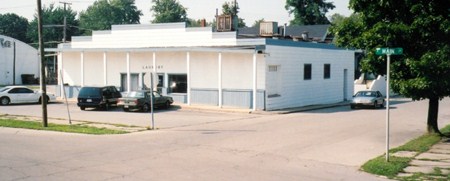 Laundry at the corner of Monroe and Main Streets in Hartford City, circa 2000, site of the old Bowman & Co. buggy manufacturing plant.
The Evening News once said that Jonas "spent almost every day in his shop since coming to this city and was always looked upon as a good, reliable business man who had the respect of all citizens." An 1896 booklet touting the benefits of the city said that the Bowmans were "manufacturers of surreys, buggies; and light vehicles of all descriptions.... [The] local patronage bestowed upon the firm has increased each year as the public apparently appreciates the value of first-class work ... and especial attention is given to fine repair work." Jonas and sons Aurelius and Joseph were pictured in the booklet.
Hartford City boomed with the discovery of a vast reservoir of natural gas in 1887, the year before the Bowmans moved there. The town's population tripled from 2,000 to 6,000 over a 10-year expansion, and spawned 4 competing newspapers. The 1896 booster booklet stated:
...With that discovery of nature's fuel a great change came over the community, and an awakening to a new and better life was experienced; the rumblings of a metropolitan future were heard in the distance and honors unexpected and unsought were showered upon Hartford City. New and wide-awake people began to locate here and they, working hand in hand with the older residents who were alive to the possibilities of the day, soon had the city fairly started on the road to wealth and fame. They did this in a thorough, systematic and direct manner, offering and giving free factory sites and free fuel and before long had a number of important manufacturing industries located, which naturally gave a great impetus to the growth of the city.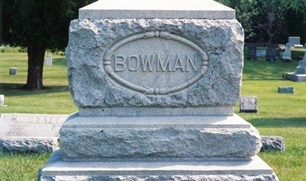 Family grave at Hartford City's Odd Fellows Cemetery
Methodist Church, Hartford City
As with any business, there always were disputes over the quality and cost of work done, often leading to litigation. In one 1889 case, the Bowmans had cut down four wagon wheels, added four new tires and two spokes to a wagon. The customer failed to pay $18.60 in costs, and the Bowmans sued. The outcome of the case is not yet known.
The Bowmans resided on East Main Street, near their shop. The Evening News said that Jonas was a man who "possessed a kind heart, commanded a large friendship and whose enemies were few." He was a longtime member of the Methodist Church and Independent Order of Odd Fellows, "and has always been an earnest worker for both his church and lodge."
Tragedy struck the Bowmans twice in the span of a year, when they lost two of their adult children. In 1890, at age 22, daughter Clara, who was unmarried, died of causes unknown. Then, in 1891, 28-year-old son Harry, a clerk in the courthouse in Indianapolis, died suddenly of severe stomach problems, ending a life of great promise. Both were buried in what became the Bowman's plot at the IOOF Cemetery.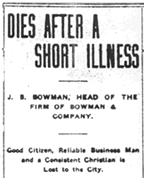 Jonas' obituary, 1906
Jonas himself suffered from stomach problems which were attributed to "general parasite and tape[worms]." He died from their effects on May 16, 1906, generating front-page headlines in the Evening News.
Later in 1906, daughter in law Clara (Robbins) Bowman died of tuberculosis, leaving three grandchildren as orphans -- Charles H., Ruth E. and Mary E. Bowman. With no one else to care for them, Lucy agreed to serve as their legal guardian. Because she had no source of income, other than savings, funds were tight. One of her decisions was to sell Joseph's home to provide funds for the children's welfare, and she did so in March 1914. She also petitioned the county court for help to offset some of the costs.
A detailed report of her expenses on their behalf survives in the Probate Order Book of Blackford County. As would be expected, she spent funds for "clothing, board, schooling and doctor bills." She also took them on trips to Elwood, Kokomo, Clinton and New Castle, IN. Records also show she sent Ruth to Franklin, PA in September 1914 and Charles and Mary to her old hometown of Zanesville (Somerset, Perry County), OH, during the months of July, August and September 1915.

Lucy's obituary, 1924
In November 1924, Lucy became ill, and was bedfast for six weeks.
She died just after the start of the new year, on Jan. 7, 1925. News of her death made headlines in the Hartford City newspapers, and was telegraphed to niece Mrs. E.M. Braddock in Perry County, OH, where a story was printed in the New Lexington (OH) Herald.
Lucy was buried with her husband and children in the IOOF Cemetery, east of Hartford City.
Copyright © 2000, 2008, 2010, 2022 Mark A. Miner