Frank Brown
Frank Brown was born on Jan. 11, 1864 near Cardington, Morrow County, OH, the son of James R. and Lydia (Miner) Brown. As a boy, he became a pioneer of Iowa and Kansas, and as a man an early settler of Oklahoma.
At about age three, Frank and his parents moved to DeSoto, Dallas County, IA, where they stayed for nine years.
In 1877, they relocated again within Iowa, making their home in Montezuma, Poweshiek County, where they remained for two years.
They moved to Medicine Lodge, Barber County, KS in 1879, where they ran a dairy. Five years later, in 1884, they relocated within Barber County to Elm Creek, southwest of Isabel. In the spring of 1884, when Frank was age 20, the Browns survived a five-foot river flood following a cloudburst in April 1885, but lost 40 head of cattle and their farm was ruined. (Read an eyewitness account of this disaster by Frank's sister Nellie.)
With the prospects of the opening of the Oklahoma Indian Territory in April 1889, they decided to leave Kansas and took part in the Oklahoma Land Rush, settling near Kingfisher, OK.
The land rush was an exciting event for Frank and his father and sisters Nellie and Laura. According to a family manuscript:
... Their outfit consisted of two covered wagons which was trailed by one horse buggy. They reached the line west of Kingfisher without mishap on the night before the great day of the Land Rush. It was decided that Nellie and her sister, Laura ... were to ride in the Land Rush (with James R. Brown and Frank Brown to come on later), in the one horse buggy, driving a mule who was gentle.

Kingfisher, Oklahoma, early 1900s

Nannie Brown
On Christmas Eve 1895, when Frank was age 31, he married 29-year-old Nannie Snyder (1866- ? ), a native of Kentucky. Their marriage ceremony took place in Canadian County, OK.
Nannie was an early grade school educator, and may have met Frank when instructing his younger sisters. She taught during the winter of 1894-1895 in the one-room, log-hewn Excelsior Township Schoolhouse near Kingfisher. The school session was held just five years after the Oklahoma Territory was opened for settlement. Among Nannie's young students were her future sisters in law Emma (Brown) McGirk and Bertha (Brown) Keck. Nannie stands as the tallest person in the photograph, just to the right of the third window from the left.
Of the solid-looking schoolhouse, Frank's sister Laura penned this in a one-page handwritten memoir:
Built in the fall and winter of 1890-1891. The shingles are shakes or clapboards, made from the native oak trees. Also the siding in the gable ends and door and window casing.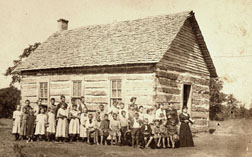 Excelsior School, Kingfisher, Oklahoma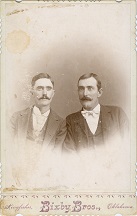 Frank, right, with (?),
Bixby Bros. Studio,
Kingfisher
The couple did not have any children.
Later, by 1900, the Browns relocated to California, making their home in San Diego, San Diego County. Also moving there at the time were Frank's parents and married sister Ella Young and her husband William. There, the 1900 federal census shows that Frank earned a living as a cemetery superintendent.
In 1910-1918, they resided at 3940 Mississippi Street in San Diego, where Frank was employed as a landscape gardener.
Continuing to invest in the promise of Oklahoma's future, in January 1911, Frank bought 160 acres from the U.S. Land Office in Woodward, in the southwest quarter of Section 20, Township Four north of Range 23 East of the Cimarron Meridian. A few years later, his father acquired four lots from the same Land Office at Woodward. These tracts comprised 139.38 acres in lots 1 through 4 in Section 4, Township 28 North in Range 26 West of the Indian Meridian.
Frank and Nannie moved during the late 1910s to Arvin, Kern County, CA. The census of 1920 shows them residing in the home of Alfred and Freda Staples, with Frank working as a hired man and laborer on a small ranch, and Nannie as the family's housekeeper.
When the census of 1930 was enumerated, the Browns made their home on Casa Loma Street in the Union District of Kern County. There, Frank labored as a farmer on a chicken ranch.
Frank died in Arvin sometime after 1930 but most likely before 1940. The specifics of his passing, and his final resting place, are not yet learned.
Nannie's fate is unknown.
Copyright © 2000, 2002, 2008, 2011, 2015 Mark A. Miner