John Minard Burditt
(1876-1925)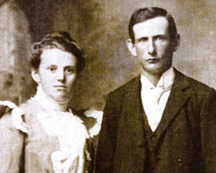 John and Yettie Burditt
John Minard Burditt was born in 1876 near Tontogany, Wood County, OH, the son of William J. and Jemima (Minerd) Burditt.
In childhood, John attended school, unlike other local boys of German heritage, whose parents thought there was no need for "book learning." Because he had more "schooling" than they, he often was consulted by neighbors when a letter arrived written in German, needing to be translated, because he knew how to do it.
John entered into the bonds of wedlock with Yetta "Yettie" Vollmar (1878-1961), a Tontogany native and the daughter of George and Mary (Wires) Vollmar.
Yettie's father was a German immigrant, and her mother is said to have been upset that Yettie married a man who was English, and not German, although John's roots were most definitely German, but very Americanized by then.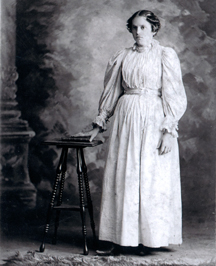 Yettie in teenage years
Yettie is seen here in a portrait taken before marriage, likely as a teenager, at Nicholson Studio in nearby Toledo, OH.
The Burditts were the parents of seven daughters, all of whom had unique nicknames -- Evelyn "Eb" Fuller, Myrtle "Skeeter" Long, Edna "Mike" Keller, Clara "Ret" Mozena, Cora "Tom" Digby, Helen I. "Bunk" Williams and Nellie "Duke" Peters. Sadly, a son, Clark Burditt, died in childbirth.
The family resided on the "old homestead" farm three miles north of Tontogany, where John had grown up, and which previously had been in the Minerd family going back to the 1840s. According to a 1990 feature article in the Bowling Green Sentinel-Tribune:
All seven of the girls were born in a log cabin on Tontogany Creek Road. The cabin is no longer standing. The seven sisters all grew up in the Tontogany area and graduated from Tontogany High School, which was consolidated very early in comparison to other area districts. It was three miles from their house to the school, but they didn't ride the bus because there was no bus. The girls made the journey on foot for many years. And when the first bus did make it out their way, it wasn't the big, yellow vehicle we see today, but a small, horse-drawn one.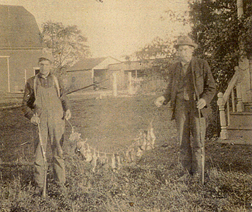 John and nephew Ross Robinson
Seen here, John and his nephew (and longtime neighbor) Ross Robinson hold up what appears to be a string of varmints they had trapped.
The Burditts were members of the Tontogany Presbyterian Church. John always instructed his daughters to call him "Papa" and not "Father," saying that they only had one of the latter, their "Father in Heaven." He also was reluctant to allow his daughters to cut their hair until they became teenagers.
In the 1910s, John's mother resided in their home, and died there in 1914.
According to one of their daughters:
We seven ... were always known as the 'Burditt Sisters.' All 7 played basketball in high school. When the 4 youngest were in high school we were second in the Wood County Tournament. Three sisters -- Evelyn, Cora and Nellie -- were educators.
Tragically, John became very ill after becoming soaked to the skin while walking home one night. He suffered "sinking sickness" from July to October 1925. Fearing he was dying, Nettie kept their daughters at home on days she feared he would go. He would ask, "Am I worse today?" She would reply, "No, I kept the children home to help me dig potatoes." But sadly, he did not recover, and passed away at the age of 49 on Nov. 8, 1925. He is buried at Tontogany Cemetery.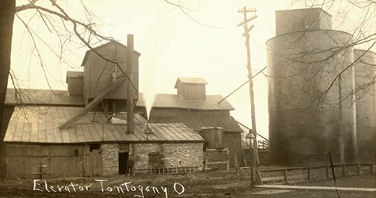 Old grain elevator in Tontogany serving local farmers
Yettie outlived her husband by more than 35 years, maintaining her home near Tontogany.
When the federal census was taken in 1930, the 53-year-old Yettie is shown heading a household on Shanower Road that included daughter and son in law Clara and Elwood Mozena, single sister Myrtle Spathelf, and grandson Burdett Mozena. Yettie was listed as having no occupation, and must have relied on her son in law Elwood for support as he is shown to be a farmer in the census.
Julie Dunham, a great-granddaughter, has shared the story about how Yettie's three daughter were able to attend college at Bowling Green Normal School in Bowling Green.
Yettie decided her girls should be given opportunities she didn't have. So she invested $500 for Evelyn's tuition with the understanding that Evelyn then would live at home & pay for the next sister interested in attending. This way Yettie was able to see three of her daughters educated at a time when few women aspired to that level.
Yettie suffered a cerebral hemorrhage in early January 1961. After lingering for nine days, she died at the age of 82 on Jan. 20, 1961, in the Wood County Hospital. She is buried beside her husband.
At the time of Yettie's passing, she and John had produced 17 grandchildren and 36 great-grandchildren.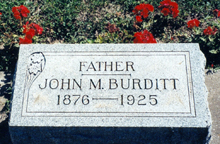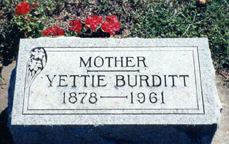 The Burditts' graves in Tontogany Cemetery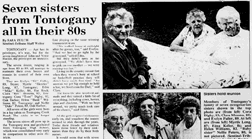 Bowling Green Sentinel-Tribune, 1990
In June 1990, six of the seven Burditt sisters, all widowed and in their 80s, gathered at Haskins Park for a get-together. A newspaper reporter from the Bowling Green Sentinel-Tribune attended and wrote a lengthy feature story on the unusual gathering. The article said that "despite such a large family, once a year they all manage to meet somewhere within the 50-mile radius in which they live for a good old-fashioned family reunion... The seven sisters, ranging in age from 80 to 89, all manage to maintain their own homes and remain in control of their own lives." The only sister not to attend was Nellie Peters, who was touring Germany with her husband Luther at the time.
By the time of the 1990 reunion, the sisters' families had swelled to a combined 58 grandchildren, 63 great grandchildren and one great-great grandchild.
~ Daughter Evelyn Bertha (Burditt) Fuller ~
Daughter Evelyn Bertha Burditt (1901-2002) was born in 1901.
She married Clair A. Fuller ( ? -1966). They made their home in Bryan, Williams County, OH.
They had two daughters -- Geraldine White and Jo Anne Beavers.
As a young woman, Evelyn attended "what is now Bowling Green State University, catching a ride every day on the bread delivery truck," said the Toledo Blade. She taught school in rural parts of Wood and Henry Counties, OH, only leaving the field upon her marriage in the mid-1920s. Said the Blade: "The couple operated a grocery store in Colton, Ohio, during the Depression. The family moved to Bryan in 1939, and Mrs. Fuller worked for Ohio Art Co. during World War II. [She] was a member of Pulaski United Methodist Church , and she made quilts as a fund-raiser for the women's association and for her children and grandchildren."
Clair passed away in 1966. Evelyn outlived him by 36 years.
Later in life, Evelyn taught herself how to play contract bridge. Active in the community, she was secretary of the Bryan Women's Bowling Association, carrying a 150 average, and was named to the local bowling hall of fame. She also was president of the American Legion auxiliary in Bryan and a member of the Rebekah Lodge. She was a great fan of the Detroit Tigers and of golf superstar Tiger Woods.
Evelyn died at age 101 in Harborside Healthcare Center on Oct. 29, 2002. She was laid to rest in the Shiffler Cemetery in Bryan. She was survived by five grandchildren and 12 great-grandchildren.
~ Daughter Myrtle M. (Burditt) Long ~
Daughter Myrtle M. Burditt ( ? - ? ) was born on March 23, 1903, in Tontogany.
She married Leighton Long (1898-1987). They had no children. The Longs resided in Tontogany.
Leighton passed away in January 1987, at the age of 88.
Myrtle lived in widowhood for 12 years. She died on Feb. 24, 1999, at the age of 95.
~ Daughter Edna Mae (Burditt) Keller ~
Daughter Edna Mae Burditt (1904-1993) was born on March 29, 1904, in Tontogany.
At the age of 20, on Christmas Eve 1924, she wed Leo Keller ( ? -1980) in Monroe, Monroe County, MI.

Obituary, 1993
They had four children -- LaVonne Clapp, Leola M. Prine, Claretta Jane Miller and Patricia Good. The Kellers lived in Flat Rock, Seneca County, OH.
During her working years, Edna was employed as an inspector with Philo Corporation.
Sadly, Leo passed away on Feb. 3, 1980.
Edna outlived him by a baker's dozen of years. She died at home in Flat Rock, on Dec. 27, 1993, at age 89, "after a lengthy illness," said a Bowling Green newspaper. She was survived by 18 grandchildren, 38 great-grandchildren and three great-great grandchildren.
~ Daughter Clara (Burditt) Mozena ~
Daughter Clara Burditt (1905-1998) married Elwood Mozena (1900-1977).
They lived near Tontogany circa 1930 and had three children -- Burdette Mozena, Mary Lou Schutzberg and Dale Mozena.
The Mozenas made their home in Tontogany. Elwood died at about age 76 in August 1977.
When interviewed by the Bowling Green Sentinel-Tribune in June 1990, Clara recalled that living in the country meant that when they were not busy at school or basketball practice, the sisters "still didn't have much free time. 'As soon as we got big enough to hold a hoe, we hoed corn for Dad'," she said.
Having outlived her husband by 11 years, Clara passed away at the age of 93 on Oct. 10, 1998.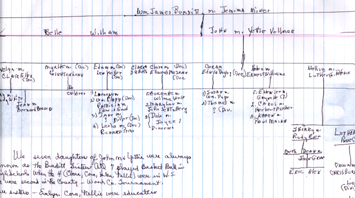 Hand-drawn Burditt family tree by Nellie (Burditt) Peters
~ Daughter Cora (Burditt) Digby ~
Daughter Cora Burditt (1907-2011) was born on Jan. 3, 1907 in Tontogany.
At the age of 22, on March 31, 1929, she was united in holy matrimony with 22-year-old Edwin Digby (1907-1978). The nuptials were held in Tontogany. Their marital union lasted for 49 years until the separation of death.
They had three children -- Susan Pope-Bitter, Dr. Thomas Digby and Judith Ann Wilhelm.
The family made its home in Oak Harbor, Ottawa County, OH. Having received her education at Bowling Green State University, Cora taught school for 28 years with the Genoa Area Local School District. In her free time, she cultivated flowers in her garden, played golf at Oak Harbor Golf Club and knitted. She was a member of the Order of Eastern Star in Genoa for 80 years.
Edwin died at age 70 in March 1978.
Cora outlived her husband by more than three decades. She passed away at the remarkable age of 104 on May 29, 2011, while a resident of Otterbein North Shore Retirement Community. Interment was in Washington Township Cemetery in Tontogany. In a Toledo Blade obituary, the family asked that any memorial donations be made to the American Cancer Society, St. John United Church of Christ in Genoa or the Genoa Area Local Schools Scholarship Foundation.
Daughter Susan A. Digby ( ? - ? ) was born in (?). She was twice married, first to (?) Pope and second to Paul Bitter ( ? - ? ). They resided in Port Clinton, OH in 2011.
Son Dr. Thomas Digby ( ? - ? ) was born in (?). He married Barbro ( ? - ? ). Their home in 2011 was in Newton, NJ.
Daughter Judith Ann Digby ( ? - ? ) married (?) Wilhelm ( ? - ? ). She was deceased by 2011.
~ Daughter Helen (Burditt) Williams ~
Daughter Helen I. Burditt (1908-2000) was born on May 6, 1908 in Tontogany.
On Dec. 1, 1929, at the age of 21, she wed Ernest Williams (1905-1982).

Obituary, 2000
They resided in Northwood, Wood County and had three children -- Eldon Lee Williams, Carol Fischer and Karen Mains.
Helen "was a member of St. Paul's Lutheran Church, Haskins, and participated in the church's sewing circle, senior citizens' group, the church newspaper and Mary Martha Circle," said a newspaper. "She also baked sugar cookies for the Cherry Street Mission in Toledo and was active with the Red Cross Bloodmobile."
At the age of about 75, Ernest died in March 1982.
Helen passed away at the age of 91 in Weinebrenner Village Nursing home in Findlay, Hancock County, OH, on Jan. 21, 2000. She was laid to rest in Tontogany Cemetery following a funeral led by Rev. Peter Martin. At her death, Helen was survived by six grandchildren, nine great-grandchildren, four step-grandchildren and eight step-great-grandchildren.
~ Daughter Nellie (Burditt) Peters ~

Nellie Peters
Daughter Nellie E. Burditt (1910-2008) was born in 1910.
She married Luther H. Peters (1908-1995) and they were wed for nearly 64 years. They resided on an 80-acre farm near Oak Harbor, Ottawa County, OH.
The couple had two children, Shirley Rice and Luther John Peters.
Nellie was a longtime educator in Carroll Township, considered "strict and well-respected," said the Toledo Blade, "who first taught in a one-room schoolhouse in Oak Harbor after graduating from Bowling Green State University... She would later rise to school principal, and would receive a master's in education from BGSU in 1965."
Among Nellie's students were Spanish-speaking Mexican children who were brought with their parents from Texas to labor in tomato fields for H.J. Heinz Company. Ironically, at least one of these migrants' children -- of the Villareal family -- later married into our extended family of cousins.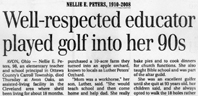 Toledo Blade, 2008
Luther died at the age of 86 on Feb. 20, 1995.
Nellie lived for another 13 years after Luther's death. She shared much family history with the founder of this website during several visits in the early-to-mid 2000s.
She passed away at the age of 98 on May 1, 2008. Following a funeral at St. John Evangelical Lutheran Church, she was laid to rest in Union Cemetery in Oak Harbor. A feature story obituary about her life was published in the Toledo Blade newspaper, headlined "Well-Respected Educator Played Golf into Her 90s."
Son Luther John "Pete" Peters (1934-2019) was born on Feb. 15, 1934 in Oak Harbor. Upon graduation from high school, during the Korean War in 1952, he enlisted in the U.S. Navy. Once his term of service ended, he then enrolled in the Art Institute of Pittsburgh. He spent his career as a graphic designer and among other accomplishments created the "Lollipop Dragon" character for young students. In his spare time, he liked to golf and build and fly moldel airplanes as well as playing piano and singing in the choir at his church. Luther was married and the father of three -- Dawn Burrows, Lisa Peters and Kris Zink. He married a second time to Kathryn Louise "Katy" (Dannenberg) Lloyd (1938?-2018), daughter of Conrad and Mary Sid (Lannert) Dannenberg of Evansville, IN. She had been married previously to Leonard Lloyd ( ? - ? ) and brought two offspring into the union -- Charles Lloyd and Julie Magdlin. Katy had grown up with a love for horses. She was a 1959 graduate of Purdue University and, upon her first marriage, moved to Chicago where she was employed by the Marshall Field's Department Store. She and Leonard relocated over the years to Peoria, IL, Barton, Ontario and Halifax, Nova Scotia and then back to Peoria. Having become single circa 1992, she moved again, this time to Arizona, where she met Luther. They were members of the Shepherd of the Hills Lutheran Church in their home community of Fountain Hills, northwest of Scottsdale in the Phoenix area. She worked for almost 14 years for the Rio Verde Community Association and, when time permitted, made prayer shawls and knitted baby blankets as gifts. Sadly, Katy died at home at the age of 80 on May 11, 2018. Luther survived Katy by 14 months. He was swept away by the Grim Reaper at the age of 85 on July 19, 2019. His memorial service was held in their church.
Daughter Shirley Peters wedded Rudolph "Rudy" Rice.
Copyright © 2002, 2005, 2007-2010, 2018 Mark A. Miner