Isabelle 'Belle' (Burditt) Robinson
(1866-1963)

Isabelle "Belle" (Burditt) Robinson was "born in a log cabin" on April 18, 1866 near Tontogany, Wood County, OH, the daughter of William J. and Jemima (Minerd) Burditt.
Belle married Edward Robinson (1866-1928). They had two children -- Ross Robinson and Marybelle Croll.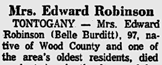 In the early 1890s, the Robinsons moved to the town of Haskins, near Tontogany.
Sadly, Edward died of unknown causes in 1928, at the age of 62.
Belle outlived her husband by 35 years. In her later years, she resided in the home of son Ross in Tontogany.
Belle died at age 97 on Aug. 28, 1963. A newspaper obituary praised her as "one of the area's oldest residents."

Bird's-eye view of Haskins, early 1900s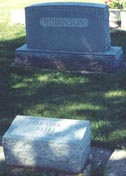 They are buried together at Tontogany Cemetery, and Belle's grave marker (foreground) and the family's large "Robinson" headstone (background) are seen here.
~ Son Ross Robinson ~
Son Ross R. Robinson (1890- ? ) was born in 1890.
He married Nellie Smith (1890- ? ), a native of New York. He owned a grocery and meat market in Tontogany.
They had three known children -- Marybelle Croll, Gerald S. Robinson and Alfred Edward Robinson.
In 1920, when the federal census was enumerated, the Robinsons lived in Tontogany, with Ross working as a wholesale butcher. Residing just a few doors away was Ross's great-uncle and aunt, Jacob and Louise (Finkenbiner) Miner and their unmarried son Jay.
Sadness shook their world in 1921, when infant son Alfred was born prematurely, and died in childbirth on July 20, 1921. Burial was in Tontogany Cemetery.
According to a newspaper article, he also "was an employe of the Wood County engineer's office and the old American Propeller Co., Toledo, before his retirement in 1950." His cousin-in-law, Harry Goodger Sr., also owned it at one time.
Ross was the first 'Noble Grand' of the Tontogany Lodge of the International Order of Odd Fellows (IOOF). According to the 1975 booklet, Tontogany Times, he "saw his son Gerald S. and grandson, John E. become Noble Grands of the lodge." Ross's cousin Harvey "Dean" Miner served as Recording Secretary of the lodge.
~ Granddaughter Marybelle (Robinson) Croll ~
Granddaughter Marybelle Robinson (1913- ? ) was born in 1913.
She was a 1930 graduate of Washington Township High School, and is mentioned in the alumni section of the school's 1932 Toganette yearbook.
Marybelle married Gerald D. Croll, a well-known co-owner of the Croll Funeral Homes of Tontogany and Grand Rapids, OH.
Licensed in 1935, Gerald and his brother Paul jointly owned the facility for many years, with Gerald retiring in 1972.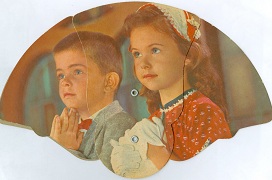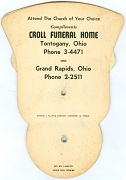 Croll Funeral Home expandable fan, front and back

~ Grandson Gerald S. Robinson ~
Grandson Gerald S. Robinson (1915- ? ) was born in 1915.
He married Margaret.

Gerald was a 1932 graduate of Washington Township High School and is pictured in its yearbook. (The cover is seen here, with the original preserved in the Minerd- Minard- Miner- Minor Archives.)
He and Margaret helped to sponsor publication of the Tontogany Times booklet and are mentioned on its pages.
Margaret once served as clerk of the Washington Township School Board.
More will be added here when learned.
Copyright © 2002-2003, 2006, 2010, 2012 Mark A. Miner