William J. Burditt Jr.
(1862-1949)

William J. Burditt Jr. was born in October 1861 or on Nov. 25, 1862 in Tontogany, Wood County, OH, the son of William J. and Jemima (Minerd) Burditt.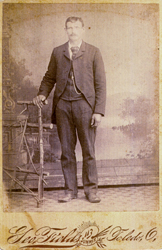 Nicknamed "Will," he grew up on the family farm near Tontogany.
At some point as a young adult, William traveled to Toledo, OH to have his photograph portrait taken. The work was done by the George Fields Studio, located at 113 Summit Street, and is seen here.
In about 1898, when he was age 36, Will married 23-year-old Mary (?). She was a native of New York State, and was 13 years younger than her husband.
When the federal census was taken in 1900, the Burditts made their home next to Will's parents near Tontogany. Will's occupation was listed as stone mason. Boarding in their household were John Griffin and his three-year-old little girl, Lillie Griffin, who also was a New York native. She apparently was Mary's niece.
The census of 1910 lists the Burditts continuing to live near Tontogany, with William now focusing his labors in farming. Young Lily M. Griffin, now age 12, was living under their roof and labeled as their "ward."
Sadly, Mary is thought to have died during the decade of the 1910s. Details are being sought.
By 1920, Will was widowed, with 22-year-old "niece" Lillie still in his home, and living next to his married brother John Minard Burditt on Tontogany Creek Road. Will was employed that year as a contractor in "concrete work.," while Lillie's occupation was stated as "housekeeper" - "farm house."
Will passed away at the age of 86 on May 14, 1949, near Tontogany.
They are believed to be buried in unmarked graves at Tontogany Cemetery, near the graves of Will's parents.
Copyright © 2002, 2010 Mark A. Miner