Sarah (Burgoyne) Stockton
(1828-1890)

John P. Stockton
Sarah (Burgoyne) Stockton was born in 1828 in Ohio, likely in Muskingum County, the daughter of James and Mary (Miner) Burgoyne.
She was joined in holy wedlock with John P. Stockton (1822- ? ), a native of either Pennsylvania or New Jersey.
The couple bore a family of children -- Mary E. Stockton, James "Oscar" Stockton, Anna Stockton, Ella Nora Burroughs and Robert L. Stockton.
The Stocktons initially made a home in Indiana. Then, sometime between 1852 and 1860, they migrated to Illinois.
Circa 1860-1870, federal census enumeration records indicate that the Stocktons were farmers residing in Catlin, Vermilion County, IL. In 1860, 23-year-old farm hand John Henderson lived in the home.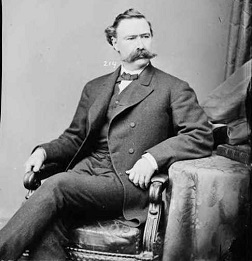 John P. Stockton.
Courtesy

Cindy Mitchell
Sarah is named in the 1883 book by Luther B. Hill, A History of the State of Oklahoma, Vol. 1.
Sarah reputedly passed away on Oct. 8, 1890. Her remains were interred in Spring Hill Cemetery in Danville, Vermilion County. No marker is known to stand at the grave. [Find-a-Grave]
~ Daughter Mary E. Stockton ~
Daughter Mary E. Stockton (1851- ? ) was born in about 1851 in Indiana.
~ Son James "Oscar" Stockton ~
Son James "Oscar" Stockton (1853-1898) was born on April 18, 1853 in Indiana.
He married Flora Belle Huntley (Nov. 28, 1854-1936).
She brought a son to the marriage, George Emmitt Huntley.
The couple went on to produce more sons of their own -- James Leroy Stockton, Claud Stockton, Ralph Stockton and Oscar Stockton.
The Stocktons were farmers. Their home in 1880 was in Belmont, Iroquois County, IL. Boarder Sherman Brown, age 15, also was in the household that year.
Oscar died on Jan. 11, 1898, with interment in Spring Hill Cemetery in Danville, Vermilion County, IL.
Flora Belle outlived her husband by 38 years to the day.
She joined him in death on Jan. 11, 1936.
Stepson George Emmitt Huntley (1873- ? ) was born in 1873 in Illinois. He was a boy when his mother married James Oscar Stockton, and appears to have been adopted by his step-father, taking the Stockton name. At the age of 28, in 1900, he was divorced, employed as a railroad car inspector and lived with his mother in Georgetown, Vermilion County.
Son James Leroy Stockton (1878- ? ) was born in Sept. 1878 in Belmont, Iroquois County, IL.
Son Claud Stockton (1883- ? ) was born in March 1883 in Illinois. He grew up on the family farm and as a teenager in 1900 helped provide farm labor.
Son Ralph Stockton (1886- ? ) was born in May 1886. At age 14, in 1900, he assisted with labor on the family farm.
Son Oscar Stockton (1890- ? ) was born in June 1890 in Illinois. He was seven-and-a-half years of age when his father died and lived a troubled life. In 1906, he was jailed for burglary and sentenced to enroll in a reform school. Before he could be transferred, Oscar tried to take his own life. Reported the Decatur (IL) Herald, "he attempted to commit suicide tonight by swallowing a mixture of creosote and oil of cloves stolen from another prisoner. After his misery had subsided he was found guilty of larceny by a kangaroo court and given twenty lashes." Nothing more is known.
~ Daughter Anna Stockton ~
Daughter Anna Stockton (1861- ? ) was born in about 1861 in Illinois.
~ Daughter Ella "Nora" (Stockton) Burroughs ~
Daughter Ella "Nora" Stockton (1863-1908) was born on Nov. 20, 1863 in Illinois in Vermilion County.
She was united in holy matrimony with widower Lee Burroughs (1860-1940). He had been married previously to Lucy E. Payne (1864-1887).
At least one daughter was born to Nora and Lee, Fronia Leone Bentley.
Sadly, at the age of 44, death carried Nora away on Feb. 27, 1908, in Catlin, Vermilion County. She rests for eternity in Oakridge Cemetery in Catlin.
Lee outlived his wife by 32 years. He married a third time to Anna B. Carnes (1860-1953).
He succumbed on Jan. 4, 1940, at the age of 79. He is interred beside or near Nora.
Daughter Fronia Leone Stockton (1893-1941) was born on Aug. 21, 1893. She wedded Roy Harrison Bentley (1889-1944). The couple's only known daughter was Leone V. Learnard. Fronia passed into eternity on March 10, 1941 when she was 47 years of age. Roy lived for another four years. He died in 1944.
Granddaughter Leone V. Bentley (1915-2000) was born on July 26, 1915. On March 26, 1934, when she was 18 years of age, she was joined in wedlock with Elmer Learnard (Nov. 18, 1911-2004), a native of West Halifax, Windham County, VT. The son of Ossie and Mabel E. (Learned) Prouty, he was orphaned at a young age, and then adopted and raised by an uncle and aunt, Benjamin and Edna (Clingan) Learnard. Leone and Elmer were longtime farmers and dwelled in Georgetown, IL. The couple produced two sons -- Benjamin Learnard and William Learned. The family were members of Fairview United Methodist Church, In his spare time, Elmer was a member of the Lions Club and local Masons lodge, and was active in agricultural business, world travel, softball and playing euchre. They spent their winter months in Harlington, TX. As a patient at Provena United Samaritans Medical Center in Danville, Vermilion County, she passed into death on Sept. 6, 2000. Elmer survived his bride by four years and went to live in Chrisman, Edgar County, IL. At the age of 92, he was carried away by the Grim Reaper on Feb. 3, 2004. Rev. Ray Price officiated at the funeral service, with an obituary published in the Georgetown Independent News. They rest under the soil of Oakridge Cemetery in Catlin..
Great-grandson William "Bill" Learnard (1937-2019) was born on Sept. 16, 1937. Evidence hints that he was twice-married. He and his first wife wife were the parents of Mark Learnard, Scott Learnard, Clark Learnard, Blaine Bensyl and Elizabeth Dekker. Over the years, Bill was employed by General Electric. He also maintained a farm and raised cattle. For fun, he played fast-pitch softball, bowled and traveled, and belonged to the Olive Branch Lodge of the Masons. Then on April 7, 1984, when he was 47 years of age, he wedded a second time to widow Elizabeth Jane (Butler) Randall (April 8, 1938-2015), a Danville native and daughter of Sidney and Mayme (Crawford) Butler. She brought several children to the second marriage, thought to be Lezlie Kay Randall, Robin Fetters, Herbert Randall and Damon Randall. Their union endured for three-plus decades. Having attended Danville Junior College, Elizabeth enjoyed a career of her own. She was employed as a secretary for Judge James Robinson. When Vermilion County created the position of court administrator, she was tapped for the position. She liked to bowl, garden and travel. The couple were members of the Fairview United Methodist Church. Sadly, Elizabeth died at the age of 77 on July 3, 2015, in Georgetown. Bill endured for another four years of life. On Sept. 2, 2019, at the age of 81, he died in Georgetown, Vermilion County. His remains are in repose in Oakridge Cemetery.
Great-grandson Benjamin Learnard married Karen ( ? - ? ).
~ Son Robert L. Stockton ~

Robert Stockton's
prison mugshot

Courtesy

Cindy Mitchell
Son Robert L. Stockton (1867- ? ) was born in about 1867 in Illinois.
As an adult, he stood 5 feet, 7 inches tall and weighed 137 lbs. He also wore tattoos in the shape of star and moon as well as a heart and dagger. For a number of years he lived in Danville, Vermilion County.
At the age of 50, circa 1916, Robert migrated from Danville to California to work in the oilfields north of Los Angeles in Bakersfield, Kern County.
In a jealous rage one day over a woman, he walked into the Imperial Saloon in East Bakersfield. He found his target, Otto Brown, an employee and shop hand with the South Pacific Railroad, aimed and pulled the trigger of his revolver. The shot missed Brown. But it struck the back of 25-year-old Leland Mull, an innocent bystander, and killed him instantly. That evening Brown went to where Robert was living and gave him a severe beating.
Robert was arrested and, under questioning from Assistant District Attorney Alfred Siemon, admitted his crime. He was convincted of first degree murder on Dec. 22, 1916 and sentence to life imprisonment. He was incarcerated for a decade in San Quentin Prison and received a parole five days before Christmas 1926.
Again on April 30, 1931, unprovoked, Robert took an innocent life. Still in Bakersfield at the time, he approached a mother and daughter standing in the front yard of their Oleander Avenue residence. He brandished an open pocket knife and slashed the throat of the daughter, 45-year-old Bertram "Bertie" Duncan. The mother Emma Duncan fought Robert and was cut on the face even as he continued to slice the daughter. He then left the scene, running down the street, "while horrified passersby, attracted by the screams of the women, called an ambulance and notified police," reported the Bakersfield Californian. Robert was captured 15 minutes later, in his blood-soaked clothing, strolling between K and L Streets along Seventh Avenue. Bertram was rushed to a local hospital where she received blood transfusions but died that night. Robert was placed in solitary confinement in the Kern County Jail and told police, "I did it." The Californian further said that "Police believe he is a madman."
Robert died in Mendocino, CA, on Oct. 21, 1939.
Copyright © 2006, 2019 Mark A. Miner
Cindy Mitchell has researched this family and generously shared her findings.