Mary (Miner) Burgoyne
(1798?- ? )
Mary (Miner) Burgoyne was born in about 1798, and if she is whom we think, she likely entered the world on the mountainous border of Fayette/Somerset Counties, PA, the daughter of Daniel and Mary Minor Sr., or perhaps their niece.
She is known to have been German, once referenced in an Indiana history book as "of Dutch descent" -- information undoubtedly provided by the family of her daughter Mahala.
As a girl, Mary moved with her parents to Sego, Perry County, OH. When Mary was age 15, in 1813, her mother passed away.
At about the age of 21, on Dec. 17, 1819, Mary married 24-year-old James Burgoyne (1795?- ? ), also spelled "Burgoin" and whose first name also has been given as "Henry." According to his offspring, he either was of English heritage or French (per son Robert).
Their wedding took place in Perry County, by the hand of Allen Goff, a minister of the Gospel of the Methodist Episcopal Church, which is consistent with the known church affiliation of this branch of the Miners. The record of this marriage is still on file in the Perry County courthouse in New Lexington, OH, and in the booklet, Ohio Records and Pioneer Families, Volume XIII, 1972).

Mary and James' marriage license, on file today in Perry County, Ohio
Census records show that the couple produced nine children -- Mahala Woods, Evan Burgoyne, Sarah Stockton, James H. Burgoyne, Duanna Hawkins, Matilda J. Woods, John Wesley Burgoyne, Robert L. Burgoyne and Elizabeth Russell.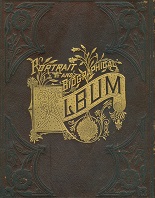 Book naming the Burgoynes

Portrait and Biographical Album of
Vermilion and Edgar Counties Illinois
When the federal census was taken in 1820, they lived as neighbors to Mary's uncle, Frederick Miner Sr., in Madison Township, Perry County.
They are believed to have moved to Muskingum County, OH, where they are listed in the 1840 federal census as residents of Newton Township.
By 1850, it is thought that Mary had died, whether or not in Ohio or Indiana is not certain.
The widowed James established a home by 1850 on a farm in Center Township, Wayne County, IN. The census that year shows him as a single man heading a household with six offspring ranging in age from 9 to 25.
His fate is not yet known.
Mary's life was researched in the 1970s by her presumed grand-nieces, Blanche (Clark) Tarter and Alba (McGirk) Peck. In their typed manuscript of the family, they wrote: "There is some question as to whether this Mary Miner is a daughter of Daniel ... She was probably born in 1798 - and that would have made her to be 20 years of age when she was married."
The couple also has been named in several published works, among them Counties of Howard and Tipton, Indiana by Charles Blanchard (1883) -- Portrait and Biographical Album of Vermilion and Edgar Counties Illinois, Vol. 1, by Chapman Brothers (1889) -- and Ohio Records and Pioneer Families, Vol. 1, by Esther Weygandt Powell (1960). In each instance Mary's maiden name has been cited as Miner or Minor.
Copyright © 2006, 2019 Mark A. Miner
Cindy Mitchell has researched this family and generously shared her findings.