Ella (Bush) Lenon
(1874-1926)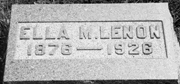 Mt. Hope Cemetery
Ella May (Bush) Lenon was born in 1874 in Greenfield, Hancock County, IN, the daughter of James B. and Elizabeth (Hagan) Bush.
Her story is tragic, and her self-inflicted death was splashed on the front pages of the Logansport Pharos-Tribune newspaper. Because she had no children, and thus no direct descendants living today, Ella's story will be told here, factually, but with appropriate taste and dignity.
Ella married a man some 11 years younger than herself, George E. Lenon (1887- ? ). He was a fireman for the City of Logansport, Cass County, IN, and later a machinist with the Pennsylvania Railroad, based in Logansport. They resided at various addresses, including on East Broadway and on Court Street in Logansport.
In about 1914, Ella became ill, and was in poor health for the remaining 12 years of her life. During that time, she is known to have taken care of her sick father, a Civil War veteran. He died in 1919, and was buried near her home in Mt. Hope Cemetery in Logansport. Ella persuaded the federal government to reimburse her for more than $320 to cover the cost of physicians' bills, nursing and care, undertaker's bills and cemetery charges.
Over the years, she became depressed over her lingering illness, and was "high strung and nervous." One day in April 1926, she called her husband at work, "and said there was something wrong and for him to come home immediately. He did so and found her in a high state of nervousness and searching frantically for her diamond earrings, which had been misplaced."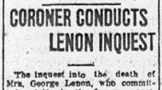 Obituary, 1926
The following day, she called the local funeral home, and asked for the undertaker. He was not in, so she told the assistant "that it was all right and that he would get word concerning her later on." She then sat down in her kitchen, and wrote her husband a goodbye note:
Farewell, George. Do as you care. I could never be happy with you, so no use trying. All I ask is that you keep your people away from me, even in death. I have no use for them. Should you find my diamonds, think well of what I told you. I am tired of life and deceit. Call [the undertaker], and he will know what to do.
Ella then disconnected a burner from the her stove, and fastened a tube to the gas line. She then placed the other end of the tube in her mouth, fastened around her head with a string. She then turned on the gas, and began breathing it into her lungs. When George got home, he found her body on the kitchen floor, and the house filled with deadly gas.
...Terrorized, the husband jerked the tube from her mouth, shut off the gas and carried the limp body into the next room. Throwing open the windows, he then summoned [doctors] and the police. Police in turn notified ... the Northern Indiana Gas company to provide men to apply artificial respiration.... Valiant efforts were put forth by the men to revive the woman. Doctors are of the opinion, however, that she had breathed the gas for approximately 45 minutes, and was dead when found.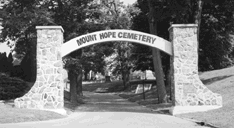 Logansport, Indiana
After an inquest, the county coroner concluded that her death was "the result of despondency over ill health."
Ella was buried in Mt. Hope Cemetery, in a plot donated by the City of Logansport, in a section of the cemetery usually reserved for indigents. An inscribed gravestone marks her place of final rest and peace.
Copyright © 2000, 2009, 2019 Mark A. Miner