James B. Bush
(1836-1917)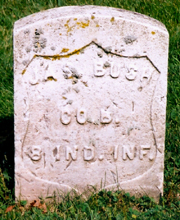 Mt. Hope Cemetery
James B. Bush was born on Jan. 18, 1836 at Muskingum County, OH, the son of Christopher and Elizabeth (Miner) Bush. He was one of five brothers to serve in the Civil War.
James stood 5 feet, 8 inches high, weighing 150 lbs., with a dark complexion, hazel-brown eyes and dark hair. He was twice married, first to Elizabeth Hagan ( ? -1886), with whom he produced children, and second to Laura (Baber) Simmons ( ? - ? ), but with no children.
James and Elizabeth were wed on April 5, 1857, by a justice of the peace at Greenfield. She was the daughter of James and Julia Ann Hagan.
Together, the pair bore three children -- an infant son (born and died in 1857), John Christopher Bush (born 1860), and Ella May Lenon (born 1874).
Their infant son died in September 1857 at age 22 days. He was buried near his Hagan grandparents in a small cemetery at what at the time was the bustling town of Barrett or Benton, complete with its own post office. The town today is gone, but the grave marker still exists, though the cemetery is badly overgrown and neglected.
In a book on Hancock County cemeteries, the town is said to have been "a thriving community located where the Greenfield-Nashville Road crossed the Portland (Cleveland) and Huntsville Road; with a post office, grist mill, casket factory and dead animal factory.... No one seems to know the reason for the town's failure...."
James never learned to read or write, and signed his name with an "X."

James' "X" signature
During the Civil War, James enlisted with brothers Henry and John and brother in law John B. Anderson as privates in the 8th Indiana Volunteer Infantry. While his regiment was at Otterville, MO in 1862, he became ill with the measles, which settled in his lungs. Then, in June 1864, regimental surgeons gave him a vaccine in the arm leg to keep him from getting smallpox. When the remedy did not "take," surgeons gave him another vaccination, this time in the right leg. The vaccine was "impure," which caused "a running sore for 4 months" and partial paralysis in the leg, and from which he suffered the rest of his life.
In the words of brother in law John Anderson:
...I was with him all of the time that he was in the company during the firs three years of our enlistment and have known him ever since. My recolection is that it took place ... at or about Terrabone Station La. I would see his leg frequently and he had a very sore leg and for a while there was talk of amputation being nesisary to save life... The leg became much swollen -- a deep eating or cancerous sore.
R.J. Stephens, another soldier in the company, wrote that "the sore was as Large as a mans hand wher the flesh came out and you could see the Bones in his legg very planley...."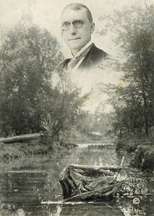 Greenfield swimming hole made famous by the "Hoosier Poet" James Whitcomb Riley
James was discharged at Darien, GA on Aug. 28, 1865, and he returned home to Greenfield. He began receiving a pension of $2 a month for his lung disease, which was increased little by little over the years to $14 in 1892.
While James was away at war, in 1864, Elizabeth purchased two town lots in Greenfield. After the war, he worked as a farmer and labored "hauling gravel in constructing [the] pike just west of ... Greenfield." Friend Joseph Thomas recalled that James' lungs were so bad that he "would break down or give out whenever he attempted to do hard work." Brother in law Anderson said that James was "a poor man and I have knowen him to hall logs & wood when he could hardley walk but he had it to do to support his Family."
Henry Martin of Greenfield worked for James during the years of 1873 and 1874, driving a team of horses. Martin recalled that "during that time he went on crutches on account of being disabled from rheumatism [which] lasted all the time I worked for him...."
After the war, in 1869, James and brother in law John Anderson co-invested in two town lots in Greenfield. They sold one of the lots to brother John Bush the following year. In 1871 James bought another town lot in Greenfield. He would sell this lot 16 years later, in 1887.
James lived in Greenfield until 1877 when he moved away to places unknown, possibly for the health of his wife, returning in the spring of 1885. Tragically, after nearly three decades of marriage, Elizabeth died the following year, on Nov. 26, 1886 at Greenfield. Her burial site is unknown, though she may have been buried near her parents and infant son at a nearby cemetery.
James stayed in Greenfield until about 1889, when he moved to Indianapolis. On May 1, 1890, James married Laura (Baber) Simmons and they resided in Indianapolis at 120 East Merrill Street. She had been married and divorced once before, and was the daughter of B.F. and Hattie (Longer) Baber. Laura did not live long after the marriage, and died on Jan. 13, 1893.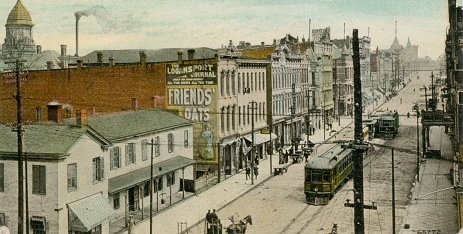 Broadway looking east in Logansport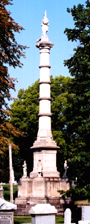 Soldier monument, Mt. Hope
After Laura's death, James moved about frequently. In 1893, he was living at Kenneth, IN; in 1895 at Delphi, Carroll County, IN; in 1898-1899 at Morgantown, Morgan County, IN; in 1901 at 1622 English Avenue in Indianapolis; in 1904 at 220 Noble Street and 150 North Illinois Street in Indianapolis; and in 1915, Hot Springs, AR.
Later, he moved to 4 High Street in Logansport, Cass County, IN to be near his daughter Ella Lenon. She resided there at 316½ Broadway.
At age 82, James died on Sept. 14, 1917 in Logansport at the Sisters of St. Joseph Hospital , "coming at the close of a long illness," said the Loganport Pharos Reporter. He was buried in the town's Mt. Hope Cemetery. The government paid more than $320 to cover the cost of his last illness, including physicians' bills, nursing and care, undertaker's bills and cemetery charges.
James' marker is among scores of Civil War veterans' graves that encircle a tall, prominent and beautiful war memorial in the Mt. Hope Cemetery.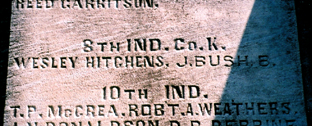 James' name, Civil War monument, Mt. Hope

His name is etched into the massive base of the monument among hundreds of other war veterans who either served from,or spent their final years in, Logansport.

Son John's fate is unknown, though he was alive in 1873 when his grandfather Hagan wrote a will.

Daughter Ella resided in Logansport until her death in 1926. She also is buried at the Mt. Hope Cemetery.

Copyright © 2000, 2008, 2019 Mark A. Miner