Iva Lucretia (Conn) Henry
(1899-1965)


Iva and Jesse Henry
Iva Lucretia (Conn) Henry was born on Oct. 31, 1899 in Jersey Hollow near Confluence, Somerset County, PA, the daughter of Alexander Wilson and Susannah (Harbaugh) Conn. Twice suffering workplace fire accidents, her husband died a painful death at an early age, leaving her as a young widow who went on to spend more than 30 years alone.
Iva married Edward "Jesse" Henry (1898-1931), the son of Charles Ross and Lydia (Ansell) Henry of Scullton, Somerset County. The ceremony was held on May 20, 1916 at Scullton, officiated by Rev. S.W. Bryan, when Iva was age 16 and Jesse was age 18.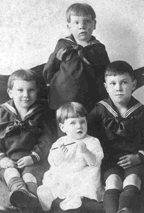 The Henry children
At the time of marriage, Jesse gave his occupation as "professor," suggesting he was a local school teacher. He listed his father's type of work as "traveler."
They had five children -- Frank B. Henry, Robert Bernard Henry, Edward Jesse "Jim" Henry Jr., Chester Henry and Wilma Lois Everhart Wright. Four of Iva and Jesse's five children are seen here, but their names and the date are unknown.
Circa 1917, the Henrys resided in New Lexington, Somerset County. At some point, they moved to the nearby village of Kingwood. They were members of the Wesley Chapel Methodist Church.
Jesse went on to operate a small restaurant in the nearby bustling railroad town of Rockwood, Somerset County.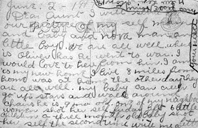 Iva's 1917 postcard
In a June 1917 postcard (seen here) sent to her aunt Letitia Stoner, Iva wrote:
I will send you our picture of my self, man and baby and Nora man and little boy. I am in my new home. I live 8 miles from home. Was at home the other day. They are all well. My baby can creep, go up stars and walk around chairs. He is 9 mo old.
In 1924, while working at the restaurant, Jesse suffered the first of two serious burn-accidents. Said the Somerset Herald, "while lighting a gasoline burner on a coffee urn, he was badly burned when it became enveloped in flames and he carried it outside." Fortunately, Jesse recovered, though he would not be so fortunate a second time.
Two years later, Iva and Jesse attended the first Harbaugh Reunion in August 1926. They are among a throng of cousins and friends pictured in the large reunion photo.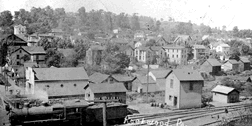 Rockwood with a railroad engine in the foreground and a hillside of houses behind
At some point, Jesse became a "store keeper of New Lexington [Somerset County], where he catered to the public with general merchandise," said the Herald. In this position, he was "well known."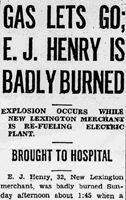 Somerset Herald, 1931
The second wave of tragedy struck in July 1931, when 33-year-old Jesse again was engulfed with fire at work and suffered fatal injuries. While "filling the tank of the gasoline engine of his electric plant" in his store, a gallon measure "exploded and set fire to his clothing." According to the Herald:
Mr. Henry accompanied by George Leer of Kingwood, went into the cellar to refuel his electric power plant. He had a gallon measure filled with gasoline and as he opened the tank to pour it in, there was an explosion and the gasoline in the measure was ignited. Mr. Henry carried the flaming container about 15 feet to the foot of the cellar steps and called for help.
Mr. Leer called to Henry and told him not to run, but in his excitement the man ran up the steps and out through the store toward the spring with Leer after him. Leer was unable to catching the burning man until he had gone some distance and upon reaching him, Leer grabbed his shirt and tore it off.
Mrs. Henry, who was in their home across the highway, heard the screams of her husband and hurried to the scene where she directed the men who had gathered there to find the fire extinguishers and then called a physician. Mr. Henry was rushed to the Somerset Community hospital where he is confined with third degree burns of the chest, arms and head and possible internal burns.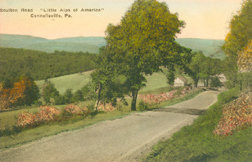 Scullton Road
Just a day after the accident, on July 20, 1931, Jesse died at the hospital. The Herald said that "It is thought that his former burns had weakened the tissues so that when exposed to the second fire, his resistance was lower and he could not throw off the effects."
After a funeral at the Wesley Chapel Methodist Church, Jesse's charred remains were buried at the Scullton Cemetery along Route 653 (Springfield Pike).
The Scullton Road, framed against the picturesque backdrop of the "Little Alps of America," is seen here.
Iva then sought employment to support her and her children. One July in the late 1940s or early '50s, in a letter to a relative, Iva's mother wrote: "Gertrude and Iva has not bin here for some time. They don't get home often as they both work."
Iva's mother attended the annual Harbaugh Reunion in August 1954, held at the Odd Fellows Grove near Kingwood. In a letter a week later, she wrote: "We was at the Harbaugh Reunion last Sunday. Had it out their ware Iva lives. My family was there, all except Lester."
In an October 1955 letter from Iva's mother to a relative, she wrote this update on family visits:
... yesterday Clint and his wife and family was here for dinner. Iva still lives at Kingwood and Gertrude still lives at Confluence and Lester still at bible school and Jess still at McKeesport.
Further heartache rocked Iva again in November 1956, when her son Frank passed away, of causes unknown.
Iva died at age 66 on June 7, 1965, after more than three decades as a widow. At the time, reported the Connellsville Daily Courier and Somerset Daily American, she was survived by 10 grandchildren and four great-grandchildren. She is buried beside her husband in Scullton.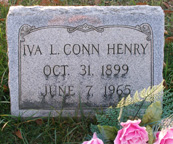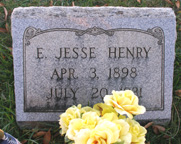 The Henrys' grave markers at Scullton Cemetery
~ Daughter Wilma "Sis" (Henry) Everhart Wright ~
Daughter Wilma "Sis" Henry ( ? - ? ) was married twice.
Her first spouse was (?) Everhart. They had one known son, Sylvester "Sam" Everhart.
Later, she wed Jack T. Wright (1918-1997), son of Frank C. and Edith M. (Wass) Wright. Jack was a veteran of World War II, having served as a bombardier in B-17 aircraft in Europe with the 332nd Bomber Squadron, 94th Bomber Group, 8th Air Force. They resided in Addison, where Jack worked for Dennis Lumber Company and Yezbak Lumber, and at one point was a self-employed carpenter. They were members of the Addison United Methodist Church. Jack belonged to the Pennsylvania Chapter of the 8th Air Force Historical Society and Veterans of Foreign Wars.
They resided for many years in Addison, Somerset County.
Jack passed away at the age of 78 at home in Addison on Oct. 15, 1997. Burial was in the Addison Cemetery.
Son Sylvester "Sam" Everhart made his home in 1997 in Oakton, VA.
~ Son Chester Allen Henry ~
Son Chester Allen Henry (1920-1998) was born on June 9, 1920 in New Lexington.
He married Betty M. Patton on March 16, 1940 when he was age 20, and they remained together for 58 years. The couple had three children -- Norma Montgomery, Jess Henry and Clifford Henry.
They relocated to the Detroit area, where they made their residence in Allen Park and Manistee. There, Chester owned Dayton Television in Lincoln Park, and later owned and operated Woodland Acres Cottages. They were members of the First Congregational Church in Onekama, MI. Chester also was an avid woodworker and hunter, and belonged to the Masons lodge in Lincoln Park.
Chester died at home at the age of 77 on April 17, 1998. Funeral services were held in the First Congregational Church, led by Rev. John Peterson. An obituary was published in the Somerset Daily American.
Granddaughter Norma Henry wed Robert Montgomery and resided in Manistee, MI.
Son Jess Henry wed Wendy and lived in Manistee.
Son Clifford Henry married Elizabeth and made their residence in Hilton Head, SC.
~ Son Edward James "E.J." Henry ~
Son Edward James "E.J." Henry (1922-2009) was born in 1922.
He married Dorothy Henry ( ? - ? ). They had no children.
Said the Daily American, Jim "was a veteran of the U.S. Marine Corps, serving during World War II in the island hopping campaign in the Pacific Theater. He was a member of the American Legion and the Carpenter's Union. He was a member of the Kingwood Church of God and loved to play golf with his friends."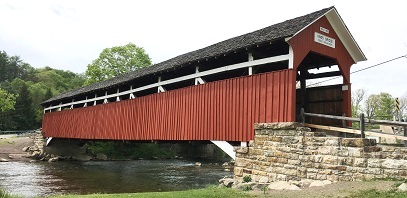 King's Bridge, a landmark built in 1802 near New Lexington
Dorothy was a longtime legal secretary for the law firm of Munnell and Norton in McKeesport, near Pittsburgh.
Circa 1965, they lived in Elizabeth, Allegheny County, PA. By 1998, he had returned to New Lexington.
Jim passed away at the age of 86 at West Penn Hospital in Pittsburgh on Jan. 14, 2009. He was laid to rest at Scullton Cemetery.
~ Son Robert Henry ~
Son Robert Henry lived in Markleton circa 1965.
Copyright © 2001-2002, 2005, 2008-2009, 2012, 2014, 2017 Mark A. Miner