Home

Nora Alverta (Conn)
Nichols Snyder
(1892-1954)


Nora and Allen Snyder
Nora Alverta (Conn) Nichols Snyder was born on Sept. 9, 1892 in Jersey Hollow near Confluence, Somerset County, PA, the daughter of Alexander Wilson and Susannah (Harbaugh) Conn.
Nora was married twice. Her first husband was local school teacher Grover C. Nichols (1885-1913), son of William C. and Susan (Lucas) Nichols. They were wed on Nov. 20, 1909, when Nora was age 17 and Grover 24. He is thought to have been named for the President of the United States, Grover Cleveland.
They bore two sons, Arthur Nichols and Clark Nichols, and resided in Draketown, Somerset County.
Grover taught school in Lower Turkeyfoot Township for several years in the early 1910s. Upon the completion of the term in the spring, said the Meyersdale Republican, he "usually worked in sawmills during the school vacation."
Thus in April 1913 he obtained work at a United Lumber Co. saw mill at nearby Humbert. At the time, Nora was busy with two young sons ranging in age from two years to nine months.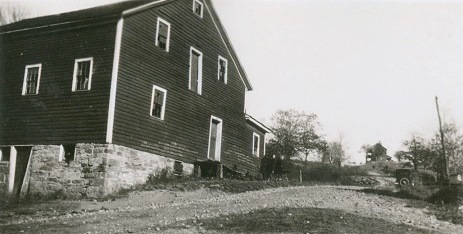 A Draketown gristmill, the "last enterprise left in town" as of the 1920s.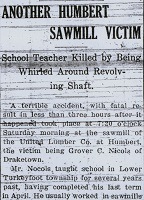 Meyersdale Republican

Tragically, while at work May 14, 1913, Grover's skull was fractured in an accident involving band-saw machinery. "Soon after the mill started Saturday morning and he had begun his day's work, his clothing caught in one of the line shafts that run through the mill," reported the Republican, "and he was whirled around the shaft with such velocity that he was denunded of every stitch of clothing except his shoes. When the machinery was stopped it was found that one of his arms and one of his legs was broken, his chest crushed and his head badly injured."

Fellow workers rushed him to nearby Ursina using the logging rail spur of the Ursina and North Fork Railway. The dying man was then transported to Connellsville's Cottage State Hospital, a distance of some 27 miles over steep mountain roads. He died "five minutes after arrival," said the Republican, at the age of 28. His remains were returned to Somerset County to be laid to rest at Jersey Church Cemetery near Confluence. Fred Younkin of Connellsville was the informant for his official Pennsylvania certificate of death.

[An interesting history of the United Lumber Company, with photographs, is contained in Benjamin F.G. Kline Jr.'s booklet, "Stemwinders" in the Laurel Highlands, book number 13 in the series "Logging Railroad Era of Lumbering in Pennsylvania." Nora's cousin Cyril "Edgar" Ream contributed to the book and is named in the volume.]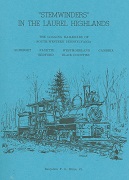 Stemwinders book
Three months after Grover's untimely death, the Grim Reaper again took away its harvest when son Clark, suffering from cholera, died eight days shy of his first birthday. His official certificate of death gives his surname as "Nicklo" and "Nichola." The child's remains were interred in the Jersey Baptist Church Cemetery.
After 14 months as a widow and single mother, having lost her husband and son, Nora married her late husband's half-brother, Allen Sylvester Snyder (1870-1951), the son of Alfred N. Snyder and Susan (Lucas) Nichols of Scullton. (His name also has been given as "J. Allen Snyder.") The wedding took place on July 5, 1914, with the ceremony held at Draketown, Somerset County, officiated by Rev. E.B. Boyer. At the time, Nora at age 21 was less then half the age of her husband, who was 44.
He had been married once before to Almira C. "Myra" Hyatt (1872-1913, was widowed on June 28, 1913, and brought a daughter to his second marriage, Edna Ruane. Allen was a mine foreman at Windber, Somerset County at the time of marriage. Interestingly, he disclosed on his marriage license that he did not know the whereabouts of his father, but that his mother lived in Windber.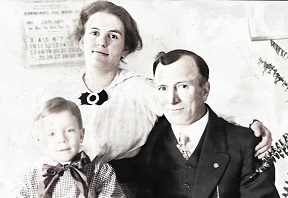 Nora, Arthur and Allen. Sylvester Everhart

Allen adopted Nora's son Arthur as his own son.

He and Nora together bore two more sons -- Wilson Snyder and Allen Snyder Jr.

In addition, the couple brought a number of foster children into their home -- Audry "James" D. Snyder, Bonnie Snyder, Darlene Decker Snyder, Wilbur McGahan Snyder, W. Ross Snyder and Arlene Decker.

The family first lived in Windber, where Nora joined the Windber Methodist Church. they relocated during the decade of the 1910s to Huntingdon County, PA, settling on a farm in Saxton, Hopewell Township. Their home was located just over the Bedford/Huntingdon County line.

Today the area is marked by the manmade Raystown Lake and Recreation Area, the largest lake located entirely in the commonwealth, completed by the Army Corps of Engineers in 1973.

The Snyders are shown there on the federal censuses of 1920 and 1930. By the late 1930s their residence was Aitch (likely shorthand for the town of Huntingdon), Huntingdon County. They occasionally traveled to visit Nora's mother back in Confluence, as shown by news stories in the Huntingdon Daily News. Despite the distance, Allen maintained his membership in the Vanderbilt Methodist Church.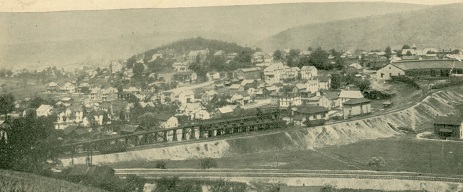 Bird's-eye view of Saxton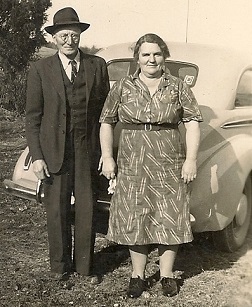 Allen and Nora

The family also enjoyed traveling to attend the annual Harbaugh Reunion held in Kingwood, Somerset County. The gossip columns of the Huntingdon Daily News documented some of these trips:
Aug. 17, 1933: "Mr. and Mrs. Arthur Snyder, Mrs. A.S. Snyder and two sons, Allen and Wilson, motored to Somerset Sunday and attended the Harbaugh reunion."
Aug. 18, 1939: "Mr. and Mrs. Arthur Snyder and daughters of Huntingdon, Mr. and Mrs. A.S. Snyder attended the Harbaugh Reunion at Kingwood, Somerset county, Sunday."
Aug. 16, 1940: "Mrs. A.S. Snyder and son, Wilson, and mother, Mrs. Conn, attended the Harbaugh reunion near Somerset, Saturday."
On July 9, 1939, Nora and Allen celebrated their 25th wedding anniversary with a "delicious dinner" at their home. The Daily News reported that "Those present were: Mr. and Mrs. Tom Ruane and family, of Uniontown, Mrs. Perry Dell and children, of Somerset county, Mr. and Mrs. Paul Moore and son of Aitch, Mr. and Mrs. Arthur Snyder and two daughters, Mr. and Mrs. Allen Snyder, of Huntingdon, Mrs. John Treece and daughter, Milda, Mr. and Mrs. A.S. Snyder and son, Wilson."
In a summertime letter to a relative in the late '40s or early '50s, Nora's mother wrote:
Nora's oldest boy Arthur and his wife was here last Sunday. The children Nora had all got Homes not to far a part. The 2 boys ar on farms that join and the boy that was in the army has his home with Arthur in Huntingdon and the oldest girl is working in a resterant in Saxton ware she went to school.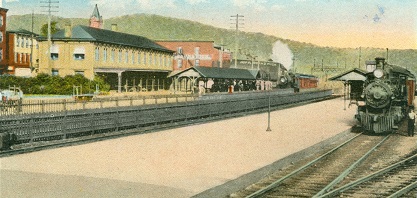 Railroad depot in Huntingdon
The federal census enumeration of 1950 shows the family remaining in Hopewell Township, with a number of foster sons in the home. At that time, 80-year-old Allen had no occupation.
Having become senile, and burdened with heart disease and hardening of the arteries, Allen died at home on Dec. 12, 1951. An obituary in the Huntingdon Daily News noted he was survived by 14 grandchildren and by a half brother, Clarence G. Nichols of Persinger, WV. Although his death certificate notes that he was to be buried at Bethel Cemetery in Vanderbilt, his remains were returned to Scullton for burial at the Wesley Methodist Church Cemetery, rejoining his parents and first wife there in eternal repose.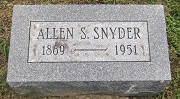 Wesley Methodist Church Cemetery
Nora lived for another three years. In the autumn of 1953, she and her mother and son Wilson visited at the home of Nora's brother Clinton Conn in Mill Hall, PA. She was elected president of the Women's Society of Christian Service of the Russellville Methodist Church, said the Daily News, "but due to ill health was never privileged to serve in that capacity."
Her health declined significantly in early 1954. Having lost a lot of weight, she fashioned new dresses to fit her slimmed shape, and also made dresses for a granddaughter. But concerned about the sudden weight change, her sons took her to her physician, who diagnosed cancer which had spread widely through her body. She underwent surgery at the J.C. Blair Hospital in Huntingdon, but sadly died just three weeks later on April 25, 1954.
After funeral services in Saxton, a motorcade traveled to the Jersey Baptist Church Cemetery for burial. Rev. Warren Swank of the James Creek Methodist Church officiated.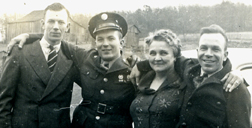 Nora's adult children, 1940s: Allen Jr.,
Wilson, Edna Ruane and Arthur.
In a letter in August of that year, her mother wrote: "We was at the Harbaugh Reunion last Sunday... My family was their all except Lester. He did not get their. Have not saw him since Nora funeral." In another August 1954 letter to a relative, Nora's mother wrote: "We was at the reunion last Sunday. My 2 girls was their and Jess and Clint, Nora youngest boy Wilson and his wife and children..."
Seen here are Nora's adult children, apparently taken during wartime: Allen Jr., Wilson, Edna Ruane and Arthur.
Son Wilson Snyder is known to have attended the Harbaugh Reunions in 1953-54-55, when he won awards for "Largest Family Present" (six members in '53 and four in '55).
In an October 1955 letter from Nora's mother to a relative, she wrote: "One of Nora's boys and his little girls was here the other Sunday to see us. Well we was glad to see them come."

Arthur, 1917
~ Son Arthur Leslie Nichols Snyder ~
Son Arthur Leslie Nichols Snyder (1910-1968) was born on April 2, 1910 near Confluence.
He was only three years of age when he lost his father in the tragic sawmill accident, and likely had no strong memories of the man. His mother married again when Arthur was age four, and the boy was adopted by the new step-father.
At the age of nine, he moved with with his parents to a farm near Saxton in Hopewell Township, Huntingdon County, PA.
He married Elsie Treece ( ? - ? ) on May 15, 1933, at Cumberland, Allegany County, MD. She was the daughter of John and Birdie (Weaver) Treece of Cherrytown, PA.
They had three daughters, Ruth Reinhart, Grace "Ilene" Stultz and Lucinda "Cindy" Weimer.
Arthur was a longtime employee of the federal post office in Huntingdon, starting his post in about 1933, and remaining there for 35 years. Their dwelling was at 108 Pine Street, and they were members of the 15th Street Methodist Church.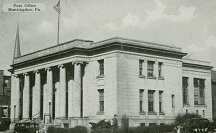 Huntingdon's post office

At the end of August 1968, Arthur was admitted to the J.C. Blair Memorial Hospital in Huntingdon. He died there three days later, on Sept. 3, 1968. Burial was in the Russellville Cemetery. An obituary in the Daily News noted that he was survived by six grandchildren.

The widowed Elsie wed a second time to widower Merle Marion Wagner (April 11, 1912-1982), son of Arthur R. and Noami (Rohrer) Wagner. The wedding was held in Winchester, VA on Oct. 28, 1974, by the hand of Rev. James H. Boice Jr. of the First United Methodist Church.

He brought four adult offspring to the second union -- Ruth Carolyn Ross, Merle Wagner, George Wagner and Mike Wagner. He was retired from the Huntingdon Motor Inn.

They were together until his death eight years later in Altoona on Feb. 9, 1982.

Daughter Ruth Snyder (1934-2021) was born in 1934. As a teenager, blessed with musical talent, formed a duo with her sister, "Singing Snyder Sisters," heard on WHUN-AM in Huntingdon. Said an obituary, "Reading and composing music, especially on the piano, was effortless for her. She could easily play a song 'by ear,' and had perfect pitch." Ruth was a graduate of Huntingdon Area High School. She went on to receive her registered nurse degree from Harrisburg Polytechnic. Ruth married Paul E. "Ted" Reinhart ( ? - ? ), son of Paul and Gladys Reinhart. Two known daughters in the family were Terri Rallis and Suzanne Reinhart. Ruth used her nursing background to provide private duty care over the years. In 1964, with help from Ted's parents, they opened Edgewater Acres Inn and Resort near Alexandria, which stayed in business for many years. For more than six decades, she served the Alexandria Hope United Methodist Church as pianist and organist.

She and Ted also put their talents to broader use. Reported the Huntingdon Daily News in 1981, "The Reinharts have worked as a professional team for nearly 25 years covering most every facet of the entertainment field. The Ted and Ruth Radio Show has been continuously broadcast over WHUN since September, 1959. This duo has made personal appearances all over Pennsylvania and in 12 other states." Together Ruth and Ted made these known recordings -- Thank You God for Santa Claus (1969), Side By Side (1970), "Pardners" in Song (date unknown) and Ted and Ruth Reinhart Go Western (1982). They hosted a syndicated country music radio show for more than four decades. They also provided hosting and film and musical entertainment for local organizations and events such as the International Tom Mix Festival, Juniata Valley Ambulance Association and Easter Seals Society of Huntington County Telethon (which she helped found in 1975) and many more. But their world came crashing down in March 2006 when Ted, age 77, was arrested in an underage sex matter and was convicted and sentenced to 15 years in prison. Ruth was a longtime member of the Soroptimist Club of Huntingdon County, later becoming the Huntingdon County Women's Club, and in July 2009 was honored for 43 years of membership. She volunteered in hospice settings and was on a volunteer committee of the Huntingdon County Children's Services. She and a granddaughter created a social media platform for Ruth's favorite songs and hymns, "Music from Home with Grammy." She was gathered away by the angels at age 87 on April 29, 2021.
Granddaughter Terri Reinhart ( ? - ? ) first married James "Jim" Rallis ( ? -2001), son of Holly Rallis of State College, PA. Their two offspring were Paul C.R. Rallis and Kaleena S. Rallis. Together, they managed the Edgewater Acres County Inn and Resort. Grief cascaded over the family when, at age 42, James died at home on Aug. 2, 2001. His obituary was printed in the Pittsburgh Post-Gazette. Pastor Sharon L. Landis led the funeral service. After Jim's untimely death, a difficult decision was made circa 2002 to close the resort after 38 years.
Granddaughter Suzanne Reinhart ( ? - ? )
Daughter Grace "Ilene" Snyder (1935-2021) was born on Sept. 25, 1935. As a girl, she and her sister Ruth formed the "Singing Snyder Sisters" duo and performed on WHUN-AM in Huntingdon. She wed Wilmer Stultz ( ? - ? ). The pair made a home in Huntingdon. Their brood of offspring included Mark Stultz, Kenneth Stultz, Arthur Lower "Artie" Stultz, Kim Stultz and Melissa Daniels. She owned and operated Ilene's Tone and Tan in Huntingdon. As well, over the year, she worked at the Area Agency on Aging and in advertising over 25 years for the Huntingdon Daily News, a position from which she retired in 1998. Said an obituary, "She enjoyed singing with her sister, reading every book she could get her hands on, cooking, playing bridge, playing the daily numbers, watching Investigation Discovery Channel and anything football related." At the age of 85, Ilene passed away at Embassy at Huntingdon Park on Aug. 9, 2021. She was survived by five grandchildren and several great-grandchildren. Interment of the remains was in Huntingdon Memorial Gardens.
Grandson Mark Stultz wed Marcia. They dwelled in Huntingdon in 2021.
Grandson Kenneth Elwood Stultz (1964-1990) was born on July 23, 1964. Sadly, he died on June 15, 1990 at Suburban Hospital in Bethesda, MD.
Grandson Arthur Lower "Artie" Stultz (1955-2008) was born on July 17, 1955. He lived in Huntingdon. He died on July 3, 2008.
Grandchild Kim Stultz relocated to Denver, CO.
Granddaughter Melissa Stultz married (?) Daniels. She was in Denver circa 2021.
Daughter Lucinda "Cindy" Snyder ( ? - ? ) was born in (?). She lived at home in 1968. She was a 1967 graduate of Huntingdon Area High School and a 1972 alumna of Shippensburg State College. On June 4, 1972, she entered into marriage with Richard Vincent Weimer Jr. ( ? - ? ), only child of Richard Vincent Weimer Sr. Rev. Rayvon Hillard officiated the nuptials, held in the Fifteenth Street United Methodist Church. The marriage was announced in the Huntingdon Daily News., which reported that the bride "made a ovely picture in her Victorian-styled gown of imported French Alencon lace and seedpearls. The bodice was fashioned with a round neckline and long sleeves that extended to points over the hands. She wore a Juliet cap, trimmed by pearls, to which was attached a cathedral-length veil, trimmed by French Alencon lace." Richard, also of the Huntingdon Class of 1967, also studied at Shippensburg and at the time of marriage worked for John Sexton Company in Washington, DC. One son known to have been born to the pair was Chad Andrew Weimer. In 2021, the couple made a residence in Frederick, MD.
Grandson Chad Andrew Weimer dwelled in 2014 in Lansdowne, VA.
~ Son Allen S. Snyder Jr. ~
Son Allen Snyder Jr. (1916- ? ) was born on Aug. 24, 1916.
In June 1937, when he was age 21, he received a contract to "carry mail between the Huntingdon postoffice and Williamsburg, a distance of 23.68 miles," reported the Huntingdon Daily News. His bid totaled $1,464 for the year.
On Aug. 17, 1938, Allen wed Ruth Treece (May 9, 1921-2014), daughter of John and Birdie (Weaver) Treece of Cherrytown, PA. The ceremony was held in Hagerstown, MD, with Rev. J.M. Carter officiating. Their marriage survived the ups and downs of a remarkable 56 years.
The Snyder and Treece families were close, and Allen's brother Arthur wed Ruth's sister Elsie.
They produced a family of at least three daughters, Joyce Race, Beverly Fix and Cathy Newton.
Circa 1951, they dwelled in Huntingdon on Cold Springs Road. By 1968, they had retired to Orlando, FL. There, they were members of First United Methodist Church.
Ruth's final home was in Majestic Oaks in Orange City, FL. She died at age 93 on Aug. 2, 2014. She was survived by four grandchildren, nine great-grandchildren and five great-great grandchildren. Burial was in Highland Memory Gardens in Opopka, FL, with an obituary published in the Orlando Sentinel.
Daughter Joyce Snyder married Gary Race. They migrated to Montana and in 2014 were in Roscoe, MT. Their three children are believed to be Kim Kynast, Linda Payne and Daniel Race.
Granddaughter Kim Race married Steve Kynast. Their home in 2006 was Absarokee, MT.
Granddaughter Linda Race entered into wedlock with William Payne. They too have dwelled in Absarokee, MT.
Grandson Daniel Race established a home in Debary (FL?).
Daughter Beverly Snyder (1949-2006) was born on July 12, 1949 in Huntingdon, PA. She graduated in 1971 from Colonial High School in Orlando, FL and from Orlando Academy of Beauty Culture in 1972. She spent her working career as a beautician. Beverly belonged to St. Paul Presbyterian Church of Ocoee, FL The Orlando Sentinel once said that "She will always be remembered as a beautiful, loving and caring person, always putting others before herself." When she was 43 years of age, on Aug. 17, 1992, she wed Gene Fix ( ? - ? ). The couple did not reproduce. They lived in Orlando. Beverly was diagnosed with cancer of the throat. She surrendered to the spirit of death at age 57 on Aug. 26, 2006.
Daughter Cathy Snyder was joined in wedlock wiith (?) Newton. She was the mother of Barry Newton. Cathy was deceased by 2021.
Grandson Barry Newton lived in Clermont (FL?) in 2006.

L-R: Allen Snyder Jr. with his wife and baby Joyce; Allen Sr. and Nora; mother Susie; Wilson Snyder and his wife; Arthur Nichols/Snyder and his wife; and Nora's sister in law, Cornelia (Huntsman) Conn. Children in front: Arthur Snyder's daughters Ilene and Ruth, flanking Cornelia's son Teddy Conn. This photo was sent to Nora's aunt, Letitia (Harbaugh) Stoner, living in Robinson, IL.
~ Son William "Wilson" Snyder ~
Son William "Wilson" Snyder (1919-2003) was born on Sept. 3, 1919 in Hopewell Township, Huntingdon County.
He grew up attending the Hopewell Township Public School. In young manhood he worked for Harbison Walker Refractory in Mount Union, PA.
During World War II, Wilson joined the U.S. Army and was assigned to Company H of the 324th Infantry Regiment of the 44th Division. He was deployed to the European Theatre, where he took part in battle in Northern France, The Rhineland and Central Europe. He returned home after the war and resumed his employment with Harbison Walker.
On April 10, 1942, at the age of 19, he was joined in wedlock with Phyllis V. Johnson ( ? - ? ). Wilson's father is said to have officiated the nuptials, held in Wilson's home.
The offspring born to this couple were Judith Spickler Burke, Gibson Lee Snyder, Connie Fisher and Barbara Wakefield.
For more than six decades, they resided in the same residence in Hesston, Huntingdon County. Wilson earned a living through a host of jobs -- as a delivery driver for the Huntingdon Daily News and groundskeeper at the Huntingdon Country Club. He later owned and operated a school bus company for 35 years serving the Huntingdon Area School District. He and his brother jointly owned Snyderís Garage of Smithfield Township, a business that later was reorganized into Snyderís Fruit Market.
The Snyders belonged to the Trinity United Church of Christ, McConnellstown, with Wilson serving as a deacon. He held a membership in the Standing Stone Post of the Veterans of Foreign Wars and Mapleton Post of the American Legion. For fun, he liked to camp, garden, hunt, maintain an orchard of more than 100 fruit trees and tend honey bees, including holding a membership in the Central County Honey Beekeepers Association.
He and the family are known to have attended the Harbaugh Reunions in 1953-54-55, when he won awards for "Largest Family Present" (six members in '53 and four in '55).
At the age of 83, following two years of poor health, Wilson died on Feb. 2, 2003 as a resident of Huntingdon Manor. He was survived by 10 grandchildren and 15 great-grandchildren. Rev. Dr. Keith A. Kensinger officiated the funeral service, followed by interment with military rites in Huntingdon Memorial Gardens. The Daily News printed an obituary.
Daughter Judith Snyder has been twice-wed. Her first husband was Preston Keith Spickler, son of Walter Spickler of McVeytown, PA. In 1963, they resided at Andrews Air Force Base in Maryland. They were the parents of Pamela Allison Mannino and Angela K. Spickler. After a divorce, she married again to David Burke. Circa 1985, she was in Lewistown and in 2003 in Marshall Harbor, The Bahamas.
Granddaughter Pamela Allison Spickler ( ? - ? ) was born in (?). She was a 1980 graduate of Chief Logan High School and a 1984 graduate of Juniata Mifflin Vocational-Technical School in the area of licensed practical nursing. She became employed as a micro assembler at Echo Ultra Sound. On June 22, 1985, she wed Michael Anthony Mannino ( ? - ? ), son of Harry and Patricia Mannino of Lewistown. The wedding was led by the hand of Rev. Donald J. Clamps in the Lewistown First United Methodist Church, with the couple pictured in the Huntington Daily News. Michael was a 1981 Lewistown High School graduate and at the time of marriage worked for Granville CA TV Inc. as a serviceman.
Granddaughter Angela K. Spickler ( ? - ? )
Son Gibson Lee Snyder ( ? - ? ). On Feb. 26, 1965, he was united in matrimony with Dorothy R. "Dotty" Heaster (April 6, 1947-2021), daughter of Leroy M. and Dorothy L. (McClain) Heaster. The couple remained together for a remarkable 56 years. The pair's two children were Gibson Lee Snyder Jr. and Denise Cameron. They resided for years near Hesston in Walker Township. Dorothy was a 1965 graduate of Captain Jack High School. In young woanhood she earned a living at the Gerbo Shoe Factory and was a preparatory cook for over two decades for Kelly's Korner in Huntingdon. She also provided daycare services. They were members of Trinity Reformed United Church of Christ, McConnellstown. With the congregation, Dorothy was a member of the financial committee and helped found a children's church ministry. She also held a membership in the Daughters of the American Revolution and the Ladies Auxiliary of the McConnellstown Volunteer Fire Company. She liked to quilt, read, sew and raise flowers. Said an obituary, "She had quite the green thumb and springtime at their home was filled with beautiful colors." They spent winters in Florida and enjoyed visiting Pigeon Forge. Sadly, stricken with cancer, Dorothy passed away at age 74 on Sept. 19, 2021. Pastor Jack Russell led the funeral. The remains were interred at Huntingdon Memorial Gardens.
Grandson Gibson Lee Snyder Jr. ( ? - ? ) resided in Hesston in 2021.
Granddaughter Denise Snyder ( ? - ? ) wed Brian Cameron. They settled at Pennsylvania Furnace.
Daughter Connie Snyder entered into marriage with David Fisher. They put down roots in Lancaster, PA.
Daughter Barbara Snyder was united in matrimony with Lee Wakefield, son of Robert and Grace Wakefield. Their home in 1977-2003 was near Hesston. Two known offspring born to the pair were Michael Lee Wakefield and Melissa Jo Wakefield. Barbara and her mother were members of the Ladies Auxiliary to the Standing Stone Post of the Veterans of Foreign Wars.
Grandson Michael Lee Wakefield graduated in 2000 from Huntingdon Area High School. He then in 2004 received a bachelor's degree in civil engineering and surveying at the Pennsylvania College of Technology. Circa 2011, he was employed as a project designer and surveyor with Evans Engineering Inc. of Harrisburg, PA.
Granddaughter Melissa Jo Wakefield (1974- ? ) was born in 1974. On her third birthday, she was pictured in the Huntingdon Daily News.
~ Stepdaughter Edna Pearl (Snyder) Ruane ~
Stepdaughter Edna Pearl Snyder (1894-1972) was born in 1894.
She was 20 years of age when her widowed father wed Nora Alverta (Conn) Nichols. As a young woman, Edna enrolled in the Westmoreland County Hospital School of Nursing and completed her studies there in 1917.
She was united in matrimony with Thomas Patrick Ruane Sr. (1892-1964), the son of Patrick J. and Ellen (Kearns) Ruane.

They made their home in Uniontown, Fayette County and had five children -- Myra Ellen Ruane, Thomas Patrick Ruane Jr., Maurice J. Ruane, Allen S. Ruane and Patricia Arnold Van Eman.
Thomas was a self-made coal and coke businessman. Said the Uniontown Morning Herald, "at the age of 18, [he] was yard boss at Collier Mine and later at Oliphant Mine. He was elevated to mine superintendent and later as coal and coke inspector for the Frick Coke Co." One coal mine, at Wynn, Fayette County, was closed in 1926, but Thomas bought the ovens and kept them in blast until his retirement in 1953.

The Wynn Coak and Coke Company operated deep mines on the Wynn property and Redstone property, procuring Pittsburgh-Connellsville grade coal and Sewickley coal. One report says that "Pittsburgh-Connellsville coal was superior to Sewickley coal, and, in its raw state, commanded a higher price on the competitive market. In manufacturing coke, it was necessary to mix Sewickley coal with Pittsburgh-Connellsville coal in order to obtain an acceptable product." Market prices were set on the mixtures after picking, cleaning and crushing, and the tax owed to the government later came into question.

The Ruane Coal Company's Wynn coke ovens. Courtesy Gary Ruane
Edna was a member of the Daughters of the American Revolution (Col. Andrew Lynn Chapter) and the Catholic Daughters of America. Their residence was located at 70 Kensington Street in Uniontown.
Thomas died in Uniontown Hospital at the age of 72 on Jan. 4, 1964. His death made front page news in the Morning Herald. After a solemn requiem mass held at St. Mary's Roman Catholic Church, he was buried in Oak Grove Cemetery.
Edna lived for another eight years. At the age of 78, she passed away on May 13, 1972. Her viewing was held at the Minerd Funeral Home of Uniontown, followed by a funeral mass at St. Mary's Roman Catholic Church. Msgr. Michael P. Kushner officiated. She was laid to rest in Oak Lawn Cemetery.
Daughter Myra Ellen Ruane (1922-1992) was born on Feb. 14, 1922. She apparently did not marry and resided at home during her adult life. She spent her career in social work, and in the 1950s was employed for eight years by the Fayette County Association for the Blind. In February 1958, she resigned and took a position as a case worker for the Department of Public Assistance. In 1943, she and friend Louise Watts motored to New York City the day after Thanksgiving, attending the Army-Navy football game and a dance at West Point, where her brother Thomas was a cadet. She was active with the Beta Mu Sorority of Pi Rho Zeta International and helped organize its meetings in Uniontown. She also was a member of Court Uniontown of the Catholic Daughters of America. She died in Uniontown three days after Christmas 1992 at the age of 70.
Daughter Patricia Ann Ruane (1928-2009) was born on June 21, 1928 in Fairchance. She studied at Mt. DeChantel Academy in Wheeling, WV and graduated from Seton Hill College in Greensburg. At the time of her marriage, she was a junior visitor with the Fayette County Child Welfare Service. On Dec. 28, 1951, she wed Stephen Joseph Arnold Sr. (March 4, 1925-1971), son of Jacob H. Arnold. They were wed in a double ceremony with her brother Maurice and his wife Margaret Louise Nelis. After the ceremony, they celebrated with a reception at the Uniontown Country Club. Stephen was a graduate of St. Francis College and was employed with Clipper Manufacturing Company in Philadelphia. The Arnolds resided in the Library section of the Mt. Lebanon suburb of Pittsburgh. They produced these children -- Stephen Joseph Arnold Jr., Myra Ellen Arnold, Mary Patricia Welsch, Clifford Arnold, Kathleen Hood, Brennan Arnold, Roberta Arnold and Ronald Arnold. Sadness swept over the family at Stephen's death on Oct. 15, 1971. She wed again, to Robert A. Van Eman (Oct. 19, 1923-2013), son of Floyd and Murtle (Maloney) Van Eman of New Castle, PA and the widower of Elizabeth Claire Finn. He brought two stepchildren into the second marriage -- Roberta Ann "Bobbi" Van Eman and Ronald Van Eman. Active in the community, Patricia was a longtime member of the Mt. Lebanon Women's Club, Mt. Lebanon Parent-Teacher Association and Western Centers Parents Group, and were supporters of the Allegheny Valley School. She also enjoyed golf, bridge and bowling. Robert was a U.S. Navy veteran of World War II and belonged to the American Legion. He had played minor league baseball in the Boston Red Sox and San Diego Padres organizations for a baker's dozen years. Later, he was employed as a purchasing agent with the Glassport Foundry/Bucyrus Erie. Patricia died at the age of 81 on June 8, 2009. An obituary notice was printed in the Pittsburgh Post-Gazette. Interment was in the Queen of Heaven Catholic Cemetery in McMurray. Robert outlived Patricia by four years and resided during that time in Elizabeth Township. Death swept him away at age 89 on March 30, 2013.
Grandson Stephen Joseph Arnold Jr.
Granddaughter Myra "Ellen" Arnold appears to have been named for her aunt.
Granddaughter Mary Patricia Arnold was employed in 1983 as an administrative assistant with the American Red Cross. She wed Dennis J. Welsch, son of Robert F. Welsch of Castle Shannon. At the time, he was president of Golden Triangle Glass Service. News of their engagement was printed in the Pittsburgh Post-Gazette. The couple made their home in 2013 in Mount Lebanon, as did Mary Patricia's siblings.
Granddaughter Kathleen Arnold married Roscoe Hood.
Granddaughter Roberta Arnold
Grandson Ronald Arnold entered into marriage with Lynn.
Son Thomas Patrick Ruane Jr. (1924-1983) was born on Jan. 8, 1924. He studied at the U.S. Military Academy at West Point circa 1943 and then during World War II served in the Army Ordnance Corps. He graduated from St. Vincent College in Latrobe, PA. Later, in 1951, he obtained his law degree at the University of Pittsburgh. He became an attorney, first clerking with Judge H. Vance Cottom of the Fayette County Court of Common Pleas. He was a member of the Junior Chamber of Commerce in Uniontown and set up his own practice in the Morrow-Hagan Building. He married Shirley Johnson ( ? - ? ), daughter of Dorothy Johnson of Uniontown. At the time of their marriage circa 1952, she was employed as executive director of the Uniontown Girl Scouts Council. They had at least three children, Cynthia Ruane, Thomas P. Ruane III and Kimberly Biagioli. He often was pictured in the Uniontown newspapers for his legal representation on behalf of clients as well as in his community service activities. Circa 1958, Thomas represented the Ruane family as owners of Wynn Coal & Coke Company and Wynn Construction Company in a lawsuit against the Tax Commissioner. Decided in United States Tax Court (17 T.C.M. 865 [1958]), the case considered the following issues:

(1) What was the representative field price of coal of like kind and grade as that mined by the Wynn Coal & Coke Company and the Wynn Construction Company which was used by Coal & Coke to manufacture coke during the years in issue; (2) whether the amounts expended by the Wynn Coal & Coke Company on its coke ovens were repair expenses deductible under section 23(a) of the 1939 Code; (3) whether the amounts expended by the Wynn Coal & Coke Company on parts for its coke machines constituted repair expenses deductible under section 23(a) of the 1939 Code; (4) whether the partners of the R. & R. Coal Company are entitled to deduct their ratable share of purported salary payments made by it to one of its members; (5) whether a debt owing the R. & R. Coal Company became worthless during 1951; and (6) whether the amounts advanced by petitioners Ralph X. Ruane and James L. Ruane, Jr., to the Ross Construction Company became worthless during 1951.

In 1963, Thomas was employed as an assistant district attorney in Uniontown, and in 1972 was the county's public defender. Sadly, he died in January 1983, with interment in Uniontown's Oak Lawn Cemetery.
Son Maurice J. Ruane (1926-1998) was born in 1926. He graduated from St. Francis Preparatory School and St. Francis College. Maurice married Uniontown native Margaret Louise "Peggy" Nelis (Nov. 24, 1926-2014), then living in Pittsburgh, in a double ring ceremony with his sister Patricia Ann and her husband Stephen Arnold. The ceremony was held three days after Christmas 1951. Four sons born to this union were Patrick Ruane, Gary Ruane, Richard Ruane and William Ruane. They lived in Uniontown, where Maurice earned a living as a partner with his brother Allen in the Ruane Arnold Coal Company. He also farmed part time. Margaret was a 1944 alumna of South Union High School and a 1948 graduate of Margaret Morrison College of Carnegie Institute of Pittsburgh (later renamed Carnegie Mellon University). She received her master's degree from Seton Hill College. She was an educator and worked as a home economics teacher at South Union High School in Uniontown. Circa 1971, she was president of the Uniontown College Club. She was pictured on the front page of the Uniontown Morning Herald on Nov. 18, 1971 when greeting CBS-TV news commentator Charles Kuralt, who came to Uniontown Area Senior High School to speak on his national lecture tour. In his comments, Kuralt said that he felt "a good many Americans [were] concerning themselves with things that are decent and compassionate ... who care for their country as well as themselves. I don't think we are a very materialistic society. I can't think of any other country where riches alone attract less awe, attention and public merit." Circa 1982, when listed in the CMU Alumni Directory, their home was at 93 Belmont Circle in Uniontown. Margaret was member of St. Johnís the Evangelist Roman Catholic Church and a board director of the Easter Seal Society. She also was a member of American Association of University Women, Uniontown Womenís College Club and Catholic Womenís Sister of Charity and a volunteer at Fallingwater and Meals on Wheels. Margaret's final years were spent in Lewisburg, PA. She died in Evangelical Community Hospital, Lewisburg, on Nov. 18, 2014. Her remains were returned to Uniontown for a mass of Christian burial, held in the family church, led by Rev. Fr. James Tringhese. Interment followed in Oak Lawn Cemetery. In obituaries in the Uniontown Herald Standard and Sunbury Daily Item, the family asked that any memorial donations be made to the Uniontown Public Library, Easter Seals Society or United Cebral Palsy.
Grandson Patrick Ruane married Susie. They were in Williamsport, PA in 2014.
Grandson Gary Ruane wed Lisa. They have made a home in Philadelphia.
Grandson Richard Ruane entered into marriage with Vicki. Circa 2014, they resided in Silver Spring, MD.
Grandson William Ruane established a residence in Bethesda, MD.
Son Allen Snyder Ruane (1929-1973) was born in about 1929. He studied at St. Francis Prep School and St. Vincent College and obtained his bachelor's degree from the University of Pittsburgh. During the Korean War, Allen served in the U.S. Armed Forces. He married Abigail Louise Whaley (Oct. 23, 1931-2016), daughter of James C. and Abigail C. (House) Whaley. The Ruanes lived on Walnut-Mulberry Road in Hopwood, on the outskirts of Uniontown. Together they produced a brood of five children -- Abigail Ann Ruane, Allen S. Ruane Jr., Dennis James Ruane, Paul E. Ruane and Gerald W. Ruane. Following his father's entrepreneurial bent, Allen and his brother Maurice worked for the family business of Ruane-Arnold Coal Company. Active in the community, he was a member of the church school board of St. John the Evangelist Roman Catholic Church and president of its athletic association, as well as treasurer of Forest Park Aquatics. In her own right, Abigail was a graduate of the Mercy School of Nursing and made a career as a registered nurse at Uniontown Hospital. Suffering from causes not yet known in his mid-40s Allen sought treatment in the Cleveland Clinic. He died there at age 44 on Aug. 30, 1973. Burial was in Oak Lawn Cemetery following a funeral mass of resurrection in the family church. An obituary was printed in the Uniontown Evening Standard. Abigail outlived her spouse by more than four decades and remained in Hopwood. At the end she went to live in Arden Court in Jefferson Hills, PA. Death swept her away at age 84 on Oct. 13, 2016. She was survived by 10 grandchildren and four great-grandchildren. The Herald Standard published an obituary.
Granddaughter Abigail Ann Ruane grew up in Hopwood. She was married to or a companion of Kent Huber ( ? - ? ). Their home in 2016 was in Deep Creek, MD.
Grandson Allen S. Ruane Jr. entered into marriage with Trish. They relocated to Elkins Park, PA.
Grandson Dennis James Ruane migrated to North Carolina and settled in Marshall, NC.
Grandson Paul E. Ruane put down roots in Hopwood.
Grandson Gerald W. Ruane wed Joyce. They established a residence in Mesa, AZ. He is the registered agent for Five Mustangs Holdings LLC.
Copyright © 2001-2002, 2005, 2008, 2013-2015, 2022 Mark A. Miner
Many thanks to Gary Ruane and Sharon Jo (Sheldon) Kern for sharing family photos for this biography.