Jessie Gertrude (Conn) Firestone
(1894-1987)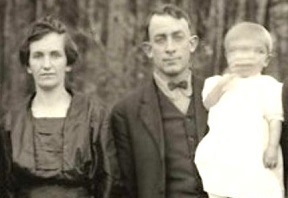 Gertrude, Samuel and Reba Firestone
Courtesy Sylvester Everhart Jr.

Jessie "Gertrude" (Conn) Firestone was born on July 1, 1894 in Jersey Hollow near Confluence, Somerset County, PA, the daughter of Alexander Wilson and Susannah (Harbaugh) Conn.
When she was 18 years of age, Gertrude eloped to marry 23-year-old Samuel Melchi Firestone (June 7, 1888-1948), the son of Ross and Jane (Hartzell) Firestone of Lower Turkeyfoot Township. They were wed in November 1911 in Cumberland, Allegany County, MD, where there was no waiting period for couples between receiving their marriage license and marrying. News of congratulation was published in the Connellsville Daily Courier.
The couple's union was one of many between Minerd and Younkin descendants in the years before World War II.
They produced a family of four known children -- Marion "Ray" Firestone, Virginia "Ruth" Anderson, Reba Garnet Peters Rush and Iva "Leora" Gertrude Firestone.
Samuel was only a boy when his father died. As an adult he was of medium height and build, and had blue eyes and dark hair.
Over the years, Samuel earned a living as a coal miner (1917, 1920, 1937), farmer (1930) and janitor (1940-1945). He was required to register for the military draft in June 1917 during World War I, and disclosed at that time that his employer was Laurel Coal Mining Company of Confluence.
Sadly, on March 27, 1915, about a month shy of her third birthday, daughter Iva Leora Gertrude succumbed to purpura (chicken pox), a sickness easily treatable today. Her remains were laid to rest in the historic cemetery of the Jersey Baptist Church near Ursina. Her official Pennsylvania death certificate gives her name as "Gertrude," while a notice in the Meyersdale Republican named her as "Leora" and said that her parents were "mourning the death."

Bird's eye view of Confluence


Gertrude over the years.
Right: courtesy Sylvester Everhart Jr.

The United States Census of 1920 shows that the family was in Confluence with three children ages six and under. Samuel's occupation was recorded by the census-taker as a miner.

The Firestones enjoyed visiting with relatives and sight-seeing. A story in the Republican in August 1922 reported that they, in company with Gertrude's sister Iva Henry and family had, "comprised a motoring party to Johnstown Sunday. They stopped off at Ideal Park to view the sights and also to partake of a bountiful repast provided by the ladies."

Circa 1930, when the federal census enumeration was made, the Firestones had relocated into Fayette County, where Samuel labored as a farmer. Eventually, by 1937, they returned to Confluence, and are shown in the town in the records of the 1940 U.S. Census.

Gertrude and Samuel were longtime members of the Turkeyfoot Valley Baptist Church. She also belonged to the Church Missionary Ladies, the WBA Lodge and the Confluence Firemen's Ladies organization.

Two of the Firestones' children served in World War II -- son Marion "Ray" and son in law Earl Jackson Peters (who married their daughter Reba). Their world was shattered at the tail end of the war when they learned that their son in law Earl had gone down with the sinking of the U.S.S. Indianapolis in an attack by Japanese submarine torpedoes.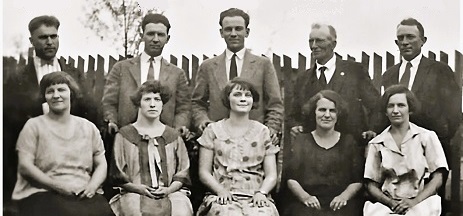 Gertrude and Samuel at right with her adult siblings. L-R: Edward and Iva Henry Sr., Jesse and Zelda (Snyder) Conn, Harvey "Clinton" and Melda (Hostetter) Conn, and Allen Sylvester and Nora Snyder.
Courtesy Sylvester Everhart Jr.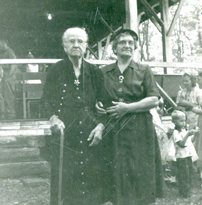 Gertrude with her mother
at a Harbaugh Reunion

Samuel was burdened in his final years with chronic kidney and heart disease. He was stricken by a heart attack and died at the age of 60 on July 22, 1948. An obituary in the Republican reported that Rev. George Meadow and Rev. Jerome V. Guss had co-officiated the funeral service, with burial following at the Jersey Baptist Church Cemetery near Confluence.

Gertrude survived her husband by almost four decades.

Confluence remained as her dwelling-place in 1950, living alone, as indicated by the census. One of her next-door neighbors was the family of her cousins, Galen and Erma (Ream) Younkin.

One July in the late '40s or early '50s, in a letter to a relative, Gertrude's mother wrote: "Gertrude and Iva has not bin here for some time. They don't get home often as they both work." In an October 1955 letter from Gertrude's mother to a relative, she wrote this update on family visits:

... yesterday Clint and his wife and family was here for dinner. Iva still lives at Kingwood and Gertrude still lives at Confluence and Lester still at bible school and Jess still at McKeesport... One of Nora's boys and his little girls was here the other Sunday to see us. Well we was glad to see them come.

At some point, Gertrude moved in to take care of her aging mother. She took Susie to the Harbaugh Reunion in 1956 at the Kingwood Picnic Grove, and the two women are seen here. Note Susie's cane, and how fragile she looks.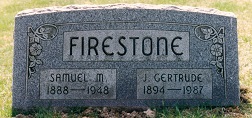 Jersey Church Cemetery

In August 1957, Gertrude was busy tending to her bedfast, dying mother. They received a visit from cousin Harry and Amanda (Burkett) Miner, and afterward Amanda wrote a letter about the visit to a relative:
We was to see Aunt Susan Saturday afternoon. I was in the room where she lays but she is about the same. You ask if she knows things by times (no) but when people go in and talk she gets so worked up. She just has Gertrude help her up and down all night. They all should consider Gertrude's side of it and walk in and not be talking till they go out of the room... Aunt Susan could last a year yet or could go at anytime. She don't eat enough to keep a bird alive.
Gertrude said she hasn't had much time to write to no one. She does canning fruit and vegetables besides caring for her mother. She canned 50 some qts. last week, 2 [bushels] peaches, pickles and beans. If she keeps that up she will be gone before her mother yet.
Gertrude lived a long life despite or thanks to all of her hard work.
She periodically attended the annual Harbaugh Reunions, and in 1970 received the "Oldest Woman Present" award.
She passed away on Oct. 9, 1987, at the age of 93. She is buried beside her husband at the Jersey Church Cemetery. Her obituary, printed in the Somerset Daily American, noted that she was survived by five granddaughters, 14 great-grandchildren and eight great-great grandchildren.
Their grave marker, seen here, was photographed by the founder of this website during a visit to Ursina in April 1993.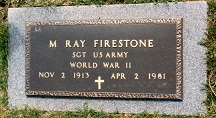 Jersey Church Cemetery
~ Son Marion "Ray" Firestone ~
Son Marion "Ray" Firestone (1913-1981) was born on Nov. 2, 1913.
He served as a sergeant in the U.S. Army during World War II. His name also adorns the war memorial in Confluence (seen here).
Following the close of the war, he returned home to Confluence and obtained work as a laborer.
On Nov. 20, 1945, at the age of 32, he wed 28-year-old Caroline Elalia Barnes (1917- ? ), daughter of John J. and Elizabeth C. (Altmyer) Barnes. Justice of the peace D.H. Pore of Confluence officiated. A native of McKeesport, she worked at the time as a waitress and lived at 43 Apricot Street in the Duquesne section of Pittsburgh.

Confluence War Memorial
Ray was employed by the Pennsylvania Railroad. He was a member of the Turkeyfoot Fish and Game Association and the Confluence Veterans of Foreign Wars.
He died on April 2, 1981, with burial in the Jersey Church Cemetery. His obituary was published in the Meyersdale Republic but does not mention his wife.
~ Daughter Virginia "Ruth" (Firestone) Anderson ~
Daughter Virginia "Ruth" Firestone (1916-2005) was born on June 25, 1916 in Confluence.
She married James Ralph Anderson (1913-2006), son of Enos Scott and Susan Hannan (Nickelson) Anderson of Confluence.
They resided in Windber, Somerset County and raised two daughters -- Barbara Durst and Karen Suhr.
James was a veteran of World War II, having served in the Pacific theatre. He was employed by the A&P grocery store chain and ACME Markets and retired on the first day of April 1975. He was a member of the American Legion, Lions Club, Veterans of Foreign Wars in Confluence and local fire department.
Virginia was elected the initial president of the Windber Area High School Band Parents, and was a member of the First Lutheran Church of Windber.
They endured the death of their son in law Thomas Suhr. In their final years they resided in the Church of the Brethren Home in Windber.
Virginia passed away there at age 88 on April 18, 2005. An obituary in the Daily American noted that she was "the last surviving member of her immediate family." A memorial service was held in her home church in Windber.
James died at the age of 93, in the Church of the Brethren Home in Windber, on June 3, 2006. A memorial service was held at the First Lutheran Church of Windber, led by Rev. Eleanor Abarno. An obituary was published in the Somerset Daily American.
Daughter Barbara D. Anderson married Don R. Durst and lived in Windber. Their children were James D. Durst, Jeri Linn Gallucci, J.W. Durst and Jason M. Durst.
Daughter Karen S. Anderson wed Thomas Suhr. She lived in Pensacola, FL. They had one daughter, Heather Suhr.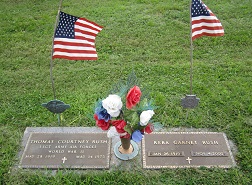 Reba and Thomas' graves, Jersey Church
~ Daughter Reba (Firestone) Peters Rush ~
Daughter Reba Garnet Firestone (1919-2000) was born on Jan. 26, 1919.
Her first husband was Earl Jackson Peters (1910-1945), son of William Harrison and Laura Florence (Moon) Peters of the family of Andrew Jackson "Andy" and Harriet V. (Younkin) Moon. They were married in Casselman, Somerset County on Oct. 9, 1937, when she was age 18 and he 27. Rev. L.S. Mulhollen officiated.
At the time of marriage, Earl worked as a "bridgeman" and lived in Markleton.
They produced two children, Bernice Snyder and Garnet Dennis.

Earl J. Peters
Heartache rocked the family just as the war was ending -- when Earl was killed in action in the sinking of the USS Indianapolis. His ship was torpedoed and went down in the South Pacific. The disaster was made famous in the movie "Jaws" -- the vessel was on a top-secret mission to deliver the A-bomb; having completed its mission, it was torpedoed during its return; because of the high level of secrecy, help did not arrive for days.
Of the 900 crewmembers who survived the sinking and went into the water, close to two-thirds were devoured by sharks. A granite memorial honoring the crew stands today in Indianapolis, IN. Earl also is named on the "Tablets of the Missing" at Manila American Cemetery in the Philippines and on a monument (seen here) in his hometown of Confluence, PA. He also is featured on a special page on the website of the American Battle Monuments Commission. Also see an enlargement of his portrait as our June 2006 "Photo of the Month."
Later, after Jack's wartime death, and enduring a time as a widow, she wed her second husband, Thomas Courtney Rush (1919-1975).
He also was a veteran of World War II, serving as a staff sergeant in the U.S. Army Air Forces. He was a longtime member of the Turkeyfoot Fish and Game Commission and Confluence Veterans of Foreign Wars.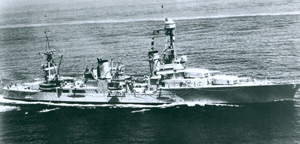 Earl Jackson Peters' ill-fated ship, the USS Indianapolis, and the 2001 book about the tragedy authored by Doug Stanton

Confluence War Memorial
Thomas passed away suddenly at home on May 14, 1975, at the age of 55. Burial was in Jersey Baptist Church Cemetery near Ursina, Somerset County. An obituary was printed in the Meyersdale Republic.
Reba outlived her second husband by a quarter of a century.
She died on Nov. 4, 2000, and rests beside Thomas for eternity at the Jersey Church.
Daughter Bernice Peters ( ? - ? ) wed Jan Buell Snyder (1934-2002), son of Armour and Eleanor (McClintock Snyder. They were married in about 1956. They lived in Confluence and had four children -- Vance Snyder, Chris Ann Wilson, Rhonda Riesco and Tara Blankenship. Active in the community, Jan "especially enjoyed music and photography and spending time with his family at the beach," reported the Somerset Daily American. "He was a veteran of the U.S. Army and a life member of Confluence VFW Post 7250. A member of St. John's Lutheran Church of Addison. A board member of Addison Cemetery Association, Confluence Borough Council and Meyersdale Lodge [of the Masons]. He was a ... sales representative for the Accident Garage in Accident, Md. for 18 years and a former salesman for Nace Chevrolet of Confluence and Henry's of New Centerville." At the age of 68, Jan passed away on Dec. 5, 2002. Burial was in Addison Cemetery.
Daughter Garnet Peters wed Dean Dennis. Their home in 1987 was in Markleysburg.
Copyright © 2001-2002, 2005, 2007, 2013-2014, 2021-2023 Mark A. Miner