Jesse Andrew Conn
(1905-1968)

Jesse Conn

Jesse Andrew Conn was born in 1905 in Jersey Hollow near Confluence, Somerset County, PA, the son of Alexander Wilson and Susannah (Harbaugh) Conn.
Jesse entered into marriage with Zelda M. "Zeke" Snyder (1907-2000), the daughter of Augustus and Sarah Elizabeth "Lizzie" (Bittinger) Snyder of Grantsville, Garrett County, MD.
They produced two sons -- Arthur "Paul" Conn and Kenneth A. "Bill" Conn.
They first made their residence in Grantsville and later lived in Versailles near Pittsburgh, as did Jesse's brother Clinton.
Jesse was employed circa 1940 as a machine operator at an air brake company, likely the famed Westinghouse Air Brake.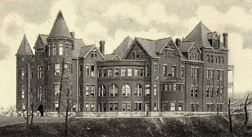 McKeesport Hospital, where
Zelda was a nurse's aide
Zelda was employed as a nurse's aid at McKeesport Hospital near Pittsburgh.
The Conns occasionally attended the annual Harbaugh Reunions, including the first one in 1926 and which were a tradition in the family. In an August 1954 letter to a relative, Jesse's mother wrote: "We was at the reunion last Sunday. My 2 girls was their and Jess and Clint, Nora youngest boy Wilson and his wife and children..."
In an October 1955 letter from Jesse's mother to a relative, she wrote this update on family visits:
... yesterday Clint and his wife and family was here for dinner. Iva still lives at Kingwood and Gertrude still lives at Confluence and Lester still at bible school and Jess still at McKeesport... One of Nora's boys and his little girls was here the other Sunday to see us. Well we was glad to see them come.
In a Jan. 22, 1956 letter by Jesse's step-father, Jesse O. Strickler, writing about the death of a niece, he said: "Jess Conn came up and took us to the funeral."
Circa June 1965, when mentioned in the Connellsville Daily Courier obituary of his sister Iva Henry, Jesse made his home in McKeesport.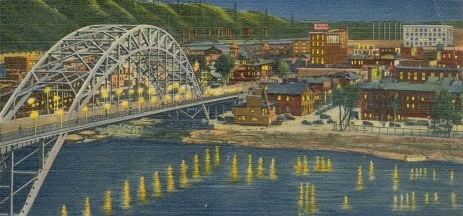 McKeesport at night, along the Youghiogheny River
Their address in 1968 was 3600 State Street, McKeesport.
Sadly, while on a visit to Maryland, Jesse died at the age of 62 on June 22, 1968. His funeral was held in Confluence. An obituary was published in the Lock Haven (PA) Express near where his brother Harvey "Clinton" Conn resided at the time.
Zelda outlived her husband by 32 years. She passed away in 2000 at age 93 in the White Oak Borough of McKeesport. An obituary in the Somerset Daily American noted that she was survived by three grandchildren and five great-grandchildren. Following services led by Rev. Duane Riddle, her remains were laid to rest at Jersey Cemetery.
~ Son Arthur "Paul" Conn ~

A. Paul Conn
Courtesy Sylvester Everhart

Son Arthur "Paul" Conn (1926-1999) was born on May 10, 1926 in Grantsville, Garrett County, MD.

As a young man, he was employed as a clerk and resided at 3106 State Street in McKeesport. He is known to have served in the U.S. Navy during World War II.

On June 3, 1949, at age 23, he wed 23-year-old Kathryn Elizabeth Bashforth (1926-2014), daughter of Alexander and Roberta (Reynolds) Bashforth of Boston, Allegheny County, PA. Rev. Arthur Sellers officiated at the wedding, held in Boston. At the time, Kathryn was employed as a secretary.

When the federal census enumeration was made in 1950, the newlyweds made a home in Elizabeth Township, with Paul working as a retail grocery clerk and Kathryn as a stenographer in a real estate office. The marriage dissolved in divorce. Kathryn wed a second time to Howard Kauffman Hilner (Feb. 2, 1925-2010), with their union enduring for nearly a half century.

Paul went on in the early 1970s to be elected a district magistrate in White Oak. His duties in 1977 were expanded to include nearby McKeesport. One of his more notable cases was in 1978, when he issued a fine against the County of Allegheny for violating building and zoning codes in connection with renovation work on a group home for troubled youth. He was re-elected for a second six-year term in 1979. Paul retired as a senior justice.

His second wife was Mary J. "Jeannie" Bauer ( ? - ? ). They dwelled in White Oak.

One son born to the couple was Keith A. Conn.

Sadly, Paul died on May 18, 1999. Burial was in Round Hill Cemetery in Elizabeth Township. An obituary was published in the Pittsburgh Post-Gazette.

Son Keith A. Conn ( ? - ? ) has made his home in White Oak. He was a candidate for mayor of White Oak in 1981. In 1997, he ran unsuccessfully for election as district justice.

~ Son Kenneth A. "Bill" Conn ~

Son Kenneth A. "Bill" Conn (1928- ? ) was born in about 1928.

He grew up with a passion for airplanes and flight.

In 1953, he was united in matrimony with Martha Joan "Marty" (March 12, 1935-2020), a McKeesport high school senior whom he had met while teaching her brother to fly. Their union endured for an extraordinary 66 years.

Together, the couple produced three sons -- Richard "Rick" Conn, Robert William "Rob" Conn and David "Dave" Conn.

Marty was a 1953 graduate of McKeesport High School as salutatorian. Some of their dates were held in the air, with Bill at the helm of an Aeronca Chief. They were wed while she was on Christmas break from her freshman year at Muskingum College.

During the early years of marriage, Bill earned a living flying corporate airplanes and working as a tool technician in a machine shop. He was hired in April 1955 as a pilot for Capitol Airways, and they resided in Pittsburgh before a transfer to Washington, DC. They moved to Fairfax, VA and remained in Virginia for good. He went on to a career as a pilot with United Airlines and was retired by 1989.

Marty pursued additional studies, earning a degree in education from George Mason University. She was an accomplished writer and author of the book Crazy to Fly and one other work of authorship. She also wrote "countless" magazine articles. Circa 1989-2000, after their sons were grown and on their own, Bill and Marty moved to Berryvale, four miles northeast of Culpeper, VA.

Tragedy struck on Valentine's Day 1975 when their middle son Robert was killed in an automobile accident. As heartbreaking as this loss was, it served to draw the family closer together, with Marty seeking peace and meaning at their place of worship, St. George's United Methodist Church in Fairfax.

Circa 1989, he was a stunt pilot flying a World War II vintage biplane and performed at the Fauquier County Air Show in July, held at the Flying Circus Aerodrome. He escaped death when his aircraft "lost power and cartwheeled into the ground during a display of low-level aerobatics," reported the Richmond Times-Dispatch. He had "just opened the regular Sunday afternoon show ... with the release of a parachute jumper and was returning to the grass airstrip at Bealton... Conn's two sons and his brother-in-law also fly in the Northern Virginia show, which features classic planes, skydivers and balloons."

The Conns' property at Berrvale included the White Post Airport, a small private facility with a 2,000-foot grass airstrip and four hangars. As of 2008-2009, he owned an Aeronca Champ airplane and a 450 Shearman. He authored a short update about their lives, published in the February 2008 edition of rupanews, the Journal of the Retired United Pilots Association.

Said an obituary
Throughout her adulthood, Marty led a life of service to others. This included transporting patients to medical appointments for FOCUS, driving for Meals-on-Wheels, reading for Books for the Blind, teaching Sunday school at St Georges United Methodist Church, (and later Culpeper United Methodist Church), helping staff the gift shop at the Flying Circus (where her husband and sons flew). She also served for a number of years as a volunteer for Hospice in Culpeper, a gift which came full circle when she entered Hospice care prior to her passing... She will be especially missed for her incredible hospitality, blueberry pancakes, cinnamon toast, Easter egg dyeing, and Tripoley and Sorry game playing.
Marty surrendered to the angel of death at home on June 4, 2020.
Son Richard "Rick" Conn (1955- ? ) was born in 1955 in Pittsburgh. He was employed by USAirways in 2008 as a captain, assigned to fly a Boeing 767 wide-body twinjet. He continued his work with American Airlines after an acquisition. As with his father and brother Dave, he has entertained in the annual Flying Circus Aerodrome, providing thrills in formation flights and aerobatic acts.
Son Robert William "Rob" Conn (1959-1975) was born in 1959. He resided in Fairfax in his teen years. Tragically, at the age of 16, he was killed in an automobile accident on Valentine's Day 1975, The Richmond Times-Dispatch reported that "his car hit a telephone pole after running off a Fairfax street."
Son David "Dave" Conn (1964- ? ) was born in 1964. He is married to Terry ( ? - ? ). He was a pilot working in 2008 for American Airlines, said to have been the youngest captain in the company's history. Over the years, he has been an active flyer in the annual Flying Circus Aerodrome, at the helm of a 1943 Stearman biplane known as the "Terryfic." His primary acts in these shows have included formation flying, balloon busting, flour bombing and stearman aerobatics.
Copyright © 2001-2002, 2006, 2014, 2023 Mark A. Miner