Jesse A. Conn
(1905-1968)

Jesse Conn

Jesse A. Conn was born in 1905 in Jersey Hollow near Confluence, Somerset County, PA, the son of Alexander Wilson and Susannah (Harbaugh) Conn.
Jesse entered into marriage with Zelda M. Snyder (1907-2000), the daughter of Augustus and Sarah Elizabeth "Lizzie" (Bittinger) Snyder of Grantsville, Garrett County, MD.
They had two children -- Arthur Paul Conn and Kenneth A. Conn.
They first made their residence in Grantsville and later lived in Versailles near Pittsburgh, as did Jesse's brother Clinton.
Jesse was employed circa 1940 as a machine operator at an air brake company, likely the famed Westinghouse Air Brake.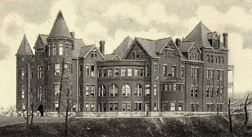 McKeesport Hospital, where
Zelda was a nurse's aide
Zelda was employed as a nurse's aid at McKeesport Hospital near Pittsburgh.
The Conns occasionally attended the annual Harbaugh Reunions, including the first one in 1926 and which were a tradition in the family. In an August 1954 letter to a relative, Jesse's mother wrote: "We was at the reunion last Sunday. My 2 girls was their and Jess and Clint, Nora youngest boy Wilson and his wife and children..."
In an October 1955 letter from Jesse's mother to a relative, she wrote this update on family visits:
... yesterday Clint and his wife and family was here for dinner. Iva still lives at Kingwood and Gertrude still lives at Confluence and Lester still at bible school and Jess still at McKeesport... One of Nora's boys and his little girls was here the other Sunday to see us. Well we was glad to see them come.
In a Jan. 22, 1956 letter by Jesse's step-father, Jesse O. Strickler, writing about the death of a niece, he said: "Jess Conn came up and took us to the funeral."
Circa June 1965, when mentioned in the Connellsville Daily Courier obituary of his sister Iva Henry, Jesse made his home in McKeesport.
Their address in 1968 was 3600 State Street, McKeesport.
Sadly, while on a visit to Maryland, Jesse died at the age of 62 on June 22, 1968. His funeral was held in Confluence. An obituary was published in the Lock Haven (PA) Express near where his brother Harvey "Clinton" Conn resided at the time.
Zelda outlived her husband by 32 years. She passed away in 2000 at age 93 in the White Oak Borough of McKeesport. She is buried at Jersey Cemetery.
~ Son Arthur Paul Conn ~
Son Arthur Paul Conn (1926- ? ) was born on May 10, 1926 in Grantsville, Garrett County, MD.
As a young man, he was employed as a clerk and resided at 3106 State Street in McKeesport.
On June 3, 1949, at age 23, he wed 23-year-old Kathryn Bashforth (1926- ? ), daughter of Alexander and Roberta (Reynolds) Bashforth of Boston, Allegheny County, PA. Rev. Arthur Sellers officiated at the wedding, held in Boston. At the time, Kathryn was employed as a secretary.
~ Son Kenneth A. Conn ~
Son Kenneth A. Conn (1928- ? ) was born in about 1928. Nothing more is known.
Copyright © 2001-2002, 2006, 2014 Mark A. Miner