Harvey 'Clinton' Conn Sr.
(1903-1980)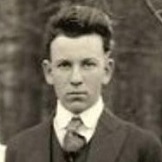 Clinton Conn


Harvey "Clinton" Conn Sr. was born on Dec. 9, 1903 in Jersey Hollow near Confluence, Somerset County, PA, the son of Alexander Wilson and Susannah (Harbaugh) Conn.

Clinton in adulthood stood 5 feet, 9 inches tall and weighed 200 lbs. He sported a scar on his left hand.

Circa 1925, when he was 21 years of age, Clinton was united in the bonds of holy matrimony with 18-year-old Melda Hostetler (1907-1938). She was a native of Kingwood, Somerset County.
They adopted a son, Burton G. Conn, born in 1928.
Circa 1930, when the federal census was enumerated, the pair made their home on State Street in Versailles, near Pittsburgh. He was employed there as an insurance agent.
Sadly, Melda suffered from an undetermined illness, and she died at McKeesport, near Pittsburgh. Her death occurred on Jan. 5, 1938, when she was age 30. A short obituary was published in the Connellsville Daily Courier.
Her remains were returned to Kingwood for interment in the Odd Fellows Cemetery. When photographed in May 2014, a small planting freshly adorned her grave marker.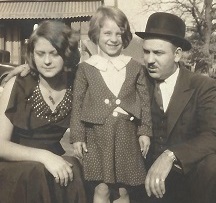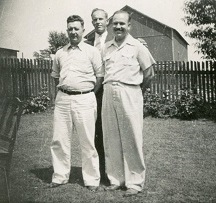 Left: Clint and Melda with niece Wilma Lois Henry.
(Courtesy Sylvester Everhart Jr.)
Right: Conn brothers, L-R: Jess, Lester, Clint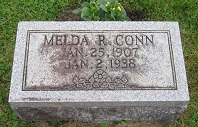 IOOF Cemetery, Kingwood

Later in 1938, on Nov. 23, Clinton wed a second time to Ialo (Kearns) Landerbaugh (1906- ? ) of Imperial, Allegheny County, PA and the daughter of William and Juanita (Gibson) Kearns. She brought a young daughter to the second union, Patricia. whom Clinton appears to have adopted as his own.

When the United States Census again was taken in 1940, the Conns dwelled in Elizabeth, Allegheny County, with Clinton continuing to earn a living as an agent with Metropolitan Life Insurance Company.

The family's whereabouts in 1950 are not yet known. In time they relocated to a farm in Mill Hall, Clinton County, a community on the outskirts of Lock Haven, PA. The farm was near the Lamar interchange of the Keystone Shortway, later renamed Interstate 80.

In Mill Hall, Clinton and a business partner co-foiunded Mill Hall Hardware Store. He served as in 1955-1956 as president of the Mill Hall School Board, was a charter member of the local Kiwanis Club and its president in 1957, and a member of the board of directors of the Nittany Motor Club. The family held a membership in the Mill Hall United Methodist Church.

The Motor Club held meetings at the Renovo YMCA and, circa 1971, dealt with such issues as traffic problems on Route 220 at the border between Flemington and Lock Haven.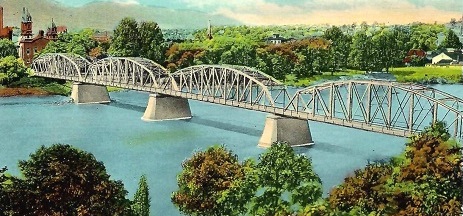 Susquehanna River bridge at Lock Haven, PA

Clinton Conn

Clinton and his mother occasionally attended the annual Harbaugh Reunions, which had begun in 1926 and were a tradition in the family. In an August 1954 letter to a relative, his mother wrote: "We was at the reunion last Sunday. My 2 girls was their and Jess and Clint, Nora youngest boy Wilson and his wife and children..."

In an October 1955 letter from Clinton's mother to a relative, she wrote this update on family visits:
... yesterday Clint and his wife and family was here for dinner. Iva still lives at Kingwood and Gertrude still lives at Confluence and Lester still at bible school and Jess still at McKeesport... One of Nora's boys and his little girls was here the other Sunday to see us. Well we was glad to see them come.
In a Jan. 22, 1956 letter, Clint's step-father, Jesse O. Strickler wrote that "Clint and his wife and son was here to see Mam last Sunday."
Iola was active in her children's education and in 1959 was chair of the Legislative Committee of the Parent-Teacher Association of the Bald Eagle-Nittany area.
At the age of 76, Clinton surrendered to the spirit of death in Lock Haven Hospital on Leap Day 1980. Rev. Marjorie Glascow officiated at the funeral service, followed by interment of the remains in Cedar Hill Cemetery. He was survived by six grandchildren. An obituary was published in the Centre Daily Times.
~ Son Burton G. Conn ~
Son Burton Gibson Conn (1927-1995) was born on May 18, 1927 in Sewickley near Pittsburgh.
He was adopted by the Conns.
During World War II, Burton served in the U.S. Marine Corps.
On Aug. 15, 1948, Burton was married to Isabelle Conley Furst (1928-1997), daughter of Raymond and Elizabeth (Hayes) Furst of Mackeyville, Clinton County, PA.
Two known children produced by the pair were Raymond G. Conn and Jill Ann Warther.
Following in his father's footsteps, Burton was an insurance broker and certified life underwriter. For 27 years, from 1967 to 1994, he was owner and operator of Conn Insurance Agency of State College, later reorganized into Frost and Conn Inc. Isabelle assisted him as secretary for 17 of those years. She stepped down in 1984, and he retired in January 1995. He was an insurance instructor at Pennsylvania State University.
The Conns made a residence in 1960 in Mackeyville and in 1980 in State College. They belonged to Park Forest United Methodist Church. For years, Burton was active in the community, including as a United Fund fundraising volunteer in 1961 as a member of an advance gift team. In time he also held memberships in the Chartered Property and Casualty Underwriters, Lions Club of Centre Hall and local Elks Club in Lock Haven. He also was an avid fan of Penn State sports.
The family bore the unspeakable suffering when their married daughter Jill died after a liver transplant in 1993.
Sadly, Burton passed away at home in State College on July 3, 1995. He was pictured in his obituary in the Centre Daily Times.
Isabelle outlived her spouse by two years. The end came at the age of 69, on July 19, 1997, as a resident of Presbyterian Home of Moshannon Valley in Philipsburg. She too was pictured in her Daily Times obituary. Rev. Edward E. Prowant presided at the funeral service. Burial was in Cedar Hill Cemetery in Mill Hall.
Son Raymond G. Conn (1958- ? ) was born in 1958 in Lock Haven Hospital. He was in State College, PA circa 1993 and Port Matilda, PA in 1997.
Daughter Jill Ann Conn (1960-1993) was born on Oct. 26, 1960 in Lock Haven Hospital. She was a 1978 graduate of State College High School and then in 1982 earned her bachelor's degree at Pennsylvania State University. She wed Richard O. Warther ( ? - ? ) three days after Christmas 1985, when she was 25 years of old. Their two daughters were Katherine Conn Warther and Natalie Nicole Warther. Jill went on in 1986 to receive her master's degree in business administration from Boston College. She spent the early part of her professional career as a trust investment officer with Old Stone Bank and Trust Company of Providence, RI. Then in about 1988 she joined Capital and Security Management Inc. of West Chester, PA as an investment portfolio manager, and remained for the final five years of her life. She belonged to Grove United Methodist Church of West Chester, served on the congregation's board of directors and chaired its investment committee. She also was a board director of the retirement community of Cornwall Manor and treasurer for four years of the Danbury Home Association. In the profession, she held a membership in the Association of Certified Financial Analysts. The family enjoyed swimming days at West End Swim Club. Sadly, she was burdened with liver failure and underwent a live transplant in June 1993. Three days after the surgery, at age 32, she died in Philadelphia's University of Pennsylvania Hospital on June 17, 1993. An obituary was published in the Philadelphia Inquirer and the Centre Daily Times. Her remains lie in eternal repose in Grove United Methodist Church Cemetery in Chester County, PA.
Granddaughteer Katherine Conn Warther spent her young years in West Chester, PA.
Granddaughter Natalie Nicole Warther grew up in West Chester, PA.
~ Daughter Patricia A. (Landerbaugh Conn) Adams ~

Daughter Patricia A. Landerbaugh (1937- ? ) was born in about 1937. She was a year old when her mother wed Harvey Clinton Conn, and Patricia took on the "Conn" surname as her own.

She was employed in the mid-1960s by Pennsylvania State University.

On July 3, 1965, when she was about 28 years of age, and he 38, she was joined in wedlock with Harold M. Adams (Oct. 24, 1926-2018), son of James "Garfield" and Carrie (Kahl) Adams of Greenburr, PA. Rev. Samuel L. Fisher, of Christ Church, United Church of Christ at Roaring Spring officiated the nuptials. The wedding was announced in the Lock Haven Express. At the time, Harold was employed as principal of Bald Eagle Nittany Area Jointure High School in Mill Hall.

To the pair was born one daughter, Carrie Adams-Smith.

The Adamses made their residence in 1980-1995 in Mill Hall, Centre County, PA.

Harold attended a one-room school in childhood and was an alumnus of Sugar Valley High School. During his senior year, he was drafted by the U.S. Navy on Feb. 6, 1945. He trained at Bainbridge, MD and Norfolk and Chincoteague, VA and received his honorable discharge on July 16, 1946. He was the recipient of the World War II victory medal and Ameerican Area Medal.

He went on to obtain his bachelor's degree in education at Lock Haven Teachers College in May 1955 and then taught English for five years at Blossburg High School. He was tapped in August 1962 as principal of Bald Eagle-Nittany High School, and was in this role at the time of marriage. His career at BEN spanned three decades, with retirement in 1992.

His social and professional involvements outside of school were legion. They included presidency of the Hill Hall Kiwanis Club, where he received the Hixson Fellowship Award; the Millheim post of the American Legion, executive committee of the Lock Haven Univeersity Alumni Association, United Way board of directors, Clinton County Retired Educators, National Association of School Principals, Pennsylvania Association of Secondary School Principals, the Bloss lodge of the Masons, and several organizations devoted to flight.

Harold in retirement liked to fly small aircraft and earned a license as a private pilot. In 1992, his alma mater Lock Haven bestowed him with the Distinguished Educator Award.

Sadly, Harold died at the age of 91, in Haven Skilled Nursing and Rehabilitation Center of Lock Haven, on Sept. 6, 2018. Pastor Susan Champion led the funeral seervice, with burial in Greenburr Methodist Cemetery. An obituary appeared in the Centre Daily Times.

Daughter Carrie Adams entered into marriage with Kurt Smith. She began heer career as a teacher and worked at Bellefonte School District for nearly a decade and then at Keystone Central for 28 years. She retired as a 12th grade guidance counselor at Central Mountain High School in 2021. The couple has dwelled in Lock Haven.

~ Harvey Clinton Conn Jr. ~

Son Harvey Clinton Conn Jr. (1943-living) was born in about 1943.

He was a 1960 graduate of Bald Eagle-Nittany High School.

Harvey joined the U.S. Army in April 1962 during the early years of the Vietnam War. After basic training at Fort Gordon, GA, he trained in the making of liquid nitrogen and oxygen at Fort Belvoir, VA with nine months more instruction at Fort Sill, OK. In August 1963, he was posted to Kaiserslauteern, Germany.

Harvey was married and the father of Scott Conn and Steven Conn.

After his military service ended, he returned to Mill Hall and earned a living as a truck driver in the early 1970s. He made news in early August 1971 when he was the last of six tractor-trailer rigs which plowed into each other in a chain reaction along Interstate 80 near the Brookville Water Plant. Reported the Dubois (PA) Courier-Express, he "drove his rig onto the scene, tried to stop, jack-knifed three times, hit the guard rails and came to rest on the median strip. Damages in this instance were only about $200." Fortunately he was not injured.

The Conns lived in Mill Hall in 1973 and later relocated to Colorado. Circa 1980, they dwelled in Golden, CO and in 1995-2022 near Denver.

Son Scott Conn (1963- ? ) was born in about 1963.

Son Steven Conn (1966- ? ) was born in about 1966.

Copyright © 2001-2002, 2013-2014, 2022 Mark A. Miner