Daniel 'Lester' Conn
(1911-1985)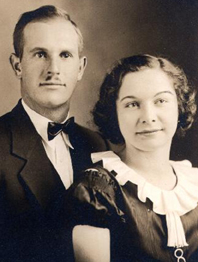 Lester and Cornelia Conn

Daniel "Lester" Conn was born on Aug. 5, 1911 in Jersey Hollow near Confluence, Somerset County, PA, the son of Alexander Wilson and Susannah (Harbaugh) Conn.
When the federal census was taken in 1930, the 19-year-old Lester made his home with his parents, and worked as a laborer in a saw mill.
Lester married Cornelia Huntsman (1915-2008).
They together bore at least one son, "Teddy" Conn.
Very little is known of their lives. In 1940, without an occupation, Lester, Cornelia and three-year-old son Teddy lived on his mother's farm near Confluence.
They eventually relocated to Bible School Park, Broome County, NY, about seven miles from the larger town of Binghamton, and about 57 miles from Syracuse.
The Conns occasionally returned to the old homestead of Lester's parents in the 1930s, as evidenced by the photo seen below. In 1948, Lester attended the annual Harbaugh Reunion, and the minutes from that year's event show that he gave a talk. His topic? It's lost to history.
Sadness struck the family in early 1954, when Lester's sister Nora Snyder passed away. Later that year, in a letter dated Aug. 15, 1954, Lester's mother wrote:
We was at the Harbaugh Reunion last Sunday. Had it out their ware Iva lives. My family was their, all except Lester. He did not get their. Have not saw him since Nora funeral.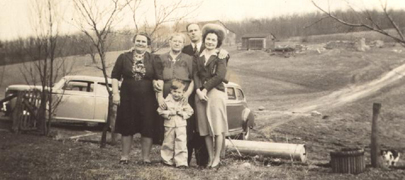 Visiting on the old farm, left to right: Nora Snyder, mother Susie (Harbaugh) Conn, Lester and Cornelia, with son Teddy standing in front
In an October 1955 letter from Lester's mother to a relative, she wrote this update on family visits:
... yesterday Clint and his wife and family was here for dinner. Iva still lives at Kingwood and Gertrude still lives at Confluence and Lester still at bible school and Jess still at McKeesport.
Lester and Cornelia resided in Bible School Park in 1965, when his sister Iva died.
On May 28, 1985, Lester passed away at the age of 74. His obituary was published in the Altoona Mirror newspaper.
Cornelia outlived her husband by 23 years. She died on April 23, 2008, with her obituary appearing in the Mirror.
~ Son Teddy Conn ~
Son Teddy Conn (1937- ? ) was born in about 1937.
Copyright © 2001-2002, 2008, 2010 Mark A. Miner