Daniel 'Lester' Conn
(1911-1985)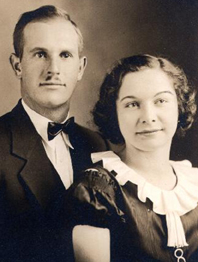 Lester and Cornelia Conn

Daniel "Lester" Conn was born on Aug. 5, 1911 in Jersey Hollow near Confluence, Somerset County, PA, the son of Alexander Wilson and Susannah (Harbaugh) Conn.
When the federal census was taken in 1930, the 19-year-old Lester made his home with his parents, and worked as a laborer in a saw mill. He stood 5 feet, 11 inches tall and weighed 200 lbs., with brown hair and brown eyes.
On June 26, 1933, in Cumberland, MD, Lester married Cornelia Baker Huntsman (1915-2008), a native of Martinsburg, PA. The couple remained together for a remarkable 52 years.
She was a 1933 graduate of Martinsburg High School.
They together bore four sons -- Dale "Theodore" Conn, Gordon Larry Conn and Robert Barry Conn plus an infant who was stillborn at full term on Oct. 18, 1935, in Fredericksburg, Blair County, PA. The baby's tender remains were laid to rest in Brumbaugh Cemetery, Fredericksburg.
In 1940, without an occupation, Lester, Cornelia and three-year-old son Teddy lived on his mother's farm near Confluence.
They relocated by 1941 to Bible School Park in Johnson City, Broome County, NY, about seven miles from the larger town of Binghamton, and about 57 miles from Syracuse. Both enrolled in the school and were graduates, she in 1944.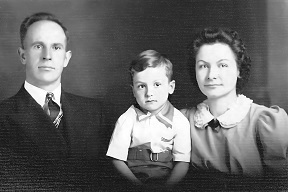 With son Teddy. Courtesy Sylvester Everhart Jr.

The Conns occasionally returned to the old homestead of Lester's parents in the 1930s. In 1948, Lester attended the annual Harbaugh Reunion, and the minutes from that year's event show that he gave a talk. His topic? It's lost to history.

When the federal census enumeration was made in 1950, the Conns continued to dwell in Johnson City, where Lester and Cornelia both were employed at the Bible training school, he as a manual work superintendent and she in the library.

Sadness struck the family in early 1954, when Lester's sister Nora Snyder passed away. Later that year, in a letter dated Aug. 15, 1954, Lester's mother wrote:

We was at the Harbaugh Reunion last Sunday. Had it out their ware Iva lives. My family was their, all except Lester. He did not get their. Have not saw him since Nora funeral.

In an October 1955 letter from Lester's mother to a relative, she wrote this update on family visits:

... yesterday Clint and his wife and family was here for dinner. Iva still lives at Kingwood and Gertrude still lives at Confluence and Lester still at bible school and Jess still at McKeesport.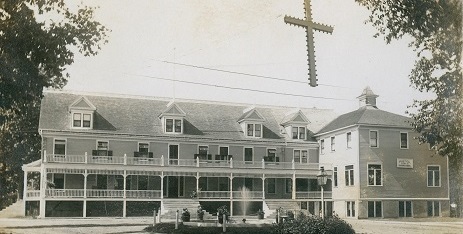 Practical Bible Training School, Bible School Park NY, where the Conns were active for decades
Lester and Cornelia resided in Bible School Park in 1965, when he was named in the obituary of his sister Iva. Cornelia liked to read, paint and write short stories and poetry, "all of which clearly showed her love for her Lord and Savior, Jesus Christ," said the Binghamton Press and Sun-Bulletin. They held a membership in the Calvary Baptist Tabernacle Church of Vestal, NY. Their final address together was at 404 Riverside Drive, Binghamton.
The couple marked their golden wedding anniversary in June 1993 with an open house at the home of their son Ted. They were pictured in the Press and Sun-Bulletin.
On May 28, 1985, Lester passed away at the age of 74. His obituary was published in the Press and Sun-Bulletin and Altoona Mirror newspapers. His funeral was jointly officiated by Rev. Donald George of the family church, Dr. Woodrow Kroll of the school and Dr. Kenneth Robb of Park Avenue Baptist Church.
Cornelia outlived her husband by 23 years. Toward the end, she was admitted to Lourdes Hospital in Binghamton. There, she died on April 23, 2008, at the age of 92. Her obituary appeared in the Press and Sun-Bulletin and in the Mirror. Rev. Robert Mattox led the funeral service, with burial in Martinsburg.
Visiting on the old farm, left to right: Nora Snyder, mother Susie Conn, Lester and Cornelia, with son Teddy
~ Son Dale "Theodore" Conn ~
Son Dale "Theodore" Conn (1937-2009) was born on April 17, 1937 in Pennsylvania.
On July 3, 1959, when he was 22 years of age, he entered into marriage with Eunice May Bell ( ? - ? ), daughter of Richmond A. and Mildred (Whitcomb) Bell of Oakdale, NY. Their vows were made in Faith Baptist Church, presided over by Rev. Floyd English Jr. Their union endured the span of 49½ years of time.
The Conns put down roots in Binghamton, NY. Five children born into this family were Laurie Denise Cox, Daniel Arthur Conn, Bonnie Lynne Merck, Darrell Thomas Conn and Darlene Marie Neely.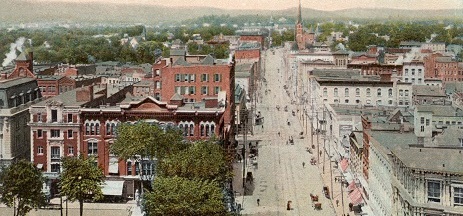 Binghamton, New York
Theodore spent his career in the employ of IBM Corporation. In his free time, he liked to collect antiques, John Deere tractors and toy railroad trains. He was a school board director for Central Baptist Christian Academy and a trustee of Central Baptist Church.
The Conns' home in 1995 was on Treadwell Road in Binghamton. The final count of their grandchildren was 25 during Theodore's lifetime. The Binghamton Press & Sunn Bulletin said he prayed for each grandchild every single day in the order of his and her birth.
Sadly, Theodore passed away on Jan. 7, 2009. Funeral services were led by his pastor, Rev. William Muller, in the family church. Burial was in Glen Castle Cemetery, Broome County.
Daughter Laurie Denise Conn ( ? - ? ) was joined in wedlock with Michael Cox ( ? - ? ). Circa 1985, they were in Roanoke, VA and in 2009 made their residence in Chesapeake, VA.
Son Daniel Arthur Conn, CPA ( ? - ? ) received his bachelor of science in business administration degree in 1985 from Bob Jones University, the same year and degree as his sister Bonnie. He married Lisa ( ? - ? ). They have remained in Binghamton, NY, where he joined the public accounting firm Johnson, Lauder & Savidge, LLP. He is believed to have been elected partner in his firm in 1998 and to the board of directors of the SOS Shelter in Endicott, NY in 2005.
Daughter Bonnie Lynne Conn ( ? - ? ) was a graduate of Bob Jones University, receiving her bachelor of science in business administration. She then became employed as an electrical designer with HOK Architects Inc. On May 26, 1995, she was united in matrimony with James Bagwell Merck ( ? - ? ) of Piedmont, SC and the son of James King Merck. Their nuptials were held in the War Memorial Chapel of Bonnie's alma mater, and she was pictured in a marriage announcement in the Greenville (SC) News. At the time of marriage, James was an alumnus of Clemson University, held a B.S. degree in chemical engineering and worked as a chemical engineer for Jacobs-Sirrine, a division of Jacobs Engineering Group. The pair planted themselves in Piedmont.
Daughter Darlene Marie Conn ( ? - ? ) was born on (?). She was an alumna of Central Baptist Christian Academy and Bob Jones University. On Aug. 1, 1987, in nuptials held in Central Baptist Church of Binghamton, she entered into marriage with Patrick Reuben Neely ( ? - ? ), son of Reuben H. Neely of Bainbridge, GA. The ceremony was presided over by Rev. Gordon P. Hay and Rev. F. William Chapman, and they were pictured in an announcement in the Binghamton Press and Sun-Bulletin. Patrick, a graduate of Calvary Christian Academy of Bainbridge and Bob Jones, was employed in Atlanta at the time of marriage as a staff accountant with the public accounting giant Arthur Andersen & Co. Their home in 1987 was in Clarkston, GA and in 2009 in Marble, NC.
Son Darrell Thomas Conn ( ? - ? ) wed Joanna Fast ( ? - ? ), daughter of Pastor Marion Everett and Sara (Rabun) Fast of Wheaton, IL, New Buffalo, MI and Longmont, CO. They moved to Pittstown, NJ.
~ Son Gordon Larry Conn ~
Son Gordon Larry Conn ( ? - ? ) was born on (?).
He resided in Johnson City, NY in 2009.
~ Son Robert Barry Conn ~
Son Robert Barry Conn ( ? - ? ) was born on (?).
He lived in 1994-2009 in Johnson City, NY. Employed by IBM Corporation circa 1995, he and colleagues Darleen Mayo and Thurston B. Youngs Jr. received a fedeeral patent for a multiple wiring and X section printed circuit board technique.
Copyright © 2001-2002, 2008, 2010, 2023 Mark A. Miner