James 'Andrew' Dean
(1858-1943)


Andrew and Lovene Dean
James "Andrew" Dean was born in June 1858 in Wood County, OH, the son of James Harvey and Catherine (Van Horn) Dean. At a young age, he and his parents were pioneer settlers of Vigo County, Indiana.
Much of our knowledge of Andrew's life has been provided by descendants Nelson Eddy and Karl Oberdorf.
When he was age five, Andrew and his parents traveled to Vigo County on horseback. In his manuscript history, James H. Dean Family, Nelson writes:
Andrew
...they spent the night in Irishman's bridge that crossed over Honey Creek in southern Vigo County due to the rain and cold of the night. The next day James went about 600 yards west along Honey Creek to the high bank and there he built a lean to shelter for his family. In December 1865 James, bought 40 Acres of land in Pierson Township (Section 33) there he moved his family into a log cabin where he raised. He died between 1867/1869 when his son Andy was about eight or nine years old.
Nelson adds: "Andy was his nick name and it was used always during his life time." He is seen here, perhaps as a teenager, with a mane of long curly hair.
In his history, The Oberdorfs of America, Karl writes:
After Andy's father died Andy quit school and went to work in the area's many coal mines to help support his mother and his brother Clarence... Andy often told how he had to work in the coal mines to send his brother to school... When Andy's mother married again to James L. Dunn and they lived on "Old Cabin Hill" for a long time,... Andy always said when he was young he didn't know if he was a Dean or a Dunn. Andy always said that he knew that he had other brothers and sisters ... and every time he would ask his mother about them she would reply, never you mind about them you got your brother Clarence to play with.
On Sept. 27, 1878, in Sullivan County, IN, Andrew married Lovene Jane Oberman (1856-1947). She was a native of Greene County, IN and the daughter of John Benjamin and Mary Margaret (Padgett) Oberman (or "Overman"). They had five children -- Charles Augustus Dean, Frank Burton Dean, Claude Burton Dean, Clara Dean and Golda "Goldie" Marie Dean.
Family portrait
When the federal census was taken in 1880, James, Lovina and their newborn son Charles made their home together on a farm in Pierson Township, Vigo County. The census taker wrote their last name as "Deen." That year, Lovene's widowed mother, Mary Overman, age 65, lived under their roof.
The family once posed for a studio photograph sitting. Sadly, the image is badly faded, and some of the children's faces are barely visible.
The Dean manuscript says that the family resided in many locations during their married life. Their last home was a half-mile west of Shady Grove Church, south of Terre Haute, Vigo County. The books adds:
Andy would often tell about the hard times that they had to go through in his young life. He had a garden and working in the coal mines would keep him busy most of the time to feed the family. He learned to keep up with his work because in those days past, one had to pull his own weight if they wanted to eat. Often the farmers of that day were restricted to the policy of "No work, No eat."
Family portrait
One of the residences of Andrew and Lovene is seen here, although the exact location is unknown.
Andrew's mother and brother Clarence migrated to Oklahoma in the late 1890s as the newly formed state was opened for residential development. She often wrote letters to Andrew, which are preserved in the collection of a descendant. In 1901, one of her letters complained of the bad weather which was destroying crops:
April has been cold and backwoods have had a good deal of rain and snow in April causing the crops to bee so backward that the green lice and chinch bugs is kiling all the oats, people is plowing up their oats and planting to corn. Some had to plant thair corn over again, a great many potatoes roteded in the gorund. The green lice and clinch bugs down in texas is taking every thing before them, potatoes, corn and cotton.
In 1900, the census shows that the Deans maintained their residence in Pierson Township, Vigo County. The census taker marked that Lovene was the mother of six children, but with only five alive at the time. Another of their children is believed to have died during the decade between 1900 and 1910, as the 1910 shows her as the mother of six, but with only four living.
Bird's-eye view of Terre Haute of the early 1900s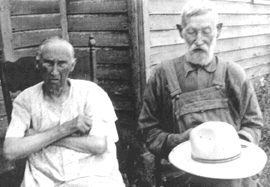 Andrew and Lovene in later years
Andrew and Lovene are seen here in old age, presumably on their farm near Terre Haute. As they aged, says Nelson's history:
... they seemed to go there own way and each would buy what they wanted to eat from the huckster wagon that would pass by their house and would never share it. It has been said that Lovene would often go for hours on end and never speak a word to Andy, when she would get tired she would go to the closet and lay on the floor to sleep.
Andrew passed away at home on June 7, 1943. He was laid to rest in Mt. Olive Cemetery.
Widowed, Lovene moved to Terre Haute with her son Charles, residing at 711 14th Street. Later, she moved into the home of grandson Leslie Dean at 447 Gilbert Avenue. Lovene passed away there on Nov. 10, 1947 and was buried in Mt. Olive Cemetery beside her husband.
~ Son Charles Augustus Dean ~
Charles and Allie
Son Charles Augustus Dean (1879- ? ) was born in 1879. He married Allie All (1887- ? ) in 1904. He was age 24, and she 17, at the time of their marriage.
The couple is seen here in an undated portrait.
Their known children were Frederick Arthur Dean, Oliver "Leslie" Dean, Emma Ethel Dean, Hazel V. Dean, Lawrence A. Dean, Anna L. Dean, Mary F. Deane, Charles L. Deane, Floyd N. Dean, Earl Dean and Nellie E. Dean.
The 1910 and 1920 censuses show the family residing near the home of Charles' parents in Pierson Township, Vigo County. In 1920, Allie's mother, 61-year-old widow Annie E. All, and 27-year-old married sister Clara M. Hazalette, lived with the Deans. By 1930, Charles was working as a day laborer in a local strip mine, as was his 23-year-old son Oliver.
Son Frederick "Arthur" Dean (1905- ? ) married Eva G. (?) (1910- ? ). They made their home in Pierson Township, Vigo County in 1930, and had at least one son, Charles F. Dean (1929- ? ).
~ Son Frank B. Dean ~
Son Frank B. Dean (1885- ? )
~ Son Claude B. Dean ~
Son Claude B. Dean (1888- ? ) was born in 1888.
He resided with his parents at age 23 when the 1910 census was taken. He labored as a farmer that year.
~ Daughter Golda Marie Dean ~
Daughter Golda "Goldie" Marie Dean (1896- ? ) was born in 1896. Nothing more is known.
Copyright © 2003, 2009, 2015 Mark A. Miner
Excerpts from Nelson Eddy's James H. Dean Family manuscript, and Karl Oberdorf's manuscript, The Oberdorfs in America, are used with permission.