Charles Burget DeMoss
(1866-1941)
Charles Burget DeMoss was born in about 1866 in Van Wert, Van Wert County, OH, the son of Charles W. and Eliza (Miner) DeMoss.
He was an infant when his Civil War veteran father died, and grew up with an apparently abusive step-father, William Cornwell. As a boy, he moved to Nebraska with his mother, step-father and siblings.
When a teenager, Charles worked as a printer's devil in the office of the Columbus Democrat newspaper. A story in the April 30, 1884 edition of the Columbus Journal said that he "has graduated in the 'art of preservative of arts,' and gone into the merchantile business with Kramer." He also was an athlete, and in March 1884 won a gold toothpick as a prize for skating at the local rink.
In July 1889, Charles resided in David City, NE and was mentioned in a Columbus (NE) Journal article for having visited Columbus.
Charles married Caroline "Carrie" Biesner (1863-1926), the daughter of Lawrence Beisner, a native of Iowa. The marriage took place in about 1896, when he was age 30 and she 33.
They begat at least two children -- George N. DeMoss and Charles L. DeMoss.
They made their home in 1900-1910 in Walla Walla, Walla Walla County, WA. In those years, the census shows Charles working as a grocery merchant.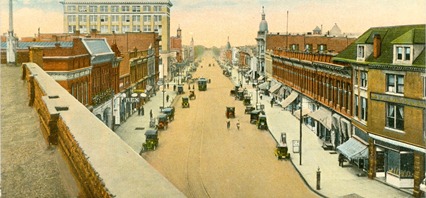 Walla Walla's Main Street, early 1900s
When Charles' mother became sick with liver cancer, she traveled from Kansas to Walla Walla and spent about a year in their home. There, she wrote her last will and testament. Returning back to her home state of Kansas in 1917, she died later that year in the home of Charles' half-brother Archie. In her will, she named Charles and Archie as co-executors of her estate, and bequeathed the residual of the estate to be equally divided among them. Ultimately, he received a payout of $750.
Carrie passed away at the age of 57 years, eight months in Walla Walla on Nov. 9, 1926.
Charles outlived her by 15 years. He died at the age of 73 in Walla Walla on Feb. 24, 1941.
~ Son George N. DeMoss ~
Son George N. DeMoss (1905- ? ) was born in Walla Walla in 1905.
It is possible that by 1930, when he was age 25, he had relocated to Ohio, where he worked as al electrical engineer in a sweeper factory in Plain, Stark County, OH, and roomed in the home of Charles Berger.
~ Son Charles L. DeMoss ~
Son Charles L. DeMoss (1909- ? ) was born in Walla Walla in 1909.
Copyright © 2011, 2022 Mark A. Miner