Home

Charles Burget DeMoss
(1867-1941)
Charles Burget DeMoss was born on March 16, 1867 in Van Wert, Van Wert County, OH, the son of Charles W. and Eliza (Miner) DeMoss.
He was an infant when his Civil War veteran father died, and grew up with an apparently abusive step-father, William Cornwell. As a boy, he moved to Nebraska with his mother, step-father and siblings.
When a teenager, Charles worked as a printer's devil in the office of the Columbus Democrat newspaper. A story in the April 30, 1884 edition of the Columbus Journal said that he "has graduated in the 'art of preservative of arts,' and gone into the merchantile business with Kramer." He also was an athlete, and in March 1884 won a gold toothpick as a prize for skating at the local rink.
In July 1889, Charles resided in David City, NE and was mentioned in a Columbus (NE) Journal article for having visited Columbus.
Charles married Caroline "Carrie" Biesner (1863-1926), the daughter of Lawrence Beisner, and a native of Iowa. The marriage took place in about 1896, when he was age 30 and she 33.
They begat at least two children -- George Ned DeMoss and Charles Lawrence DeMoss.
They made their home in 1900-1910 in Walla Walla, Walla Walla County, WA. At the birth of their son George in 1904, their address was 125 East Poplar. In those years, the census shows Charles working as a grocery merchant.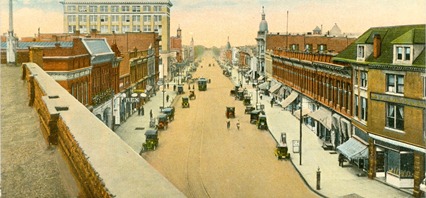 Walla Walla's Main Street, early 1900s
When Charles' mother became sick with liver cancer, she traveled from Kansas to Walla Walla and spent about a year in their home. There, she wrote her last will and testament. Returning back to her home state of Kansas in 1917, she died later that year in the home of Charles' half-brother Archie. In her will, she named Charles and Archie as co-executors of her estate, and bequeathed the residual of the estate to be equally divided among them. Ultimately, he received a payout of $750.
Census records for 1920 show the DMosses continuing to dwell in Walla Walla, with Charles earning a living as a teamster. That year, 52-year-old, unmarried sister-in-law Susan Biersner lived under their roof.
Carrie passed away at the age of 57 years, eight months in Walla Walla on Nov. 9, 1926.
Charles outlived her by 15 years, remaining in Walla Walla. The federal censuses of 1930 and 1940 show him self-employed as a grocer, with bachelor son Lawrence and sister-in-law Susan remaining in the household. Their address circa 1940 was 830 South Second Street.
He died at the age of 73 in Walla Walla on Feb. 24, 1941. They sleep for all eternity in the city's Mountain View Cemetery.
~ Son George Ned DeMoss ~
Son George Ned DeMoss (1905-1981) was born on Oct. 29, 1904 in Walla Walla.
As a young man, he stood 5 feet, 9 inches tall, weighed 165 lbs., with a grey left eye and brown right eye.
It is believed that by 1930, when he was age 25, he had relocated to Ohio, where he worked as an electrical engineer in a sweeper factory in Plain, Stark County, OH, and roomed in the home of Charles Berger.
George was united in matrimony with Helen K. Gutensohn (1901- ? ).
Their only known son was Wayne Allen DeMoss.
George was required to register for the military draft on the eve of America's entry into World War II. As of 1940, he was in the District of Columbia, at the address of 610 Quintana Place Northwest. At that time, he earned a living with the inspection department of the Washington office of the Panama Canal. He disclosed to the census-taker that his residence was in theYMCA and that in 1935, five years earlier, he had been in Canton, OH. Then in 1945, he worked as an engineer with the Bureau of Ships.
Census records for 1950 show the family in Wheaton, Montgomery County, MD. George's occupation was stated as "electrical engineer - Navy Department."
The 1960 city directory for Silver Spring, MD lists George and Helen residing together at 1605 North Springwood Drive. At that time, he continued to work as an engineer with the Department of the Navy.
George passed away in 1981. Two years later, in 1983, he was named in the Walla Walla newspaper obituary of his brother Lawrence.
Son Wayne Allen DeMoss (1931-2018) was born on Aug. 24, 1931 in Ohio. He went on to receive his bachelor of science in electric engineering circa 1954 from the University of Maryland. Then in May 1954, he received an American Legion Award for outstanding leadership in the field of electronics, at which time he held the rank of cadet first lieutenant. His employment at that time was as an operations officer with the A Squadron of the Armed Forces Communication. Wayne was joined in wedlock with Joan Norris ( ? - ? ). Their union held fast over an extraordinary 64 years of time. Together, they bore a family of three -- Gary DeMoss, Scott DeMoss and Denise DeMoss. Wayne died on March 3, 2018. His memorial service was held at Good Shepherd Episcopal Church, with an obituary appearing in the Washington Post.
Grandson Gary DeMoss ( ? - ? )
Grandson Scott A. DeMoss (1961-2021) was born on June 26, 1961. He was in Hilton Head, SC as of 2000 and later relocated to Severna Park, MD. Death reputedly enveloped him on Jan. 14, 2021.
Granddaughter Denise DeMoss ( ? - ? )
~ Son Charles "Lawrence" DeMoss ~
Son Charles "Lawrence" DeMoss (1908-1983) was born on July 6, 1908 in Walla Walla, WA.
He assisted his father in 1930 in the operation of the family owned grocery business in Walla Walla.
On July 14, 1941, at the age of 33, he entered into marriage with Millie Ellen (Stanton) Groat (March 26, 1909-1977). News of their marriage license appeared in the Spokane Spokesman-Review. Their nuptials were held in Dayton, Walla Walla County, officiated by Rev. Frank G. Van Doren of the Christian Church.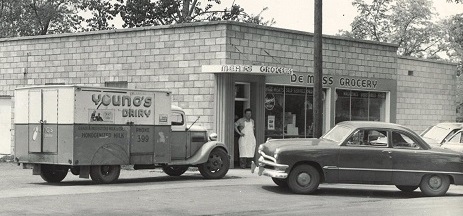 DeMoss Grocery Store, Walla Walla, WA.
Courtesy Esther Loewen
Millie was divorced from her first spouse, Wesley Edwin Groat (July 21, 1911-1987), a general contractor and construction supervisor. As such, she brought a stepson into the second union, Harold "Wayne" Groat. Evidence suggests that Lawrence adopted the stepson, who thereafter used the surname "DeMoss."
When the federal census enumeration was made in 1950, the three DeMosses lived in Walla Walla, with Lawrence continuing to own and operate a grocery store. The business was located on Second Avenue and known as "DeMoss Grocery." The family made its residence in an apartment in the back of the store building.
Sadly, at the age of 68, Millie passed away in Walla Walla on Aug. 6, 1977.
Lawrence outlived his spouse by more than six years, making a home at 1429 Garnet Street. Sadly, he surrendered to the angel of death at the age of 75, in Walla Walla, on Dec. 19, 1983. Burial was in the local Mountain View Cemetery, with funeral rites led by Pastor Ernest Schwab of the College Place Seventh-day Adventist Church. An obituary in the Walla Walla Union-Bulletin called him a "former local businessman."

Wayne DeMoss
Courtesy Esther Loewen

Stepson Harold "Wayne" Groat (1933-2017) was born on Oct. 31, 1933 in Washington. Wayne was a boy when his parents divorced, and then was adopted by his stepfather, ever after using the surname "DeMoss." He grew up in Walla Walla and is not to be confused with his first cousin of the same name. In young manhood he worked in the family grocery in Walla Walla and driving a milk truck for an uncle's business, Young's Dairy. Wayne was a 1952 graduate of Walla Walla High School. Following graduation, with the Korean War aflame, he enlisted in the U.S. Marine Corps. He served for a term of three years, attaining the rank of sergeant. When a Marine seergeant learned that Wayne could type, he was placed in a high-ranking officer's office at Camp Pendleton CA. In 1954, at the age of about 20, he entered into marriage with his first wife, Sherril Downing ( ? - ? ). Together, they bore a family of three -- Kevin DeMoss, Steven DeMoss and Mitzi Dunn. The couple divorced in 1962. Then in 1964, he wed his second bride, Dorothy (Saxby) Miller ( ? - ? ). Their union endured for a remarkable 52 years until cleaved apart by death. Dorothy brought four stepchildren into the second marriage -- Shirley Giarde, Sheryl Brewer, Sharlene McCulley and Scott Miller. Wayne is said to have treated the four stepkids as his own. Following in his father's footsteps, Wayne earned a living in the food industry. Granddaughter Esther Roewen later recalled that:
Wayne took to work once again at Young's Dairy. This career path shortly transitioned to a long-term commitment of selling and delivering food in the Walla Walla Valley for "Walla Walla Produce." Many of his family and friends remember him reporting inside knowledge about the purchasing habits of a variety of area restaurants. In particular, he found it amusing to joke about how certain eating establishments, although they had chicken on the menu, only ever had "the largest possible turkeys" delivered. I, for one, have shared a great many meals of pineapple turkey with my grandfather. :) After more than 20 years of early mornings (work began at 3 a.m.) in that job with Walla Walla Produce, Wayne jumped on the opportunity to purchase his own personally owned retail milk route from a friend, Bob Swenson, who was retiring. Before finally retiring himself due to health challenges, Wayne delivered milk on own route for about five years.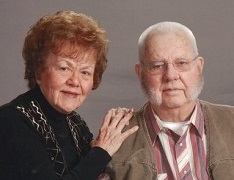 Dorothy and Wayne. Courtesy Esther Loewen

In addition to hard work, having fun was an important value in the DeMoss brood. In the late 1960s, the family began spending several weeks each summer camping on the shores of the Priest Lake in Northern Idaho. These holidays started at the state campground known as "Indian Creek." But later, after buying a boat, they transitioned to more remote camping on one of Priest Lake's large islands. A granddaughter recalled that "Groups of up to 100 people from the Walla Walla Valley congregated for these camping escapades on the islands year after year. My cousins and I, our parents, and even our extended families, have strong memories and many emotional ties to that part of the world, in part because of the tradition of play Wayne helped prioritize, and the sacrifice of time and money that Wayne made to make it possible. Although the future of the cabin, situated adjacent to 8-mile island, is now in some doubt, none of us will forget the formative experiences we all had at 'the lake -- and I'm sure many of us will continue the tradition for future generations."

With a talent for drawing and architectural mindset, he drew up plans for a second story at a rustic cabin they purchased in 1984. This expansion included hand-paneling the interior of the addition with beautiful knotty pine. He remodeled their kitchen cabinets, built wheelbarrows for family members, created funny signs, built chairs, model airplanes and a wall clock. He also had a strong passion for golfing and regularly played rounds with friends at Veteran's Memorial Golf Course. When his biological father died in 1987, Wayne was named as a surviving son in an obituary in the Vancouver (WA) Columbian. Sadly, Wayne died in Spokane, WA on June 13, 2017. An obituary said he was survived by 12 grandchildren and a baker's dozen great-grandchildren. In a eulogy at the funeral, his granddaughter called him "a man of duty, excellence, and integrity." See the full-text of Esther's funeral remarks.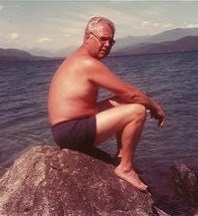 Wayne doing the things he loved.
Courtesy Esther Loewen
Grandson Kevin DeMoss married Irina.
Grandson Steven DeMoss was joined in wedlock with Carole.
Granddaughter Mitzi DeMoss was united in matrimony with Luke Dunn.
Step-granddaughter Shirley Miller wed Raymond Giarde.
Step-granddaughter Sheryl Miller entered into the rite of marriage with Mark Brewer.
Step-granddaughter Sharlene Miller is the mother of Esther Loewen. She later married Larry McCulley. Check out Esther's website/blog, EstherLoewen.com.
Step-grandson Scott Miller was united in marital union with Carol Leitz.
Copyright © 2011, 2022, 2023 Mark A. Miner