William Nesbit DeMoss
(1862-1926)
William Nesbit DeMoss was born in December 1862 in Van Wert, Van Wert County, OH, the son of Charles W. and Eliza (Miner) DeMoss.
He was a toddler when his father went off to fight in the Civil War, and just a young boy when his father returned home but tragically soonafter died. As a boy, William moved to Nebraska with his mother, step-father and siblings, settling in the town of Columbus.
At age 18, he lived at home and worked as a waiter in a hotel in Columbus, NE when the federal census was taken in 1880. His uncle David "Nesbit" Miner also likely was employed in the same hotel. But William's step-father was abusive, and the parents' marriage ended in divorce when William was age 21.
Circa 1883-1884, he is believed to have resided in Columbus and been an active sportsman, playing baseball and running races. He played third base for the Columbus Keystones team, and in one August 1883 game "had his thumb so disabled in one of the innings that he was compelled to quit, O.L. Baker finishing the game in his place," reported the Columbus Journal. Another Journal article in March 1884 noted that "The 1/4 mile race at Small's Rink Saturday evening for a nice gold pen was won by Will DeMoss, time, 1 minute, 33 seconds." In March 1884, he captured a prize ring in a half-mile skating race at the local rink in the time of 3 minutes, 4½ seconds.
By 1900, William had moved to Washington State, settling in Walla Walla. When the census was taken in 1900, he lived a few doors away from his married brother Charles, and was employed in local mines.
He apparently married at some point, but lost his wife to death. Details are not known.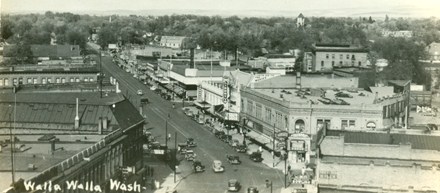 Walla Walla's Main Street, in a bird's-eye view
At his mother's death in 1917, William was still in Walla Walla, and received the grand sum of one dollar in the settlement of the estate, as did some, but not all of his siblings.
The federal census of 1920 shows William, widowed at at 57, boarding in the home of Charles and Emma Berg near the corner of Fifth and West Oak Street. That year, his occupation was as a house contractor.
He died on March 21, 1926, at College Place in Walla Walla, at the age of 63. On his death certificate, his father's name was written only as "DeMoss" but his mother's as "Eliza Ann Miner."
Copyright © 2011 Mark A. Miner