Home

George W. Devan
(1858-1922)
George W. Devan was born on May 1, 1858 in or near Monroe (Hopwood), Fayette County, the son of John and Mary Ann (Minerd) Devan.
Orphaned at about age nine, he was enrolled in the Soldiers' Orphan School in Uniontown, with a post office of Fayette Springs. He and his brothers David and Tobias all lived at the school circa 1870. Upon leaving the school upon reaching his 16th birthday in 1874, he moved to Connellsville, where he eked out a living as a farmer and by 1875 had moved to Hopwood where he was a maker of shoes.
He later earned a living as a laborer. At age 21, in 1880, he lived under the roof of his married brother William in Hopwood.
George married Ellen D. Ingles (Aug. 17, 1866-1944), the daughter of Hamilton and Rebecca (Loughery) Ingles of Hopwood. The ceremony took place in March 1887, when he was age 28 and she 21. At the time of marriage, George worked as a carpenter.
They bore three known children -- Mary Ethel Provance, Harry Lesley Devan and Caroline "Carrie" Devan.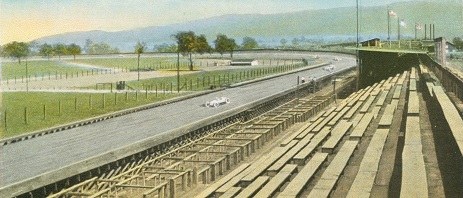 Uniontown Speedway, a Hopwood landmark in the early 1900s
The 1900 census shows this family living in Hopwood with George continuing his longtime occupation as carpenter. That year, their next-door neighbors were his married first cousin, Emily Hester (White) and Simeon Goff.
At the age of 63, George suffered from paresis, a form of syphilis, and died at home on Feb. 11, 1922. Burial was in the Devan Cemetery, now part of the Hopwood Cemetery. Son Harry was the informant on his death certificate. An obituary was published in the Uniontown Morning Herald.
The widowed Ellen further endured heartache the following year with the untimely demise of her married daughter Mary Ethel Provance, leaving behind three young daughters. Ella and her unmarried daughter Carrie moved into the Provance home to help provide care for the motherless children.
Circa 1944, her address was 175 West Berkeley Street in Uniontown. That year, on or about the Fourth of July, as the 78-year-old Ellen was standing on a bed, trying to hang a picture, she fell and fractured her femur. Three weeks later, she suffered a heart attack and lived only for another two days until death swept her away on Aug. 1, 1944. Her remains were lowered into the earth at Hopwood Cemetery.
~ Daughter Mary Ethel (Devan) Provance ~
Daughter Mary Ethel Devan (1889-1923) was born in April 1889.
At the age of 19, on May 10, 1908, she married 23-year-old carpenter and West Virginia native Benjamin Provance (April 24, 1885-1953), son of Theron Spencer and Susan (Bowman) Provance of New Geneva, Fayette County. Rev. William A. Curfman officiated. The couple requested that the news not be printed in local newspapers.
They lived in Hopwood and were the parents of Sarah M. Frost Girod Olmstead, Mary "Beatrice" Englert and Iva "Elizabeth" Semans.
When the 1920 federal census enumeration was made, the family dwelled in Hopwood, where Benjamin earned a living as a coal miner. Their home was on located on the northwest side of Hopwood and Coolspring Road.
Sadly, at the age of 34, Mary was afflicted with endocarditis (heart infection) and died on Oct. 2, 1923. Burial was in Hopwood Cemetery. Alma L. Provance was the informant on her death certificate. Her untimely demise ended their 15-year-marriage.
Benjamin survived his wife by many years and evidence suggests he did not remarry. He was a member of the Hopwood Methodist Church
In 1930, still living with his daughters in Hopwood, he worked as a gasoline company laborer. That year, his widowed mother-in-law Ella Devan and unmarried sister-in-law Carrie M. Devan lived under their roof, presumably to care for the motherless children. They were next-door neighbors to Mary's married sister and brother-in-law, Esther and Hiram Logston.
Census records for 1940 show Benjamin living alone in Hopwood and laboring in a coal mine, presumably as a carpenter. He is known to have been a member of the Phillips Local No. 7415 of the United Mine Workers. His home in the early 1950s was along the Hopwood-Coolspring Road.
At the age of 68, on Dec. 10, 1953, Benjamin was stricken by a heart attack and died. Burial was in Hopwood Cemetery. An obituary was printed in the Connellsville Daily Courier.
Daughter Sarah M. Provance (1908-1990) was born on Dec. 16, 1908 in Hopwood. On March 14, 1934, in nuptials held in Uniontown, she was joined in marriage with Glenn J. Frost ( ? - ? ), son of H.E. Frost of Uniontown. News of their wedding was printed in the Uniontown Evening Standard. Later that year, Glenn was in the U.S. Army and serving away from home. They were the parents of an only daughter, Joan Shirley Shipley. Sadly, the marriage ended within a few years. In January 1938, Sarah and daughter Joan dwelled in the rear of 183 South Mt. Vernon Avenue in Uniontown. They moved by 1956 to 124 Moore Avenue. Sarah wedded a second time to Leo Girod ( ? - ? ) and relocated to Poughkeepsie, NY in about 1960. There, she remained for the rest of her life, spanning 30 more years. Then in Oct. 1986, in Eden Park Nursing Home in Poughkeepsie, she married a third time to 85-year-old Harold F. Olmstead (June 14, 1901-1994), son of Harry J. and Lulu (Hobby) Olmstead of Pawling, NY. Harold was a longtime press operator in Poughkeepsie for Trussell Manufacturing Company. Their marriage lasted for four years until Sarah's death at the age of 81 on May 21, 1990, while a patient in St. Francis Hospital in Poughkeepsie. An obituary in the Poughkeepsie Journal reported that Rev. Robert Ridpath officiated the funeral service, followed by interment in Union Cemetery in Hyde Park. Harold lived for another four years after her demise. He passed away in the nursing home on Oct. 21, 1994. Burial was in Poughkeepsie Rural Cemetery.
Granddaughter Joan Shirley Frost (1934- ? ) was born on Dec. 14, 1934. When she was in her early 20s, Joan earned a living by working at Union Supply Company. On May 15, 1956, in nuptials led by Rev. Samuel Show in Everbody's Mission of Evans Manor, Joan was joined in marriage with William Terry Shipley ( ? - ? ), son of Leona Mallery ("Mowery") of Hopwood. At the time of marriage, William worked for Thrift Drug Company. The couple was pictured in a wedding story in the Uniontown Morning Herald. They produced two daughters. The Shipleys relocated to New York State by 1958, settling in Pleasant Valley, Dutchess County. They remained there well into the 1990s.
Daughter Mary "Beatrice" Provance (1911- ? ) was born in about 1911 in Hopwood. She was employed at the age of 19 as a stenographer for a novelty store in the Uniontown area. Beatrice may possibly have wedded Chester D. Englert (1907- ? ). Evidence suggests that they were the parents of Bernice Englert. Circa 1935-1946, their home was in Lock Haven, Clinton County, PA, where he was employed in a paper mill as a repairman. In a confusing reference, the 1940 census of Lock Haven shows Beatrice's father (?) "William W. Ingles" (actually her uncle?) living under their roof. Who was he?
Daughter Iva "Elizabeth" Provance (1911-1946) was born on Nov. 11, 1911 in Hopwood. As a young woman, she was employed in Uniontown by S.S. Kresge Company. On March 4, 1935, in a quiet church wedding in the Kittanning Methodist Protestant Church, Iva was united in matrimony with George Albert Semans (1911-1991), son of George and Anna Marie Semans of Hopwood. Their former pastor in Hopwood, Rev. R.L. Carraway, officiated. Only Elizabeth's aunt Carrie Devan and George's parents attended. Afterward, they drove to Pittsburgh to visit Iva's aunt and uncle, Mr. and Mrs. E.L. Neeley of Murray Avenue. In reporting about the marriage, the Uniontown Morning Herald said that "both are popular young people in local social circles." They made a home in Hopwood and produced two children, George Albert Semans Jr. and Elizabeth Ann "Libby" Hallum. When the U.S. Census was taken in 1940, the family lived in Hopwood, with George employed as an assistant shipping clerk with an ice cream factory. Tragically, at the age of 34, Elizabeth made the decision to end her life. In the wee hours of July 11, 1946, she hung herself at home. Burial was in Hopwood Cemetery. The Daily Courier in Connellsville simply noted that she "died suddenly ... at her home." Funeral services were held in the Hopwood Methodist Church, with Rev. Lambertson officiating, followed by burial in Hopwood Cemetery. In a card of thanks published in the Morning Herald, the family wrote that "We wish to express our deep gratitude to our many friends and neighbors for the assistance, sympathy and floral offerings during the loss of our beloved wife and mother." George outlived his wife by 45 years. He lived in Hopwood in 1964.
Grandson

George Albert Semans Jr

. (1935- ? ) was born on Dec. 15, 1935 in Uniontown. As a boy, he delivered newspapers for six years for the

Uniontown Evening Standard

. As an 18-year-old, he joined the U.S. Navy and trained at the Bainbridge Naval Training Center in Maryland. At the age of 22, he was stationed with the Navy's Rhine River Patrol in Karlsruhe, Germany. He dwelled in 1977-2007 in Oakdale near Pittsburgh.
Granddaughter Elizabeth Ann "Libby" Semans ( ? - ? ) was born in (?). She may have been raised by the Murphy family. Libby Ann was twice married. On June 13, 1964, she was joinedin wedlock with Thomas Kay Stugeon, son of Wallace L. Sturgeon of Oakdale, near Pittsburgh. The nuptials were held at the United Presbyterian Church of Pittsburgh, with Rev. W.V. Ritchey officiating. News of the wedding was printed in the Uniontown Morning Herald. By 2007, she had married again to (?) Hallum and resided in Oakdale.
~ Son Harry Lesley Devan ~
Son Harry Lesley Devan (1891-1953) was born on Feb. 25, 1891 in Hopwood, Fayette County, a twin with his sister Carrie.
At the age of 18, in about 1909, Harry was joined in matrimony with 17-year-old Alice Provance (1892- ? ), daughter of Amadee and Flora Provance.
The couple bore one daughter, Rebecca Rarry and took in Alice's niece, Margaret (Provance) Beatty -- daughter of Amadee M. and Catherine (Murray) Provance Jr. -- and raised her as their own.
The family lived in 1922 in Leckrone, German Township, Fayette County and by the 1950s were in Masontown, Fayette County. At Leckrone, he was the assistant manager for the Union Supply Company and managed its company store. He was a member of the Masons and a trustee of the First Presbyterian Church. Their address in 1953 was 107 Harbison Avenue in Masontown.
The family underwent a shock in the winter of 1946 when Alice's father disappeared while traveling in German Township, heading to New Geneva. He became lost and died of exposure in the cold weather.
Stricken with lung cancer, Harry died suddenly and unexpectedly at home on April 4, 1953, age 62. Burial was in Sylvan Heights Cemetery, with an obituary printed in the Uniontown Morning Herald.
Alice survived her husband by several decades. She was in Uniontown circa 1972.
Daughter Rebecca Devan (1911-2002) was born on March 11, 1911. She married Clarence Rarry (April 11, 1908-1971), son of J.V. and Leanna (Riffle) Rarry. They lived in Masontown, Fayette County. They were the parents of Alice Claire Mihallik. For more than four decades, Clarence earned a living as a butcher. The family enjoyed vacations to Mackinac Island, MI and Sault Ste. Marie, Canada. Sadly, Clarence passed away at the age of 63 on June 30, 1971. Rebecca survived him by more than three decades and relocated to Jamestown, Chautauqua County, NY. She joined him in death on April 10, 2002. They rest together in Sylvan Heights Cemetery in Uniontown.
Granddaughter Alice Claire Rarry ( ? - ? ) was born in (?). She married Regis S. Mihallik (Nov. 2, 1940-1006), son of Stephen and Mary (Gera) Mihallik of Edenborn near Masontown. Alice Claire was employed in 1959 by Westinghouse in Pittsburgh. Regis served with the U.S. Air Force from 1958 to 1962, and for a time they were stationed at Naselle Air Force Base in Washington State. Circa 1964, their home was in Cleveland, OH and by 1972 they were in Warren, Warren County, PA. The couple eventually divorced. Regis wedded a second time to Louise C. (Culbertson) Fisher. He was a pipefitter for Local 47 of Monaca, Beaver County, PA and retired in 2006. He died at Warren General Hospital at the age of 75 on Aug. 16, 2016.
Niece and foster daughter Margaret Provance (1923-2008) was born on Jan. 30, 1923 in Ronco, Fayette County, the daughter of Amadee A. and Catherine (Murray) Provance. At the age of seven, in 1930, she was in the Devan household in Leckrone. On June 12, 1945, in a ceremony held in the parsonage of the First Methodist Church of Cumberland, MD, the 21-year-old Margaret wedded Robert Lee Beatty Jr. (March 26, 1924-2013), son of Robert "Lee" and Martha (Yates) Beatty Sr. of Ronco. Rev. George E. Baughman officiated. Their union lasted for 63 years. At the time of marriage, Margaret worked for Union Supply Company's Leckrone store, while Robert had completed a tour of Navy duty in Weymouth, England and was awaiting re-assignment. Their known sons were Barry Beatty and Robert Beatty. The family initially made their home in the coal mining patch town of Ronco, Fayette County. By 1958, they had relocated to Bedford, Cuyahoga County, OH and remained there for good. They were members of Shepard Road Christian Church in Macedonia, and Robert was a 50-year member of the Ashlar Lodge of the Masons in Macedonia. Toward the end of her life, Margaret resided in Northfield Village Retirement Center in Northfield, OH. She passed away there at the age of 85 on Nov. 11, 2008. Her remains were brought back to Fayette County to rest for all time in Church Hill Cemetery in McClellandtown. The Cleveland Plain Dealer printed a death notice. Robert survived his wife by five years. As his health failed, he was admitted to Bedford Medical Center where he succumbed at the age of 89 on Oct. 16, 2013. Rev. P. Keith Larson officiated at the funeral service.
Grandson

Barry Beatty

married Terry and has made a home in Macedonia, OH.
Grandson Robert Beatty

wedded Cindy and has resided in Carmichaels, Greene County,PA.
~ Daughter Caroline M. "Carrie" Devan ~
Daughter Caroline M. "Carrie" Devan (1891-1977) was born on Feb. 25, 1891 in Hopwood, Fayette County, a twin of her brother Harry.
She never unmarried and lived at home with her parents.
At the death of her married sister Mary Ethel Provance in 1923, Carrie and her widowed mother moved into the Provance household to care for the deceased's three young daughters.
In 1950, still not married, she lived in Uniontown and was named in the newspaper obituary of her aunt Hester Logston.
Her final years were spent in Pleasant Valley, Dutchess County, NY, moving there in about 1958 to reside with her grand-niece, Joan Shirley (Frost) Shipley. She was a member of the Clove Christian Church. She died in Vassar Hospital on Sept. 14, 1977 at the age of 86. Her remains were lowered into repose in Union Cemetery in Hyde Park, NY, with an obituary printed in the Poughkeepsie (NY) Journal.
Copyright © 2014-2015 Mark A. Miner