Home

Emily 'Hessie' (White) Goff
(1870-1919)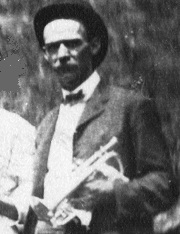 Simeon Thomas Goff, ca. 1908
Emily Hester "Hessie" (White) Goff was born on April 15, 1870, in Hopwood, Fayette County, PA, the daughter of Perry G. and Mariah (Minerd) White.
Hessie was only 15 years old when her father died suddenly at home. She was proud of her father's "wonderful Christian heritage" that he bequeathed to his large family of two sets of children, and passed these values down to her own children.
On March 14, 1888, at the age of 18, Emily married 21-year-old Simeon Thomas Goff (1867-1940), the son of James E. and Ellen (Varndell) Goff. His father was a native of Maryland, and his mother an emigrant from England.
Their two daughters were Maude A. Oliver and Lea Ray Phillips Guyton, both of whom performed and taught music.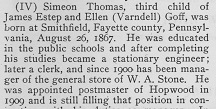 Genealogical and Personal History
of Fayette and Greene Counties
Simeon was profiled in the 1912 book, the Genealogical and Personal History of Fayette and Greene Counties, authored by John W. Jordan and James Hadden. (New York: Lewis Historical Publishing Company). The text said that Simeon:
...was educated in the public schools and after completing his studies became a stationary engineer; later a clerk, and since 1900 has been manager of the general store of W.A. Stone. He was appointed postmaster of Hopwood in 1909 and is still filling that position [in 1912] in connection with his duties as manager. In politics he in an independent voter, selecting the candidates for fitness, rather than party.
Simeon served as superintendent of the Sunday School of the Hopwood Methodist Episcopal Church. He and other members of his wife's family are mentioned in an online history of the congregation. He also was chaplain of the Fayette Lodge of the Masons.
When the federal census was taken in 1900, Simeon's occupation was given as "engineer" -- also known as "stationery engineer" -- a type of mechanic or maintenance position. Simeon also was an assistant editor and manager of a small monthly newspaper, The Hopwood Chronicle, in circulation between 1907 and 1909. Also joining him in the effort were his niece and nephew, Bertha and William A. Stone.

Local newspaper of which Simeon and brother in law W.A. Stone were editors
The May 1907 issue of the Hopwood Chronicle reported that "Mr. S.T. Goff invited a number of friends to his home Monday evening ... to help celebrate his wife's birthday. It came as a complete surprise to Mrs. Goff but nevertheless she enjoyed it." The February 1908 issue said she and her nephew Raymond White led a prayer meeting "Ministering to prisoners and the poor."
In 1908, Simeon led a fundraising effort and presented the pastor "with a nice sum of money for Christmas." In 1907, he and daughters Maude and Leah "played at the celebration of the 88th anniversary of Odd-fellowship, given by Pine Knob lodge of Brownfield. The program ... was excellent."

Simeon and daughter Lea (far right) with the Hopwood Band. Others included brother in law Joseph M. Hopwood (3rd from left), Tommy Hair (far left, who was blind), Joseph Goff and Frank Goff
That August, the Hopwood Chronicle reported that at the re-opening service of the Hopwood Methodist Church, "The special music rendered by the choir under the efficient leadership of S.T. Goff, was a pleasing feature, while the violin solo by Miss Leah Goff was well rendered and uplifting."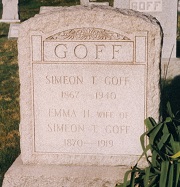 Hopwood Cemetery
At age 49, on Oct. 8, 1919, Emily was found unconscious on the kitchen floor, and died shortly afterward, a victim of a fatal brain hemorrhage. The Uniontown Daily News Standard said hers' was one of:
...the most sudden and regretted deaths of the year.... Today the entire Hopwood community is shocked over the loss, as never was there a better known or more liked woman in the little mountain town.... A lifelong resident of Hopwood and a consistent and faithful member of the Methodist Protestant church, [she] was always prominent in church and patriotic work. As a member of the Aid society of the church she has devoted many hours to good work from week to week.
Uniontown Daily News Standard
The next day's paper reported that her death "still shocks the community." The Oct. 13, 1919 Daily News Standard said:
No Hopwood funeral in years has occasioned such a widespread expression of sorrow and sympathy.... Held in particular esteem by everyone with whom she has ever come in contact, [she] was loved by her neighbors with a sincere regard and respect that came from years of congenial association. Untiring in every good work, always cheerful and inspiring, Mrs. Goff occupied a place in the Hopwood community that will never quite be filled.
Hymns sung at her funeral were "Servant of God," "Asleep in Jesus" and "Christian, Good Night." Pallbearers were her six nephews, George, John and Albert Roby and Charles, Daniel and Albert White.
Simeon outlived Emma by 21 years. He served as postmaster of Hopwood up until he began suffering from congestive heart failure on Jan. 20, 1940. Five days later, he died on Jan. 25, 1940, at the age of 72.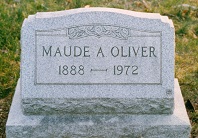 Hopwood Cemetery
~ Daughter Maude (Goff) Oliver ~
Daughter Maude Goff (1888-1972) was born on June 19, 1888 in Hopwood, Fayette County.
She married John P. Oliver (1883-1937), son of John F. and Mary Ann Oliver of Uniontown. The ceremony was held on May 4, 1911, at the home of Maude's parents, with the nuptials performed by Rev. William A. Curfman.
At the time of marriage, John was age 27 and a streetcar motorman, and Maude was a teacher of music.
They resided in Uniontown and had four children -- Marguerite Lee Dreistadt, Albert F. Oliver, Thomas E. Oliver and Hester Anne Fike.
John was a "well known automobile mechanic of Hopwood," said the Uniontown Daily News Standard. "He was born at Reynoldsville ... but the greater part of his life was spent in Fayette county. Mr. Oliver served as a mechanic for 11 years with the West Penn company and 17 years with the Tri-state garage and Central Auto company." He also was a member of the local lodge of Red Men.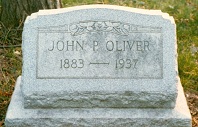 Hopwood Cemetery
Maude was a longtime member of the Hopwood Methodist Protestant Church and its Helping Hand class, taught by her aunt Annie (White) Hopwood. She also was a talented pianist and often played solos in community related events.
In June 1936, Maude and her daughter Lea were injured in an automobile accident when the vehicle in which they were passengers, driven by son in law James Phillips, collided with another car operated by Frank Pyle of Youngstown, OH. The Uniontown Morning Herald observed that Lea "suffered abrasions of her right leg, contusions of her chest and a probable fractured rib; Mrs. Oliver suffered lacerations of the head."
Sadly, John suffered a heart attack and died at the age of 52 on Feb. 6, 1937. His funeral service was conducted in the Methodist Protestant Church of Hopwood, with Rev. J.D. Stillwagon officiating. Burial was in Hopwood Cemetery, with N.L. Barclay, Arthur Moyer, Robert Miller, Harry Rishel, Frank Johnson and Fred Doyle serving as pallbearers.
As a widow, Maude tried to remain as active as possible. She maintained her home at 87 Connor Street. In the fall of 1945, 1947 and 1948, she traveled to Florida for extended vacations, returning in the spring. She spent several weeks in Philadelphia and Atlantic City in 1954, and in 1962 traveled by airplane to San Diego to visit her son Thomas for six weeks.
In July 1946, she was quoted in the Uniontown Morning Herald, answering the question, "Why are you glad you live in America?" Her response: "It's a feeling that's hard to define. I only know I wouldn't want to live anywhere else. It's America for me!"
Maude spent her final years in Uniontown Hospital and Laurel Rest Home. She died at the age of 81 on Sept. 2, 1972. Dr. Earl P. Confer presided at her funeral, followed by interment in Hopwood Cemetery.
Daughter Marguerite Oliver ( ? - ? ) was born on June 18, (?). With her mother as a music teacher, Marguerite grew up learning to play the piano and violin, and often gave solos during services and special events at the Hopwood Methodist Church. She was wed twice, first to Albert Dreistadt ( ? - ? ) of Uniontown. Their marriage license was published in the Uniontown Morning Herald on March 1, 1935. The couple dwelled in South Union Township where Albert operated a motorcycle delivery service. They produced at least one son, John Thomas Dreistadt. By 1952, Marguerite was united in wedlock with Lee Shaffer ( ? - ? ), son of Young Shaffer of Hopwood. Their home was in Hopwood, and he may have brought a son to the marriage, Robert Shaffer. They had at least one daughter of their own, Lora Lee Shaffer. In June 1954, son John and his grandmother Maude Oliver traveled to Philadelphia to visit Marguerite's brother Thomas, who was working there. Their home in 1972 was in Farmington, Fayette County, where Lee is believed to have been an assistant manager of the Nemacolin Trail Hunting Reserves.
Grandson John Thomas Dreistadt (1940- ? ) was born on June 8, 1940. At the age of 14, he traveled to El Paso, TX, as a guest of Hazel Curry and her daughter Diana, for a month-long vacation. He attended the University of Miami at Coral Gables.

Granddaughter Lora Lee Shaffer (1952- ? ) was born on Nov. 1, 1952, sharing a birthday with her father. She attended Point Park College in Pittsburgh circa 1971. In 1977, she was employed as a staff announcer on radio station WPQR-FM with its offices on Morgantown Road next to the Uniontown Shopping Center.

Stepson Robert Shaffer dwelled in Pittsburgh in 1959.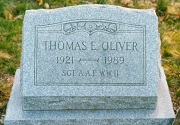 Hopwood Cemetery

Thomas E. Oliver
Son Thomas E. Oliver (1921-1989) was born on Aug. 3, 1921. He enlisted in the US Army Air Force just three weeks after the attack on Pearl Harbor. He was a sergeant, and served in three campaigns, including in Australia. Thomas is pictured (seen here) in the book, Heroes All: A Service Album of North Union Township. Circa May 1945, he was stationed at Indianapolis but returned on furlough to Uniontown to visit his mother. In July 1945, back in Hopwood, the 23-year-old soldier was struck by a moving truck on East Main Street and hospitalized with severe back and rib injuries and a laceration of his scalp. Later that same year, he was treated in Deshon Veterans Administration Hospital in Butler, Butler County, PA. He lived in Philadelphia circa 1954, possibly also at a VA health care facility, and in San Diego circa 1962. He died just two days shy of his 78th birthday on Aug. 1, 1989 and is buried beside his father in Hopwood Cemetery.
Daughter Hester Anne Oliver (1924- ? ) was born in about 1924. As a 14-year-old freshman in December 1938, considered a "well known resident of Hopwood," she was seriously injured but avoided death when hit by an automobile as she ran to board a school bus in front of North Union Township High School. The Uniontown Morning Herald reported that she "was rushed to the local hospital for treatment of head injuries, abrasions on both legs and probable fractured ribs." Hester recovered sufficiently that she was released to return home a week later. In October 1944, Hester and her friend Yvonne Arison traveled to Pittsburgh to watch the University of Pittsburgh football game against Notre Dame. She is believed to have been employed with Cohen Furniture on Pittsburgh Street in Uniontown circa 1951, when she would have been 27 years of age. Sometime between 1973 and 1977, she wed her furniture store co-worker Herbert Norman Fike (1902-1977), who was 22 years her senior. He was divorced from Henrietta Fike and brought two grown daughters to the marriage -- Linda Crane and Kathryn Bakota. Herbert was a warehouse manager at the Cohen store and was a member of the Chauffeurs, Teamsters and Helpers Union No. 491 of Uniontown. Their home in the 1970s was at 87 Connor Street in Uniontown. Herbert died at the age of 75 in Uniontown Hospital on Oct. 1, 1977. Dr. Earl P. Confer officiated at the funeral service, followed by interment in Lafayette Memorial Park.
Step-daughter Linda Fike married (?) Crane and lived in 1977 in San Diego.

Step-daughter Kathryn Fike was wedded to Henry Bakota ( ? - ? ). Their home in 1973 was on Whyel Avenue in Uniontown and by 1977 the family had relocated to Hershey, PA. They had at least two children, Christopher Alan Bakota and Samantha Lynn Bakota.

Step-daughter Garnet Marie Fike (1927- ? ) was born in 1927.
Son Albert F. Oliver ( ? - ? ) was born on June 19, (?). He was a longtime postal carrier in Uniontown, beginning his career delivering on two routes in the East End for 15 years and then another decade as a parcel post truck driver. In about 1967, he began serving as a carrier technician on five city routes. Oliver was active with the National Association of Letter Carriers, including a term as president in 1969. In all, he spent 32 years and eight months in post office work, retiring on June 30, 1972. Upon retirement, he was pictured in a feature story in the Uniontown Evening Standard. On Aug. 30, 1933, he married Elizabeth Broderick ( ? - ? ) and had two children, William F. Oliver and June Cronin. The Olivers made their residence on New Connellsville Road in Lemont Furnace near Uniontown. They also owned a cabin along the Wharton Furnace Road and in June 1964 held a mutual birthday party for Albert and his mother. They celebrated their 35th wedding anniversary on Aug. 30, 1968, with a short article printed in the Uniontown Evening Standard. In 1970, along with W. Clyde Bryson, J. Earle Moser, Mr. and Mrs. Presley Whitlock, Mr. and Mrs. Harold Collier and Joseph Mahoney of Uniontown, Albert attended the Indianapolis 500 race, which was won by Al Unser Sr., driving a car owned by Parnelli Jones.
Grandson William F. Oliver ( ? - ? ) served in the U.S. Navy in the late 1950s as an air controlman with the Airborne Early Warning Squadron. he married Donna Jean Peck ( ? - ? ), daughter of Hugh Peck of Mt. Rainier, MD. Their known children were Susan Oliver and a son. After his discharge from the military, he obtained employment with F.W. Woolworth Company at its store in the Miracle Mile Shopping Center in Monroeville east of Pittsburgh. Circa 1963-1965, William worked as an agent for United Insurance Company in Washington, DC, with their home at 3635 Sixth Street in the District of Columbia. In 1972, they resided in Dale City, VA.

Granddaughter June Oliver ( ? - ? ) pursued a career as a stenographer and in 1965 worked for insurance agent K.T. Meade in Uniontown. She married James Cronin ( ? - ? ), son of Michael Cronin of Lemont Furnace, Fayette County. They had three children -- Janine Cronin, James "Jimmy" Cronin and Ernest Broderick Cronin. In 1968, June made her home at 88 Lawn Avenue in Uniontown while James dwelled in Ferndale, MI.
~ Daughter Lea Ray (Goff) Phillips Guyton ~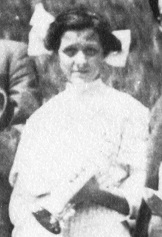 Lea Ray Goff, Hopwood Band
Daughter Lea Ray Goff (1891-1972) was born on Jan. 15, 1891, in Hopwood.
She lived at home in 1912, at age 21, and was an accomplished violin player and singer, and often performed in the family church in Hopwood.
On Feb. 9, 1924, when Lea was age 33, she married 22-year-old coal miner James Phillips (1902-1973), whose parents were immigrants from Italy. They eloped to Oakland, Garrett County, MD. She was 11 years older than her spouse.
They produced one daughter, Mary Alice Carlock.
When the 1930 federal census enumeration was taken, the Phillipses lived under the roof of Lea's widowed father in Hopwood.
James was a member of the United Mine Workers of America, the Uniontown Musical Society, the Hutchinson Sportsmen's Club and the local Elks Club. Their home was along Route 40 near Uniontown.
Lea is believed to have written a manuscript history of the family, and a copy is in the Minerd-Minard-Miner-Minor Archives. She spent her entire life in Hopwood and was a member of the Hopwood United Methodist Church. She was active with the American Cancer Society, Fayette County Branch, and was pictured in a group photograph in the Aug. 11, 1954 edition of the Uniontown Morning Herald for "contributing many volunteer hours to making bandages..."
Sadly, Lea and James separated on April 14, 1941, with James leaving their residence. They eventually divorced in November 1943. He married again, to Garnet Hare. He died at the age of 71 on Sept. 11, 1973, with burial in Mountain View Cemetery.
When Lea's uncle George H. White died in April 1951, she, Elizabeth White and D.D. White of Hopwood drove to Pittsburgh to attend the funeral, with burial held at Jefferson Memorial Park in the South Hills.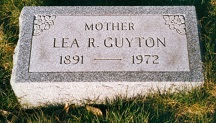 Hopwood Cemetery
On April 9, 1961, at the age of 70, Lea was wedded to her second husband, Arthur M. Guyton ( ? -1970). The event, officiated by Rev. Walter C. Krause, was held at Lea's home church. The Morning Herald noted that she "wore a navy blue dress with white accessories." Their home was at 48 Evans Street. Arthur had been married before, to Margaret D. Guyton, and brought two adult children to the marriage -- Jay "Milton" Guyton and Mary Goff. Milton was "a well known radio and TV business man of Uniontown," said the Morning Herald.
Arthur died after nine years of marriage, in March 1970. Funeral services were held at the Edward E. Minerd Funeral Home in Uniontown, founded by Lea's cousin. Burial was in Oak Grove Cemetery.
Lea survived her husband by two years, and also outlived two of her step-children -- Milton Guyton, who passed on July 27, 1971, and Mary Goff, who died one day later, on July 28, 1971.
On Dec. 21, 1972, Lea died at age 82, just a little more than three months after the death of her sister Maude. She was laid to eternal repose in Hopwood Cemetery.
Daughter Mary Alice Phillips (1923- ? ) was born in about 1923 in or near Uniontown. She was a talented vocalist. She studied at Bethany College and was a member of its touring choir. She received her bachelor's degree in May 1949 with plans to teach music in New Jersey. She was twice married, first to Chester Avery Burt III ( ? - ? ), son of Chester A. and Esther Meeker (Pugsley) Burt Jr. of Bourne, Barnstable County, MA and Park Ridge, NJ. The wedding took place on Aug. 20, 1949 at Jumonville Chapel, officiated by Rev. Reed M. Carter. Their three children were James Franklin Burt, Donald Alan Burt and John Richard Burt. Sadly, Chester died from a brain tumor of the astrocytoma type. Later, she wed Howard Carlock ( ? - ? ). She had four children and lived in Ridley Park, PA in 1972.
Grandson James Franklin Burt was married. They had no offspring.

Grandson Donald Alan Burt was wedded to Shawn Eileen Beck. Their three sons were Mason Heritage Burt, Dalton Alan Burt and Morgan Charles Burt.

Grandson John Richard Burt was united in marriage with Barbara Ann Stirling. They produced three children -- Benjamin Richard Burt, Rachael Chiogenes and Daniel Avery Burt.
Copyright © 2000-2005, 2008, 2012, 2016 Mark A. Miner