Daniel F. Fawcett
(1848-1920)
Daniel F. Fawcett was born on Nov. 8, 1848 in Kingwood, Preston County, WV, the son of William M. and Naomi (Fortney) Fawcett. He was one of more than 130 cousins in the extended Minerd-Minard-Miner-Minor clan to serve in the Civil War. He stood five feet, five inches tall, with a fair complexion, blue eyes and dark hair.
Among his childhood friends were Eugenus C. Cobun and Harrison C. Ravenscroft. In the early years of the Civil War hostilities, Daniel was too young to enlist. But in February 1865, when he was age 16, and influenced by friend Ravenscroft, he traveled to Grafton, Taylor County, WV, where he joined the army.
He was assigned to the 17th West Virginia Infantry, Company I. He served under Capt. Samuel Holt, first lieutenant Thomas Rogers and second lieutenant Moses Tilsnall. His childhood friend Cobun also served in the same regiment.
While guarding the Old Athenaeum building at Wheeling, Ohio County, WV, a month after enlistment, Daniel began to suffer from diarrhea. His tent-mate Edward Messenger went to a local drug store and bought medicine for him to use. "At the time," Daniel wrote, "I had no special bunk or mess-mates, as we lay around in the Athenaeum building ... on the floor."
Daniel also came down with a bad cold and mumps when his tent was blown down in a nighttime wind storm, and he was drenched in a cold rain.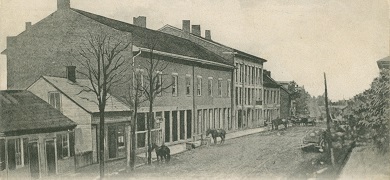 Clarksburg during the Civil War
In April 1865, at nearby Clarksburg, Harrison County, WV, he became ill while performing manual work. In his own words: "I became afflicted with internal piles, which were occasioned by heavy lifting I did in line of soldier's duty, while working in the construction of a fort or breast-works at Clarksburg ... and suffered a great deal from it continuously up until [my] discharge." He received an honorable discharge following the war's end, on June 30, 1865, at Wheeling, WV.
He then returned to his parents' home. He tried to assist neighbor Harrison C. Ravenscroft with harvest work "but failed on account of diahrea," said Ravenscroft. He was "often unable to walk on account of pain and swelled limbs, rheumatisms of legs and arms and back and often confined to his bed for weeks." Wrote family physician Dr. James H. Manown, "Prior to his enlistment he was a very robust healthy man in every respect, and in a short time after his discharge from the army, not more than a month I was called to visit him, his father came after me. I found the said soldier suffering very much..."
Daniel left his parents' residence in the fall of 1865, when he and his brother Charles Wesley Fawcett jointly moved to a local farm. The brothers remained there together until March 1868. He attempted to perform manual farm labor, but often had to stop because of the pain. In the spring of 1867, he agreed to undergo surgery by the hand of Dr. J.H. Manown of Kingwood. In describing the operation, Daniel wrote: "The discharge of a large quantity of puss would seem to indicate an abcess of some kind near the rectum but Dr. Manown did not inform me what it was or of its particular character, but still left me and the family under the impression that it was piles that afflicted me. The wound made by the operation healed up after a week or ten days and I was able to go about, but not to do any work, and my suffering has been continuous ever since..."
Daniel married his first wife, Malvina "Mallie" Herndon (1849-1879), the daughter of Malinda Herndon, in June 1869. The Fawcetts and Herndons were close, as Daniel's brother Charles married Malvina's sister Margaret Herndon.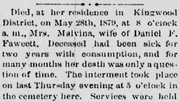 Malvina's obituary, 1879
The Daniel F. Fawcetts lived in Kingwood, but they had no children. One wonders if Daniel's wartime mumps may have rendered him infertile. In 1876, they engaged Daniel R. Jackson of Kingwood to paint their home, and Jackson observed his customer's complaints of rheumatism and heart discomfort.
Little about Malvina is known. She suffered from tuberculosis, or "consumption" as it was then known, for two years. Said the Preston County Journal, "for many months her death was only a question of time." She died on May 28, 1879, at the age of 30, and following the funeral at their home, led by Rev. Dr. Prettyman, she was laid to rest in Maplewood Cemetery in Kingwood. Eulogized the Journal, "It is a severe stroke to a young man like Mr. Fawcett, and he has the sympathy of all of our people." They had been married for a decade.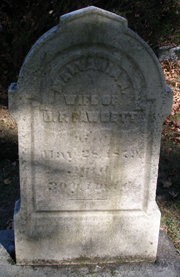 Malvina's grave, Kingwood
A prominent upright stone, seen here, marks her grave today. Among those known to have attended the funeral were Daniel's sister Mary Alice Fawcett.
Widowed at the age of 30, Daniel made his home in Kingwood with his brother in law J.C. Atwood and wife Catharine M. Atwood. His occupation was listed as farmer in the 1880 federal census, and he was marked as widowed. In the fall of that year, a doctor later wrote, both of Daniel's arms were paralyzed for several days, for causes unknown. In early 1884, he and his brother boarded together in a brick house.
Daniel married his second wife, Mary Hannah (Marsden) Wilcox (1854-1940), on March 13, 1884. The ceremony took place at the home of David Morgan at Albrights, Preston County, led by Rev. P.H. Murray, a Baptist Church minister in Albrights. Daniel was age 35, and Mary 29, at the time. Mary was the daughter of John W. and Sara (Worsnop) Marsden and had been born in Farnley, England in 1854 and had come to the United States in 1865, when she was age 10. She later became a naturalized citizen.
(Mary had been married once before, to Richmond H. Wilcox ( ? -1877). They were wed in Morgantown, Monongalia County, WV on April 19, 1873, and had a daughter Bertha "Bertie" Wilcox. Sadly, after only four years of marriage, Richmond had died at Elizabeth, NJ, on Sept. 16, 1877. Richmond's remains were transported to Sheffield, MA for burial. Mary and young daughter Bertha then returned home to West Virginia, and in 1880 they resided in the home of Mary's mother and step-father, Sarah and David Morgan, in Preston County.)
The same month as their marriage, Daniel's left side became paralyzed and "he did not walk for five or six weeks," wrote his former mother in in law, Malinda Herndon. "I nursed him in ... these attacks" by making salves. A family friend referred to Mrs. Herndon as "a kind of an old lady doctor."
The Fawcetts went on to have a daughter of their own, Gildreth "Goldie" Morgan Fawcett, born on Nov. 18, 1885. Over time, Daniel suffered excruciating pain and discomfort from his wartime illnesses. He applied for a federal pension as compensation in 1887, and began receiving it in September 1888. He was suffering from a "blind fistula," an abnormal abscess or sinus somewhat like colitis, where fecal matter was being diverted from the rectum into the muscles of the rear end. Yet he believed it was only a hemorrhoid.
Daniel "followed farm work and in the woods making staves until 1869," he later wrote. "Then I went on the B&O RR as brakeman, and conductor on a helper, at Newburg, W.Va., until 1876, and since that time I have had no steady occupation at any one thing. I have run a livery stable, solicited insurance, and done what ever I could of a light character to make a living."
When the federal government undertook a special census in 1890 of Civil War veterans and their widows, Daniel was living in Kingwood, and suffered from "rheumatism & heart disease." In 1893, he and Mary began making their home with married daughter and son in law Bertie and Charles W. Dering. The family lived in Charleston, Kanawha County, WV during the 1890s for a length of time not yet known, and then returned to Kingwood.
The infection in Daniel's rear end was not solved by the 1867 surgery. In October 1899, some 32 years later, he wrote:
I was seized with very sever pains in the region of the rectum and around it and it became very much inflamed and swollen and it grew worse, and such applications as poultices &c. did not afford any relief until finally. Dr. U.W. Showalter, of Kingwood, W.Va., who attended me, decided that it was necessary to make an incision, which he did, on two different occasions, after with the natural discharges from the bowels partly passed out from the incisions made by Dr. Showalter. The incisions did not afford relief, and then after that a short time the matter forced its way out through the surface on the rump, and a considerable amount of it was discharged through the opening thus made. My condition soon became so critical that it was found necessary that I should have the aid of expert surgeons and I was removed to the Mary land General Hospital in the city of Baltimore where, on the next day after my arrival, on the 8th of November 1899, Prof. S.T. Earle ... operated upon me and discovered the fact that I had been afflicted for many years with the blind fistula.
Despite the surgery in Baltimore and discovery of the root cause, Daniel felt that the wound would be a "constant source of trouble." In January 1900, he wrote that "I do not think it possible for it to heal entirely up and the discharge of matter stop. I have had to have somebody assist me in dressing me and in looking after the wound every since the operation was performed and, judging from present appearances it would seem that this attendance will be necessary for many years if not during my life time. I am not able to dress myself or to stoop down in any way on account of the pain ... and am not able to sit down with comfort for any length of time."
In her own comments, Mary said: "He has always required a great deal of waiting on since I knew him, since October first 1899 I have had to wait on him as if he were a child."
The 1900 census shows Daniel and Mary, daughter Goldie and the Derings, all living under one roof in Kingwood. Daniel had no occupation that year. In fact, in an affidavit signed in 1898 by Bertie and C.W., they said "He is all the time afflicted with rheumatism and disease of the heart. Every time he exerts himself in lifting or moving hastily he is taken with pain in the back and left side and affects his breathing. Is frequently confined to his bed, not able to be around his room or sit up at all."
By 1910, the Fawcetts and Derings moved to London, Kanawha County, WV, where they lived on River Road. Daniel was employed as a farmer.
During the 1910s, the group of five moved yet again, to Birchrunville, West Vincent Township, Chester County, PA, 40 miles west of Philadelphia. Their home was on Birchrunville Road in a community said to be little more than a woodland crossroads. In 1920, when the census record was made, both 76-year-old Daniel and 55-year-old Charles Dering were marked as farmers.
Stricken with atrophic cirrhosis of the liver, and chronic kidney disease, Daniel passed away in Birchrunville on Feb. 1, 1920, at the age of 71. At his bedside were Mary, Bertha and Charles. His tired remains were laid to eternal rest in St. Matthews Reformed Church Cemetery in or near Phoenixville, Chester County. His son in law C.W. Dering was the informant for his official death certificate.
Mary then applied to begin receiving her late husband's military pension. Signing affidavits on her behalf were Daniel's brother David A. Fawcett of Pruntytown, WV; sister Mary A. Walls of Morgantown, WV; niece Ella (Fawcett) Crogan of Kingwood; Kingwood friend Jennie R. Pratt; and Mary's former niece Juliette W. Landon of Salisbury, CT.
Mary and Gildreth moved together to LaGrange, near Chicago, Cook County, IL, as part of the Dering household. Their home was located at 219 South Madison Avenue in LaGrange. They are listed on the 1930 census of Cook County, with 74-year-old Mary shown as a widow, and 45-year old, unmarried Gildreth as an office manager at a manufacturing business, presumably the one run by her brother in law Charles Dering.
They moved again at some point to Florida, establishing a residence at Lakeland, Polk County, at 923 South Boulevard. Mary suffered a stroke in March 1940, and six months later, she died in Lakeland on Sept. 15, 1940, at the age of 86. Her remains were cremated and interred in St. Petersburg.
~ Daughter Gildreth "Goldie" Morgan Fawcett ~
Daughter Gildreth "Goldie" Morgan Fawcett (1885-1956) was born on Nov. 18, 1885..
She and her widowed mother moved to LaGrange near Chicago and were there in 1930. Gildreth worked as an office manager at a manufacturing business, presumably the one run by her brother in law Charles Dering. She also is known to have been an accountant.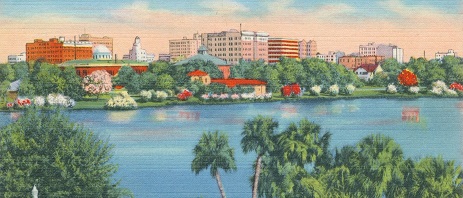 St. Petersburg, FL, where half sisters Gildreth and Bertie moved circa 1943
The two women moved again circa 1944 to Florida, establishing a residence at Lakeland, Polk County, at 923 South Boulevard. She first was employed there during World War II by a Lakeland company, providing andit and bookkeeping services. In time she moved to a similar position with the Sunset Hotel. Then in October 1946, she took a new job with the broker G.P. "Doc" Harmon of 47th Eighth Street, St. Petersburg.
By the mid-1950s, she moved to 1719 Beach Drive Southeast. She belonged to the Presbyterian Church.
Gildreth passed away at age 70, on Jan. 11, 1956, in a Tampa-area hospital. Her obituary was printed in the Tampa Bay Times, which named her half-sister and nephew as survivors.
~ Step-Daughter Bertha "Bertie" (Wilcox) Dering ~
Step-daughter Bertha "Bertie" Wilcox (1875-1959) was born in 1875 in Kingwood.
In 1895, when Bertie was age 20, she married 30-year-old Charles W. Dering (1865- ? ).
Charles was engaged as a stenographer in Kingwood in 1900, and Bertie was a "typewriter" operator. During the 1900s, Bertie and Charles moved to London, Kanawha County, WV, where Charles was a stenographer in a wholesale company, and Bertie worked as a clerk in an auditor's office.
They adopted a son, Charles W. Dering (1914- ? ), who was born in Missouri but whose parents were West Virginians.
In 1910 they resided in West Vincent Township, Chester County, PA. By 1920, the Derings had moved again, and were in LaGrange, Cook County, IL, near Chicago. Charles, age 65, was superintendent of a manufacturing works. Their home was on South Madison Avenue. A 1937 Brookville (IN) Democrat article places them that year in Chicago.
The family relocated circa 1943 to Florida, putting down roots in St. Petersburg. They are known to have been there in 1956 at the death of Bertie's half sister. Bertie belonged to the First Presbyterian Church in St. Pete and the Art Club, chairing occasional exhibitions of local artists.
Bertie's final address was 1719 Beach Drive Southeast. She surrendered to death in a St. Petersburg hospital on Dec. 22, 1959. Her obituary was carried by the Tampa Bay Times, which named her cousin Juliette Landon.
Son Charles W. Dering ( ? - ? ) resided in St. Petersburg in 1956-1959. He is known to have been the father of a son.
Copyright © 2008, 2015, 2017, 2021, 2022 Mark A. Miner