Howard Marion Firestone Sr.
(1894-1978)

Howard M. Firestone
Howard Marion Firestone Sr. was born on Feb. 22, 1894 in Broadford, near Connellsville, Fayette County, PA, the son of George E. and Barbara (Minerd) Firestone Sr.
After the United States entered World War I, Howard enlisted in the Army. He trained at Camp Lee, VA, and was attached to Company C of the 80th Division. He went overseas to Europe in March 1918 and served there for more than a year. During his service, he was exposed to battle action and to the Germans' poison mustard gas which he apparently may have breathed.
When the war ended, Howard returned to Fayette County, where despite his wartime disabilities, he worked as a brick layer at the Continental No. 3 coal mine. He and his brother Joseph are pictured in their doughboy uniforms in the book, Uniontown's Part in the World War.
On Sept. 1, 1923, at Chalk Hill, Fayette County, the 29-year-old Howard married 20-year-old Pleasant Valley Thomas (1903-1984), the daughter of John H. and Mary N. (Jenkins) Thomas. Pleasant lived at Somerfield, Somerset County, PA at the time of marriage.
They had three children -- Pleasant Valley Hickle, Donna Benson and Howard Marion Firestone Jr.
Howard suffered from post-traumatic stress disorder, known at the time as "shell shock," and in the mid-1920s was admitted to the Somerset County Hospital. He made an escape from the hospital in August 1928 and "made his way to Uniontown to attend the American Legion State Convention," reported the Connellsville Daily Courier. He was detained and returned to Somerset.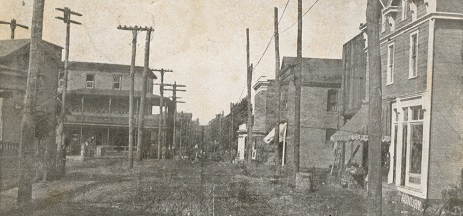 Fairchance's unpaved Church Street, looking west from Main Street
The Firestones resided in Fairchance for more than 60 years. According to the Uniontown Evening News, "He was a former employee of the Duquesne Steel Co., and was last employed as a clerk at the Ritz Hotel" at 11 Peter Street. His employment at the hotel began in about 1954. Pleasant also worked as a clerk and maid at the Ritz Hotel for more than a quarter century.
Tragedy visited the family in June 1964 when they made their home at 9 Union Street, with the news trumpeted on the pages of the Uniontown Evening Standard. While working as a night clerk at the hotel, the 70-year-old Howard bought a .45 caliber automatic pistol and three loaded clips for $25 and placed the weapon in a showcase at the hotel, offering it for sale for $35. While not on friendly terms with the hotel bartender, Albert "Jim" Polander, the man offered to buy the gun and said his brother Frank, who owned the hotel, would pay for it. Howard then called the owner but was told that he would not buy the weapon. Howard and the bartender got into an argument, Howard quit his job and prepared to leave the premises.
By that time the owner had arrived at the scene and tried to prevent Howard from leaving, thinking he was taking certain hotel papers with him. Saying "This is one you won't forget," Howard shot brother Jim in the shoulder and hip, and took aim at brother Frank but missed the mark. Brother Jim was rushed by ambulance to Uniontown Hospital but was dead on arrival. Howard turned himself in at the police station. While at a court hearing a day or two later, he told officials that he "offered to shoot [Jim] again" and that "I meant to hit him, I didn't shoot for fun." After a seven-day trial, in which Howard was pictured several times in local newspapers, he was convincted of manslaughter and sentenced to jail for a term lasting between six and 12 years and a fine of $1,000.
Incarceration was in Western State Penitentiary in Pittsburgh. After four years in prison, Howard appealed his sentence in November 1968 before the State Board of Pardons.
Howard was the last of 10 siblings to pass away. He died at age 84 at Uniontown Hospital on Dec. 1, 1978, and was buried at LaFayette Memorial Park.
Pleasant outlived him by six years, and passed away on Aug. 17, 1984.
~ Son Howard Marion Firestone Jr. ~
Son Howard Marion Firestone Jr. (1924-1985) was born in 1924.
He married Ethel V. Haines (Jan. 7, 1927-2006), daughter of Ed and Helen (Hickle) Haines of Jimtown, a coal mining community near Fairchance.
They resided at Big Six in Smithfield, Fayette County, and had three children -- Harold M. Firestone, Ethel Beeson and Howard Marion "Stoney" Firestone III.
Howard Jr. was a coal miner and roof bolter at Buckeye Coal Company's Nemacolin Mine in the mid-1950s. He suffered a serious back injury on Nov. 22, 1955, when caught and "completely covered" in a fall of slate at the mine. He was rushed to Waynesburg Hospital and later to Pittsburgh's Mercy Hospital, where the Uniontown Morning Herald reported his condition as "fair." Co-workers Charles McKahan (fractured right leg) and Earl Helmick (uninjured) also were caught in the roof collapse.
Howard Jr. passed away in August 1985.
Ethel outlived him by 21 years, and died on Nov. 29, 2006 in Ruby Memorial Hospital in Morgantown, Monongalia County, WV. They are buried in Fairchance Cemetery.
Son Howard Marion Firestone III (1946-2012) was born on Oct. 28, 1946 in Fairchance. His nicknames were "Stoney" and "Howdy." Howard III married Germaine Joyce "Mamie" Myers (1942-2011), daughter of Thelma Myers of Uniontown. At the time of marriage, Howard was employed at Al's Auto Service and Germaine at Rita's Toggery. The couple had four children -- Denise Lint, Aimee Kint, Howard M. Firestone IV and Harold M. Firestone. He later served as a member of the U.S. Marine Corps during the Vietnam War as a construction inspector with the 7th Engineers Battalion. After his military service, he worked as warehouse manager for Art Snyder Sanitary Supply from which he retired. Germain passed away on May 17, 2011 in Fayette County. Howard outlived his wife by 15 months. He died at the age of 65 on Aug. 14, 2012, with burial in Maple Grove Cemetery in Fairchance.
Granddaughter Denise R. Firestone was born in Fayette County. She was married to (?) Lint and had two children -- Paige C. Lint and Phillip Lint. Sadly, their daughter Paige lived for just two months and died on July 22, 1994.
Granddaughter Aimee L. Firestone was born in Fayette County. She married Gary Kint. They have resided in Dravosburg, PA.
Grandson Howard Marion Firestone IV married Bobbi Jo Snyder. He has been a recruiter for the U.S. Army. Over the years he lived in North Canton, Ohio; Georgia; Florida and Louisville, KY. In 2020, their home was in Lemont Furnace near Uniontown.
Grandson Harold M. Firestone (1979-2020) was born on Jan. 30, 1979 in Uniontown. He received a degree in computer automated drafting from Triangle Tech Inc. His employment was in the field of telemarketing as a statistician, and he dwelled in Dunbar, Fayette County. In his free time, he enjoyed gunsmithing and was a member of the Fairchance Gun Club. Sadly, Harold died at the age of 41, in UPMC Presbyterian Hospital in Pittsburgh, on March 10, 2020. Word of his passing was not made public for several months, and an obituary was published in the Uniontown Herald-Standard in early June.
Son Harold M. Firestone (1948-1967) was born in about 1948. He did not marry. At the age of 19, he "died suddenly" on May 21, 1967, reported the Morning Herald. Burial was in Maple Grove Cemetery with Rev. John Mahler officiating.
Daughter Ethel V. Firestone (1951- ? ) was born in about 1951. She lived at home in Smithfield in 1967. In about 2001, she was joined in marriage with Charles Beeson (1949-2009). In 2006, they dwelled in Smithfield.
~ Daughter Pleasant Valley (Firestone) Hickle ~
Daughter Pleasant Valley Firestone (1926-2009) was born on March 20, 1926 in Fairchance.
On March 10, 1947, when she was 20 years of age, Pleasant was married to World War II veteran Ernest H. "Ernie" Hickle Sr. (1924-2003), son of Elizabeth Hickle of Fairchance.
During the war, Ernest served in the European Theatre and took part in the Battle of the Bulge. He also assisted his unit in constructing a bridge across the Rhine River.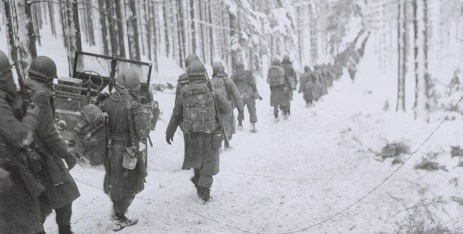 Allied soldiers at the Battle of the Bulge in which Ernest Hickle took part
The Hickles relocated to Toledo, OH and produced five children -- Ernest H. Hickle Jr., Carol Ann Pollock, Omar R. Hickle, Howard Marion Hickle and Timothy Holbert Hickle. Heartache blanketed the family when infant son Howard died in St. Luke's Hospital in Toledo on Sept. 18, 1963.
Pleasant was a "long time member of Lewis Ave. Baptist Church and was active with the Bus Services and Ladies Visitation Ministries," said the Toledo Blade.
Ernest died in Toledo on Oct. 19, 2003.
Pleasant passed away in Toledo's St. Vincent Mercy Medical Center at the age of 83 on March 22, 2009. Funeral services were held at the Lewis Avenue Baptist Church.
Son Ernest H. Hickle Jr. (1946-2022) was born on Nov. 20, 1946 in Toledo. He was a command sergeant major (CSM) in the U.S. Army. He married Cheri Lee Pollock ( ? - ? ) in Monroe County, MI. Later, he was wed to Carole J. Peck ( ? - ? ). The second union endured for a remarkable 54 years. His children include DeShawn Lynn Kadur and Vanessa Renee Kellie Kennedy Almand. Ernest spent his career in the U.S. Army over a span of 31 years and six months. He "served two tours in Vietnam and taught R.O.T.C. at various schools," said an obituary. They belonged to the Living Hope Baptist Church. The couple's final years together were in Mt. Washington, KY. Sadly, Ernest died at the age of 76 on Dec. 9, 2022. His remains were interred in Kentucky Veterans Cemetery.
Granddaughter DeShawn Lynn Hickle married Stefan Kadur.
Granddaughter Vanessa Renee Kellie Hickle may have been twice-wed, first to (?) Kennedy and then to (?) Almand.
Daughter Carol Ann Hickle (1948- ? ) was born in about 1948 in Toledo. She was married twice, first to Richard Paul Bolander ( ? - ? ) and second to (?) Pollock. Her children include Deborah Ann Feehan and Brian P. Bolander. She used the "Bolander" surname as of 2022.
Son Omar Ray" Hickle (1951- ? ) was born in about 1951 in Fayette County, PA. He wedded Debbie Jean. Their offspring included Kim Jean Westrick and Cindy Wallace.
Son Timothy Holbert Hickle (1966- ? ) was born in about 1966 in Toledo. He was united in wedlock with Dawn Renee Anderson.
Copyright © 2001, 2006, 2008, 2016-2017, 2023 Mark A. Miner