Joseph Firestone
(1897-1927)

Joseph Firestone
Joseph Firestone was born on Jan. 5, 1897 in Fayette County, PA, the son of George and Barbara (Minerd) Firestone Sr.
Little is known of Joseph's life, other than that he was a World War I veteran. He and his brother Howard are pictured in the book, Uniontown's Part in the World War.
After the United States entered World War I, Joseph enlisted on Sept. 3, 1918. He trained at Camp Forrest and was a member of the 1st Replacement Company of Engineers. It's thought that he then was shipped to France, where he was severely wounded in action.
Joseph was honorably discharged on Dec. 21, 1918.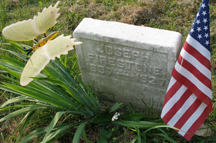 Joseph's grave, White Rock Cemetery
He returned to Uniontown where he attempted to rebuild his life and earn a living as a laborer.
Later in life, his wartime injuries were such that he could not take care of himself without some sort of nursing assistance.
Sadly, in 1927, the 38-year-old Joseph took his own life when he placed a gun against his skull and pulled the trigger. An autopsy confirmed suicide. He was laid to his weary rest at White Rock Cemetery near Fairchance, Fayette County.
His grave marker is seen here as photographed in 2006, lovingly decorated with a yellow plastic butterfly, daffodil leaves and an American flag honoring his patriotism.
Copyright © 2001-2002, 2006, 2017 Mark A. Miner