Jesse J. Firestone
(1889-1973)
Jesse J. Firestone was born in 1889 in Wheeler, Fayette County, PA, the son of George E. and Barbara (Minerd) Firestone Sr.
Jesse never married, but resided with his aged parents for many years. Later, after their deaths in the 1930s, he moved to Fairchance, Fayette County.
Jesse was a laborer for the H.C. Frick Coke Company. Circa 1940, he lived in Fairchance, Fayette County, and was mentioned that year in the Uniontown Morning Herald newspaper obituary of his brother William.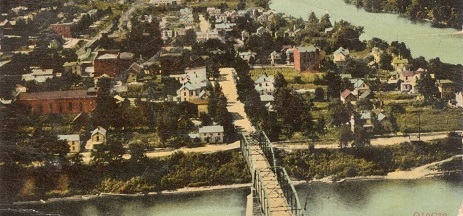 Point Marion, PA, from an old postcard
Later in his working career, Jesse was employed by the Houze Glass Company in Point Marion, PA.
On Feb. 27, 1973, at the age of 84, Jesse passed away in the Uniontown (PA) Hospital. He was buried in White Rock Cemetery near Uniontown.
While Jesse is named in a listing of White Rock burials compiled by Kathryn Cooley Miller, entitled Some Fayette County Pennsylvania Cemeteries, published by Apollo Press, a search for the grave in August 2006 was unsuccessful. The listing hints that he rests beside his brother Joseph, whose grave is marked.
Copyright © 2001, 2005-2006, 2022 Mark A. Miner