William H. Firestone
(1878-1940)

White Rock Cemetery
William H. Firestone was born on Feb. 23, 1878 in Fayette County, PA, the son of George E. and Barbara (Minerd) Firestone Sr. He was one of two sons given the first name "William."
William married his first wife, Mary M. Jolly (1880-1918), the daughter of William and Rachel (Dean) Jolly, and a native of Hopwood, Fayette County. The ceremony took place on New Year's Day 1897, at Oliphant, Fayette County. Justice of the peace T.H. Trader performed the ceremony. At the time, William was age 19 and a laborer, and Mary was just 16.
The Firestones had three children -- William E. Firestone, Ruby Pearl Firestone and Lela Gran.
The Firestones resided for part of their marriage in Uniontown, the seat of Fayette County. He was a longtime coal miner.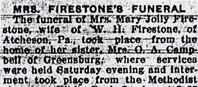 Uniontown newspaper
Circa 1918, the Firestones lived in Atcheson/Gans, a community in Washington County, PA, where he was employed by Republic Iron & Steel Company.
Sadly, at the age of 38, Mary suffered from a chronic case of pulmonary tuberculosis which infected her central nervous system and was life threatening. She was sent to a sanitarium in Michigan where she was treated for several weeks but where it was determined that a cure would not be forthcoming. She was sent home and, taking a turn for the worse en route, was admitted to Greensburg Hospital in Westmoreland County, PA. After a stay of 13 days, she died there at the age of 38, on July 25, 1918.
The funeral was held at the home of her married sister, Mrs. O.A. Campbell, in Greensburg. She was laid to rest at White Rocks Cemetery near Fairchance, Fayette County.
After an unknown amount of time as a widower. William married again, to Elizabeth Ann (Blake) Grimes (1880-1955), the daughter of Deonicious and Mary Ann (Silbaugh) Blake of Menallen Township. They resided at 47 Millview Street in Uniontown.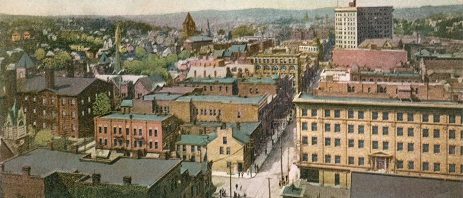 Bird's eye view of Uniontown, early 1900s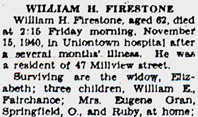 Uniontown Morning Herald
Elizabeth had four children to an earlier marriage, who thus became William's step-children: Grethel West Gleason; Helen (Mrs. Furd) Shafer of Palmer, Fayette County; Elsie (Mrs. James E.) McDowell of Oliver, Fayette County; and Walter Grimes of Alpina, MI.
Elizabeth was a member of the First Brethren Church of Uniontown and its Loyal Women's Sunday School class.
William retired in 1932 and spent his final eight years in retirement living at 47 Millview Street in Uniontown.
He suffered from a bone infection known as osteomyelitis and passed away at the age of 62, on Nov. 15, 1940, "after a several months' illness," reported the Uniontown Morning Herald. The funeral service was held in the family home, followed by additional services in the Brethren Church, led by Rev. William H. Clough. Burial was beside his first wife at the White Rock Cemetery near Fairchance.
Elizabeth survived her husband by 15 years.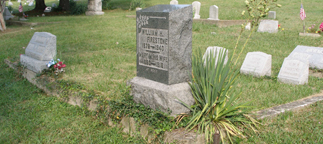 Firestone plot of graves at White Rock Cemetery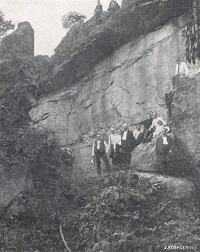 Tourists at the White Rocks
She died at the Chalk Hill home of her married daughter Grethel West Gleason on March 23, 1955, at the age of 74. Her obituary in the Connellsville Daily Courier said she was survived by her son Walter L. Grimes of Detroit, Grethel Gleason, Helen Gleason of Chalk Hill, Elsie McDowell of Oliver No. 1, as well as her step-children William Firestone of Fairchance, Ruby Firestone of Fairchance and Lela Gran of Springfield, OH. The obituary also noted that her offspring included 11 grandchildren and 11 great-grandchildren. Her remains were placed into eternal repose in Sylvan Heights Cemetery.
Interestingly, the White Rocks Cemetery contains an infamous burial that has become legendary in Fayette County. One of the graves holds the final remains of Polly Williams, an 18-year-old girl who was killed in August 1810 when allegedly beaten to death with a rock by a man who had seduced her with false intentions of marriage. Her body was discovered at the foot of the White Rock Cliffs near Oliphant Iron Furnace with three-inch long wounds of the head and face. Philip Rodgers was accused of the murder, and went to trial, but a jury returned a verdict of not guilty.
~ Son William Firestone ~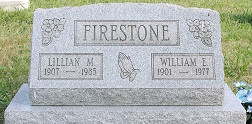 White Rocks Cemetery
Son William E. Firestone (1901-1977) was born in 1901. He was 17 years of age when his mother died.
On Feb. 18, 1924, at the age of 23, William married 17-year-old Lillian M. Davis (1907-1985), daughter of Donald M. and Frances (Hudock) Davis. The civil ceremony was conducted at the Fayette County Courthouse.
Their three children were Lawrence Edward Firestone, Ralph C. Firestone and Dorla Jean Austin.
They resided in Fairchance in the mid-1950s at the address of 3 East Elm Street. William was a carpenter in local coal mines and a member of the United Mine Workers of America. They belonged to the Fairchance Church of the Brethren. He eventually retired and enjoyed working in his woodshop beside the home.
William was an astute observer of nature and in late March 1968 noticed a V-shape of flying geese heading north to northeast, marking the first day of spring. He called the Uniontown Morning Herald to report the matter and said, "Just as the geese go south in the fall, so they return in the spring to Canada. They may have checked the date and learned that spring arrived officially at 8:22 a.m."
In about 1971, William suffered a stroke which left him badly debilitated. He remained in this condition for the final six years of his life. On Feb. 18, 1974, the Firestones observed their golden wedding anniversary with an open house in the basement of the Church of the Brethren in Fairchance.
William passed away at age 75 on April 13, 1977. Burial was in White Rock Cemetery following funeral services led by Rev. James Daugherty and Rev. Harry Paterson. An obituary was printed in the Morning Herald.
Lillian survived for another eight years and passed away in 1985.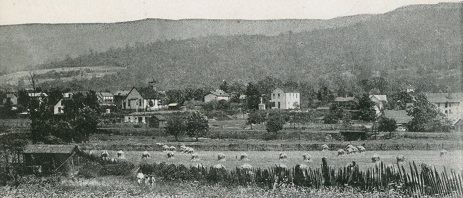 Fairchance framed by the ever-present mountains, 1929
Son Lawrence Edward Firestone (1925-1987) was born on Feb. 27, 1925 in Fairchance. He married Alice Marie Cunningham (1928-2009) on Aug. 3, 1946. She was a native of Smock, Fayette County and the daughter of Dan and Harriet (Lowther) Cunningham. They made their residence in Fairchance. They had two sons, Larry D. Firestone and Kenneth Ralph Firestone. Alice was a member of the First Baptist Church of Fairchance, where she taught Sunday School, and later joined the Faith Assembly of God in Uniontown Sadly, the couple divorced in June 1965, with Lawrence citing "indignities" he had suffered. In June 1966, during the Vietnam War, their son Larry joined the U.S. Air Force. Lawrence married a second time to Carol Miller ( ? - ? ), a resident of Brownsville, Fayette County, while Alice was wed again to Joseph D. "Doc" Miller of Fairchance. Carol brought three sons to the marriage, Garry Miller, Greg Miller and Kent Miller. Stricken with intestinal cancer, Lawrence succumbed in September 1987, at the age of 62. His former wife died on April 9, 2009, with interment also in LaFayette Memorial Park.
Grandson Kenneth R. "Kenny" Firestone (1949-2004) was born on July 2, 1949 in Uniontown. He married Connie (?) and had two daughters -- Charlotte Firestone and Tammy Lynn Kindelberger. He also had a son, Ronald "Ronnie" Harding. They dwelled in Fairchance. Kenneth was a protestant in his religious life. Sadly, he passed away at the age of 54 in Uniontown Hospital on March 15, 2004. An obituary in the Uniontown Herald Standard reported that Kenneth was placed into rest in LaFayette Memorial Park in Brier Hill, with Rev. Gary R. McFadden leading the funeral service.
Grandson Larry D. Firestone has made his home in Fairchance over the years.
Son Ralph Firestone (1927- ? ) was born on Jan. 12, 1927 in Fairchance. He resided in Fairchance and is thought to have been a scoutmaster of a Boy Scout troop circa 1964. He married Annabelle Wilson ( ? - ? ), daughter of Roy C. and Janice W. (Grimm) Wilson of Fairchance.
Daughter Dorla Jean Firestone (1929- ? ) was born on Nov. 9 1929. She married to Dr. Omer "Vance" Austin ( ? - ? ) of Smithfield, Fayette County, son of Lawrence S. "Tom" and Mary (Vance) Austin. The nuptials were celebrated on May 19, 1951 at the home of Omer's grandparents, Mr. and Mrs. O.S. Vance, in Smithfield. A wedding shower was held a few days ahead of time at the Dutch Hill home of Kathryn Obrerleitner who, with Gladys Kerfoot, served as hostesses. At the time of marriage, Dorla was employied as a teller at the Second National Bank. Vance served in the U.S. Medical Corps during the Korean War and was stationed at Mineral Springs, TX. The couple relocated to Levittown, PA and lived there circa 1960-1962. They produced these known children -- Lynn Austin and Terry Austin.
~ Daughter Ruby Pearl Firestone ~

White Rocks Cemetery
Daughter Ruby Pearl Firestone (1904-1971) was born in 1904.
She never married. At the age of 35, she dwelled with her parents on Millview Street in Uniontown. Census records for 1940 show that she had no occupation that year, and she likely spent a lot of time caring for her father who was dying of a bone disease.
Circa 1955, Ruby's home was in Fairchance.
After the death of her step-mother in 1955, she made the decision to relocate to Springfield, Clark County, OH to be closer to her sister.
Ruby died in Springfield's Bibb Rest Home on June 14, 1971. After a funeral service held in a funeral home in Springfield, her remains were brought back to Fayette County to rest at White Rock in the same plot as her parents.
~ Daughter Lela (Firestone) Gran ~
Daughter Lela Firestone (1915-1996) was born on March 7, 1915. She was only age three when she lost her mother to death.
On Oct. 22, 1938, at age 23, she was united in marriage with 28-year-old Eugene Victor Gran (1910-1987), son of Victor B. and Marie Gran of Lenox Street in Uniontown. The ceremony was held in the rectory of St. John's Roman Catholic Church in Uniontown, officiated by Rev. Fr. William Dannaker. Attendants were the groom's sister Edith Gran and Gerald Moxley. Afterward, her parents hosted a wedding dinner in their home. In announcing the nuptials, the Uniontown Morning Herald observed that Lela was "a popular member of the city's younger set."
They immediately set up housekeeping in Springfield, Clark County, OH, where Eugene was employed, and remained there for the rest of their lives.
The couple produced two children -- Ruth Ann Gran and Victor Bernard Gran.
Census records for 1940 show the newlyweds living on Liberty Street in Springfield. Eugene earned a living as a packer for a casket company, and Lela provided housework for private families.
Eugene passed away in Springfield on March 22, 1987. Burial was in Rose Hill Burial Park.
Lela survived her husband by nine years. She joined him in death on Feb. 12, 1996.
Daughter Ruth Ann Gran (1941- ? ) was born on Feb. 2, 1941 in Springfield. On Jan. 26, 1963, she married Raymond James McGuire ( ? - ? ). They established a home in Chapel Hill, NC and had one son, Raymond James McGuire Jr.
Son Victor Bernard Gran (1942- ? ) was born on Oct. 25, 1942. He was united in wedlock on April 22, 1968 with Judith Joan Clauss ( ? - ? ). They produced three children -- Nicholas Adam Gran, Susan Marie Agee and Amy Jo Gran.
~ Step-daughter Grethel (Grimes) West Gleason ~
Step-daughter Grethel Grimes (1900-1975) was born in about 1900.
Her first husband was Raymond West ( ? -1947). They resided in Hopwood, Fayette County. They had one son, Albert West.
Sadly, Ray died in 1947.
Grethel married again to Frank W. Gleason ( ? - ? ). He brought a son to the marriage, Harold S. Gleason.
The Gleasons resided in Farmington, Fayette County and were members of St. Paul's Evangelical Lutheran Church of Uniontown. They endured the death of Grethel's only son Albert, who had moved to Orlando, FL, and of Frank's son Harold, who died June 1, 1970.
Grethel passed away at the age of 75 on Dec. 30, 1975. Burial was in Chalk Hill Evangelical Lutheran Cemetery. Her obituary in the Uniontown Morning Herald named her step-brother William Firestone and step-sister Lela Gran.
Copyright © 2001-2002, 2004, 2006, 2013, 2016 Mark A. Miner