Johann 'Heinrich' Gaumer
(1754-1837)
Johann Heinrich ("John Henry") Gaumer was born on Oct. 4, 1754 in Macungie Township, Northampton County, PA, a son of Johann Dietrich and Maria "Elizabeth" (Meinert) Gaumer Sr. Evidence suggests he may have been a Revolutionary War veteran.
He was baptized at four months of age, on Feb. 6, 1755. Friedereich Schafer and his wife were sponsors.
Heinrich reputedly took up arms in the cause of the American Revolution.
In 1775, at the age of 21, Johann Heinrich married 20-year-old Anna Margaretha Meitzler (1755-1830).
The family lived in Macungie Township and produced eight known children – Catherine Fögle ("Fegely"), Susanna Fögle ("Fegely"), Heinrich "Henry" Gaumer,Jacob Gaumer, Elizabeth Gaumer, Anna Margaretha Wetzel, Johann Adam Gaumer and Salome Gaumer.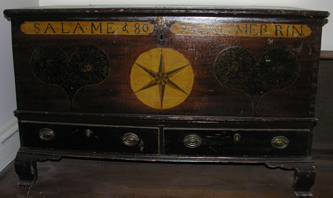 Wooden chest, dated 1809 and possibly made by Heinrich, inscribed with a daughter's name "Salame Gaumer rin."
Johann Heinrich died in 1837, and his will was probated on Sept. 6 of that year. He is believed to be the same "Henry Gaumer," fomerly of Macungie Township, whose executors were Henry Gaumer and Adam Gaumer, advertised in the Allentown (PA) German language newspaper, Der Lecha Caunty Patriot (Dec. 19, 1838).
The fate of Anna Margaretha seems to be lost to history.
This family is spelled out in Myrtle Knepper Weniger's work, The Gaumer Family and Allied Lines.
~ Son Jacob Gaumer ~
Son Jacob Gaumer (1782- ? ) was born on Jan. 13, 1782. When he was two months of age, he was baptized on St. Patrick's Day 1782. Serving as her sponsors were J.D. Gaumer and Anna Rup.
~ Daughter Elizabeth Gaumer ~
Daughter Elizabeth Gaumer (1784- ? ) was born on Spril 24, 1784. She was baptized at the age of two-and-a-half months on July 4, 1784. Her sponsors were Michael and Elizabeta Schmet (Smith).
~ Daughter Salome Gaumer ~
Daughter Salome Gaumer (1788- ? ) was born on Oct. 11, 1788. She received Christian baptism at the age of about a month on Nov. 16, 1788. Her sponsors were John A. Knappenberriger (Knappenberger) and Eliza. Gaumer.
She is believed to have received in 1809 a wooden chest as a gift, likely from her father, and inscribed with her name. It could have been a wedding gift, or not.
Copyright © 2000, 2009, 2017-2018, 2020 Mark A. Miner