Maria 'Elizabeth'
(Meinert) Gaumer
(1730-1802)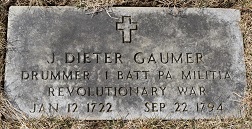 Dietrich's modern grave. Courtesy Carlton Greve
Maria "Elizabeth" (Meinert) Gaumer was born on June 10, 1730, in upstate New York or in Macungie Township, Northampton (now Lehigh) County, PA, the daughter of Friedrich and Eva Maria (Weber) Meinert Sr.
As a young girl, she migrated with her parents to a farm in Oley Township in Berks County, PA.
On Oct. 5, 1748, at the age of 18, Elizabeth married 26-year-old widower Johannes "Dietrich" Gaumer Sr. (Jan. 12, 1722-1794), said to have been the son of Johann Christopher Hance and Susanna Catherine (Seitz) Gaumer. The marriage ceremony took place in Macungie Township, about 25 miles to the northeast of Oley.
In the Native American tongue, "Macungie" meant "bear swamp" or "bear's feeding place," and site was rich in deposits of valuable flint and jasper.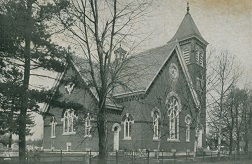 Zion Lehigh Evangelical Lutheran Church,
where the Gaumers rest for eternity
Also known as "Dieter," sometimes misspelled "Peter," Dietrich was a German immigrant. He was born at Bingen on the Rhine, known in German as "Bingen am Rhein," in what today is known as in the Mainz-Bingen district in Rhineland-Palatinate. It is not known in what year he came to America.
Dietrich's first wife was Catherine Eigner (1723-1747), of Longswamp Township, Berks County, PA, daughter of John "Mathias" and Anna Elizabeth Eichner, a name Americanized to "Egner." Catherine's father, born in Germany, sailed to America on the ship Molly and arrived in the port of Philadelphia on Sept. 30, 1727. The Eigners settled in Macungie Township and belonged to the church as the Gaumers.
Dietrich and Catherine produced one son, Mathias Gaumer. The the joy of the newborn baby was offset with horror as the mother appears to have died in childbirth, at the age of about 24, on July 23, 1747.
Just six months after his first wife's death, on July 10, 1747, the 25-year-old Johannes Dietrich married our 17-year-old Elizabeth Meinert. The location of their wedding, and identity of the presiding pastor, are not yet known.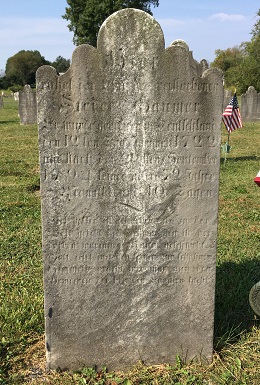 Dietrich's barely legible grave in German
In March 1750, Elizabeth gave birth to twins – Johann "John" Gaumer and Johann "Friedrich" Gaumer -- the first of their 11 children. The others who followed were Johann "Heinrich" Gaumer, Johann "Jacob" Gaumer Sr., Johann George Gaumer, Mary Catharine Gaumer, Johann Dietrich Gaumer Jr., Maria Gertrude Meitzler, Johann "Adam" Gaumer, Elisabetha Schanckweiler and Peter Gaumer.
Sadness enveloped the family over the years when three of the Gaumer offspring died young. Son Johann George is thought to have passed in 1756, the year of his birth. Daughter Mary Catherine died in 1775, when she would have been age 17. Son Peter was gathered in by the Angel of Death at the age of about two or three in 1773.
Dietrich and Elizabeth resided in Macungie Township, Lehigh County. Along with his former father-in-law John Mathias Eichner, Dietrich and his brother John Adam Gaumer helped to found the Lehigh Church, also known as Zion's Union and originally as "Church of the Holy Trinity."
Records naming the Gaumers were kept in the church and later published in the History of Lehigh County.
During the American Revolution, when he would have been in his 40s, Dieter served as a drummer with the 1st Battalion of Pennsylvania Militia.
Their son Johann "Jacob" Gaumer Sr. also was a member of the army, as a member of Captain Cas. Grienlmyer's Company in the First Battalion, County of Northampton. Later, the son joined Captain George Knapingberger's Company in the Second Battalion of Northampton County Militia.
Dietrich passed away on Sept. 22, 1794 in Macungie Township. He is buried at the Zion Union Cemetery, also known as the Zion Lehigh Evangelical Lutheran Church Cemetery in Alburtis, Lehigh County. The lengthy inscription on his upright grave marker is all in the German language. [Find-a-Grave]
Elizabeth outlived him by about eight years, and died on Jan. 7 or 17, 1802 in Macungie Township She also rests for eternity at Zion Union, but her final resting place is not known to be marked.
~ The Gaumers' Legacy ~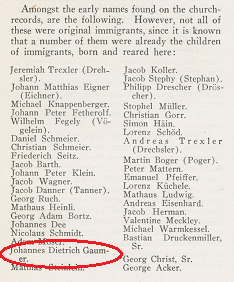 Dietrich's name in the 1914 book,
History of Lehigh County
The sense of the German culture of our ancestors was strong, with the native language and customs passed down in many generations in this branch. The German influence is evidenced by language, church sermons and marriage/baptismal records, legal documents and inscriptions on grave markers.
In other branches of our family, the German language also continued to be spoken fluently until the time of the Civil War, and on into the 20th century.
In Macungie Township, the town of Millerstown was formed in 1776 with a purchase of 150 acres of land by Peter Miller who then laid out lots. The town became formalized in 1857 with election of borough officials including new burgess James Singmaster. In 1875, the town's name was changed to "Macungie" and in 1957, the town celebrated its centennial anniversary.
During the Civil War, more than 29 known Gaumer descendants and their spouses served in the Union Army during the Civil War, with several sacrificing their lives. Yet some of their descendants remaining in Berks and Lehigh Counties, PA, chose not to take up arms. The 1947 book Old Zionsville authored by their great-great grandson Henry Leon Snyder -- of the family of Joseph and Mary "Polly" (Bastian) Gaumer -- said that in the author's community, "No one enlisted for any war."
Many thanks to the late Marguerite (Lepley) Cockley of Meyersdale, Somerset County, PA, who originally provided Gaumer family manuscripts which provide the facts to begin the initlal Gaumer biographies on this website. These papers appear to be based in some measure on Myrtle (Knepper) Weniger's typescript work, The Gaumer Family and Allied Lines (Corvallis, OR: 1946). Many other Gaumer descendants graciously have shared their compilations as well.
In 2018, the Gaumer Archives were launched on Minerd.com and will continue to be updated ad infinitum as more research discoveries are made.
~ Son Johann "George" Gaumer ~
Son Johann "George" Gaumer (1756- ? ) was born most probably in 1756. On Oct. 30, 1756, the infant was baptized. A record was kept of the ceremony, but when examined in the mid-20th century, the ink was badly faded and the inscription only partly legible. Researchers believe he may have died later that year.
~ Daughter Mary Catherine Gaumer ~
Daughter Mary Catherine Gaumer (1758-1775) was born most probably in 1758. In infancy, she was baptized on Oct. 22, 1758. Her sponsors were Matthaus Egner and Gertrude Wagner, both single persons.
Records compiled by Myrtle Knepper Weniger, which she typed and entitled The Gaumer Family and Allied Lines, state that Mary Catherine died in 1775, when she would have been age 17. Her death was handwritten in the church records, stating "dau. of Dietrich, deacon of the Evangelical Lutheran Congregation, and wife Elizabeth L. Gaumer."
~ Son Peter Gaumer ~
Son Peter Gaumer (1770-1775) was born on Oct. 13, 1770. When he was 10 months of age, Peter received the rite of Christian baptism on Aug. 9, 1771. His sponsors were Johannes and Catherine Eigner.
Sadly, the boy did not survive childhood. He was cut away by the Grim Reaper at the age of about two or three in 1773.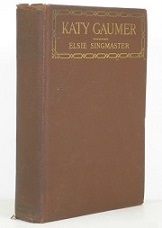 The novel Katy Gaumer
~ The Novel Katy Gaumer ~
In 1915, the novel Katy Gaumer and Other Stories of Millerstown was published by Houghton Mifflin Company of Boston, authored by Macungie resident Elsie Singmaster (1879-1958).
At 336 pages, the book is set in the fictional town of Millerstown, with a focus on the Pennsylvania German culture of brothers Benjamin and Daniel Gaumer and Benjamin's granddaughter Katy. The plot surrounds the mystery of a communion set vanishing from a local Lutheran Church, with Katy becoming involved in resolving the matter.
There is no evidence to suggest that Katy Gaumer was based on anyone in our Gaumer family, other than the name, but the coincidence is fascinating.
Author Singmaster wrote other works of fiction reflecting Pennsylvania Germans and has been described by the Macungie Historical Society as "perhaps Macungie's most famous citizen." She received a John Newbery Medal in 1934 for her most famed work, Swords of Steel.
Copyright © 2000-2001, 2007, 2015-2021 Mark A. Miner