Maria Gertraut
(Gaumer) Meitzler
(1763-1834)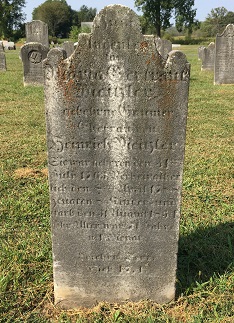 Maria's grave, Zion Lehigh Church
Maria Gertraut (Gaumer) Meitzler -- Americanized to "Maria Gertrude" -- was born on July 3 or 31, 1763, likely in Macungie Township, in what today is Lehigh County, PA, a daughter of Johann Dietrich and Maria "Elizabeth" (Meinert) Gaumer Sr.
On April 8, 1788, at the age of 23, she married Heinrich "Henry" Meitzler ( ? - ? ).
They produced one known daughter, Maria Rothenberger.
The Meitzlers resided for decades in Macungie Township.
Maria Gertrude died in Macungie at the age of 71 on Aug. 31, 1834. Her remains were lowered into eternal rest in the burying ground of what today is the Zion Lehigh Evangelical Lutheran Church Cemetery,
A marker was erected at her grave, inscribed in German. Among other things, the text stated her husband's name as well as her own maiden name of "Gaumer." At the very bottom appears to be the reference to the scripture verse upon which her funeral sermon was preached -- and an educated guess, based on visual examination and online research, is that it was Job 17:1 -- "My breath is corrupt, my days are extinct, the graves are ready for me." (King James Version) This needs to be confirmed.
The specific fate of Heinrich is not known.
He is thought to rest at Zion Lehigh as well.
Gertrude is named in Myrtle Knepper Weniger's typescript work, entitled The Gaumer Family and Allied Lines (Corvallis, OR: 1946).
Copyright © 2000, 2011, 2018-2020 Mark A. Miner