Home

Nathan Gaumer
(1813-1896)
Nathan Gaumer was born on June 26, 1813 in Macungie Township, Lehigh County, PA, the son of Johann Dietrich "Dieter" and Anna Elizabeth (Heinly) Gaumer.
On Dec. 8, 1836, at the age of 23, he married 18-year-old Mary Ann Keck (March 1, 1818-1887) of Salisbury, PA, also known as "Lehigh Mountain."
The couple bore four known offspring, Allen Andrew Gaumer, Willoughby Gaumer, Ellen Hendrickson Brogan and Matilda E. Lucas. They kept a family Bible in which they inscribed family births.
Nathan was a master carpenter and building contractor for many years, assisted by his sons up to the time of the Civil War. In about 1837, a year after their marriage, the couple established a home in Allentown, Lehigh County and remained there for half a century. The federal census of 1850 shows the Gaumers in East Allentown and in 1860 living in Allentown.
In 1861, Nathan was named in a Philadelphia Inquirer notice about the marriage of their daughter Ellen to Paul Henrickson of Germantown.
After the Civil War broke out, their sons Allen and Willoughby enlisted in the army during the war and sent funds home to support their parents. Tragically, the sons both sacrificed their lives.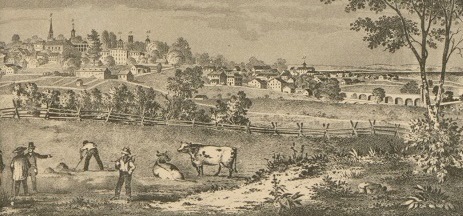 Allentown's skyline in 1862, from a Lehigh County atlas.
Library of Congress.
Remaining at home during the war, Nathan is known to have broken his right leg at the ankle joint in April or May 1862. The injury rendered him unable to perform his carpentry work for the months of April through July. He also sustained a hernia during that time and contracted typhoid fever. He frequently purchased medicines and linaments from local pharmacist Lewis F. Schmidt, always paying cash. In August, back on his feet, he was able to work for 12½ days at a wage of $1.50 per day. Then in September he labored for 24 days, again earning $1.50 as a daily wage. With crops harvested, and the nation at war, there was no work to do in the months of October, November or December 1862. Income was so scarce that Mary Ann occasionally went to the office of Abraham Keck, asking to borrow money, and at times he gave her $10 and $20 and once $80.
With both of his sons dead, but with the promise of regular pay, Nathan at age 51 decided that to take up their fallen legacy. He joined the Union Army on Aug. 25, 1864 and was assigned to the 202nd Pennsylvania Infantry, Company E. In all, with a bad leg and limp, he served for 12 months. Capt. Benjamin C. Roth, who commanded Company E, Once said that "Nathan Gaumer was not an able bodied soldier during his service... He would never have passed muster had he not been rushed through, because he was physically not able to serve as a soldier, and during the greater period of his service did he only do fatigue duty, such as cook help, carrier of water, +c. He was thus detailed for such duty because of physical disability, was not able to march, and was not fit for regular military service." Nathan received an honorable discharge at Harrisburg, PA on Aug. 3, 1865.
After the war, he was an active Republican and served on the Allentown school board (First Ward) and city council. Over the years, any letters which their sons sent home from the army were lost or destroyed. Some two decades following the war, on July 18, 1884, Mary Ann filed for a special mother's pension for both sons, and both requests were denied. [Mother's App. #317.822]. The Gaumers are believed to have lived in Philadelphia circa 1886 at the address of 2602 North 11th Street.
Sadly, Mary Ann succumbed at the age of 69 on Aug. 10, 1887. She rests for all time in Union-West End Cemetery.
Nathan survived her by nine years and made his home at 117 North Third Street in Allentown.On Aug. 17, 1887, a week after his wife's death, he was awarded a pension in the case of his dead son Allen. [Father's App. #359.424 - Cert. #248.667] From then until his death, Nathan received $12 each month. In August 1888, friend Edward H. Lucas of Philadelphia noted that Nathan "is old and feeble now, can do nothing whatever. At times his mind is affected because of age." He died at home on Aug. 11, 1896, at the age of 83. Burial was in Union-West End Cemetery. [Find-a-Grave] In an obituary, the Allentown Democrat reported that he "had been in ill health the past six weeks, but was not bedfast. Death was caused by weakness incident to his advanced age." The article also named Nathan's surviving grandchildren -- Mrs. E.H. Lucas of Philadelphia, Mrs. William Harriman of Chicago, Arthur Lucas of Philadelphia and Charles Hendrickson of Allentown.
~ Son Allan Andrew Gaumer ~
Son Allan Andrew Gaumer (1838-1862) was born on July 26, 1838 and grew up in Allentown.
He never married nor reproduced. When the Civil War broke out, he joined the Union Army in Harrisburg, PA on Aug. 30, 1861 for a term of three years. He was assigned to the 47th Pennsylvania Infantry, Company B and attained the rank of first sergeant.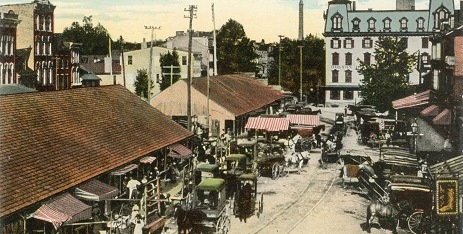 Harrisburg, PA just prior to the Civil War
In January and February 1862, Allen became sick and was confined to his quarters. He may have seen service in Key West, FL. The regiment moved to Pocotaligo, SC, in an effort to disrupt the operations of the Charleston and Savannah Railroad. In the action that resulted, involving 4,500 Union and 2,000 Confederate troops, Allan was shot and killed. Named "Pocotaligo" for a small tidal creek between Beauford and Jasper Counties, the battle took place on the Frampton Plantation.
His burial site is not known. Family erroneously thought that his death took place in Key West, and this was reported in the father's Allentown Morning Call obituary in 1896.
~ Son Willoughby Gaumer ~
Son Willoughby Gaumer (1841-1861) was born in about 1841 and grew up in Allentown, Lehigh County.
He never married nor produced children.
Just a few days after the Confederate attack on Fort Sumter, which plunged the nation into the Civil War, Willough joined the Union Army on April 20, 1861. He was placed within the ranks of the 1st Pennsylvania Infantry, Company I, commanded by W.H. Gansler.
While in camp in Allentown, just four months into his soldier's life, he contracted "camp fever." His health declined rapidly. He completed his three month term of service, and received an honorable discharge on July 26, 1861, but his health was beyond repair. Just a few weeks later, he succumbed on Aug. 7, 1861. Said the Allentown Democrat in 1896, "He was the first soldier to die here."
His remains were placed into repose in Union-West End Cemetery in Allentown, and a standard-issue military marker was erected at the grave. [Find-a-Grave] His grieving mother filed for a military pension as compensation for her loss, but it was not approved.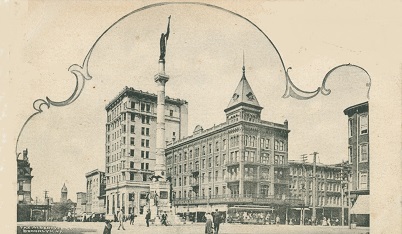 Allentown's central square, national bank and soldier's monument
~ Daughter Ellen J. (Gaumer) Hendrickson Brogan ~
Daughter Ellen J. Gaumer (1843- ? ) was born in July 1843. At the age of 17, in 1860, she was employed as a shoe binder in Allentown.
On Oct. 20, 1861, she was joined in wedlock with Paul Hendrickson (1839-1890?), also spelled "Henrichsen," a resident of Germantown near Philadelphia, and an immigrant from Baden, Germany. Rev. Samuel Beck officiated, with the news published in the Philadelphia Inquirer.
The couple produced at least three children, Charles Henrichsen, Edmund Hendrickson and Mary "Mamie" Heimbach Harriman.
Census records for 1870 show the family in Allentown, with Paul earning a living as a liveryman. Then in 1880, with Paul working as an "agent," they lived in a boarding house in Philadelphia kept by Ellen's married sister and brother in law, Matilda and Edward Lucas.
Sadly, Paul died in about 1890.
Ellen survived him by 14 years. She married again to Charles Brogan ( ? - ? ) of Philadelphia, who died in or before 1896.
Now twice widowed, Ellen relocated to Chicago to dwell with her married daughter on West Monroe Street. Ellen died at the age of 59, on April 4, 1904, in her daughter's Chicago home. The remains were shipped to Pennsylvania to rest for all time in Union-West End Cemetery in Allentown. Graveside services were led by Rev. C.H. Bohner. An obituary in the Allentown Morning Call said she had succumbed to "a lingering illness" and that her parents had been "old and respected residents of the First Ward."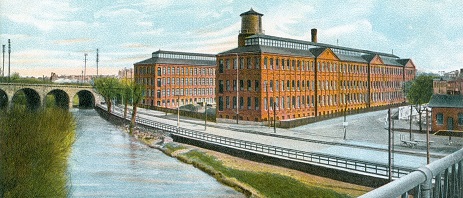 Silk mill in Allentown, where Charles Henrichsen labored
Son Charles Henrichsen (1867-1930) -- originally Hendrickson and also Henricksen -- was born on Feb. 12, 1867 in Allentown. Other less-reliable sources give his birthdate as Feb. 12, 1875. He lived in Allentown for his entire life and earned a living as a silk weaver and twister. The Allentown Morning Call once said that Charles "in his younger days figured prominently as a local boxer." His address in 1904 was 222 North 16th Street, and that year, the funeral of his mother was held in his home. Charles was twice married. In about 1891, he wedded his first bride, Louisa L. Smith (Aug. 21, 1872-1917), daughter of Samuel and Carolina (Klein) Smith. They did not reproduce. When the federal census enumeration was made in 1900, they lived in Allentown and provided a home for Louisa's widowed brother Edward Smith and his two young children. As her mental health failed, and she was diagnosed wth "general paralysis of the insane," she was admitted to the Homeopathic State Hospital in Hanover Township, Lehigh County. Sadly, she passed away at the age of 44 on April 23, 1917. Interment was in Hillside Cemetery in Whitehall near Allentown. Charles' home in the early 1920s was at 612 Park Street. After five years of grieving, in 1922, he wedded a second time to Catherine Byrne (Sept. 8, 1881-1928), a native of Bethlehem, Northampton County and the daughter of Patrick F. and Mary (Martin) Byrne. Alderman William F. Bower officiated. In commenting on the wedding, the Morning Call remarked that "This is his second venture in the matrimonial field, his first wife having died." She worked as a ribbon weaver, and they may have known each other from the workplace. The couple made a home at the corner of Meadow and Summer Avenue. Their marriage endured for six years until her death in Allentown on July 25, 1928, at age 46, due to what a physician called "alcoholic collapse." Her remains were placed into repose in Holy Sepulchre Cemetery. For the final two or more years of his life, Charles suffered from hardening of the arteries. At the age of 55, on Oct. 5, 1930, he passed away in the State Hospital in Allentown. Burial was in Hillside Cemetery, today known as the Garden of Peace Cemetery.
Son Edmund Hendrickson (1870- ? ) was born in Feb. 1870.
Daughter Mary "Mamie" Hendrickson (1872- ? ) was born in Feb. 1872. She grew up in Philadelphia. At the age of 16, on June 21, 1888, she wedded her first spouse, 23-year-old upholsterer Frank H. Heimbach (1865- ? ), son of George Himbach. Because she was legally underage, Mamie's mother had to sign her consent to the union. Rev. A. Krecker officiated. The marriage apparently did not last. Then in about 1896, when she would have been the age of 23 or 24, Mamie was joined in matrimony with William M. "Will" Harriman (May 1860- ? ), a native of Maine. The couple did not reproduce. They relocated to Chicago, where Will managed a leather business for decades. Their home in 1900-1910 was on West Monroe Street. Their fates after that are not known.
~ Daughter Matilda E. (Gaumer) Lucas ~
Daughter Matilda E. Gaumer (1847-1896?) was born in about 1847. She grew up in Allentown, Lehigh County.
On May 24, 1863, she married Edward H. Lucas (July 1839-1900). Rev. Richard Walter officiated, with the news published in the German language newspaper Der Lecha Caunty Patriot. Bride and husband were eight years apart in age.
The couple were the parents of one known son, Arthur Lucas, born in 1868.
Their home in 1870 was in Philadelphia, where Edward earned income as a store clerk. In 1880, still in Philadelphia, with Edward's occupation listed by a census-taker as "salesman," their address was on North Fourth Street.
They kept a boarding house, and in 1880 their guests included Matilda's married sister Ellen and family. "For some time," said the Allentown Morning Call, "he had charge of a shoe factory at Milford. While a resident of Allentown he was a traveling salesman for a Philadelphia shoe house." Circa January 1885, when she signed an affidavit in support of her mother's Civil War pension application, she resided in Allentown.
Sadly, Matilda is believed to have died in Philadelphia in about 1896.
Edward relocated in about 1893 to Milford, Hunterdon County, NJ and spent the remaining seven years of his life there. In June 1900, federal census records show him without an occupation and boarding in the household of John C. and Lillie Stein in Holland, Hunterdon County.
On the fateful evening of Nov. 2, 1900, while "in apparently good health," said the Morning Call, he went to bed and never awoke. He was found dead the next morning. In addition to his son, he was survived by brothers Walte and Benjamin Lucas of Allentown, James Lucas of Washington, DC, Rebecca Orwig of Orwigsburg and Sarah Cassel of South Allentown.
Son Arthur Lucas (1868- ? ) was born in 1868 in Allentown. He lived in Philadelphia in 1896.
Copyright © 2000, 2015, 2016, 2018-2019 Mark A. Miner
Many thanks to Paula (Gaumer) Tooke, Stan Garmer and Dr. Phyllis M. Correa for so graciously sharing their research discoveries for this biography.