Home

Johann Dietrich 'Dieter' Gaumer
(1775-1830)
Johann Dietrich "Dieter" Gaumer was born on Aug. 9, 1775 in Macungie Township, Lehigh County, PA, the son of of Johann "Friedrich" and Catharina Barbara (Eisenhardt) Gaumer.
In about 1798, when Dieter would have been 24 years old, he was united in holy matrimony with 17-year-old Anna Elizabeth Heinly (1782-1850s).
The couple produced these 11 known children over the sweep of 22 years between 1799 and 1821-- Catharina Heinly Acker, Daniel Gaumer, Sophia Gaumer, Samuel Gaumer, Elisabeth Gaumer, Moses D. Garmer, Solomon Heinly Gaumer, Nathaniel "Nathan" Gaumer, William Gaumer, James Gaumer and Benjamin Gaumer.
Their son Daniel, born on Jan. 7, 1801, was baptized at the age of 16 days on Jan. 23, 1801, with his grandparents "Fridirig" and "Catarina" Gaumer serving as his sponsors. Heartache rocked the family at Daniel's death in infancy in 1802.
Likewise, their daughter Sophia, born on Jan. 3, 1802, was baptized on March 28, 1802. Her sponsors were Jacob Eisenhart and Catrina Gaumer. The presiding minister wrote in his records, "dau. of Dietrich Kaumer and wife Elizabeth." Sophie, too, passed away in infancy, in 1803.
At least two others died as babies over the coming years, among them Elisabeth (1807) and Benjamin (1822).
Johann Dietrich died in 1830 in Macungie Township at the age of 55.
Anna survived as his widow for more than two decades. She is said to have relocated to the southwestern section of Pennsylvania and made her home in Somerset County, PA. She passed into eternity there in the early 1850s.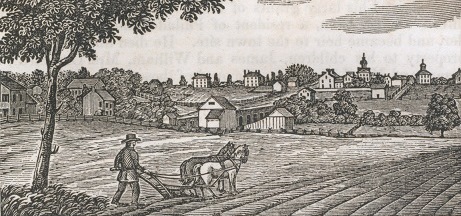 Allentown, Pennsylvania, as seen from the east, early 1840s
Copyright © 2000, 2015, 2016, 2018-2019 Mark A. Miner
Many thanks to Paula (Gaumer) Tooke, Stan Garmer and Dr. Phyllis M. Correa for so graciously sharing their research discoveries for this biography.