Home

William Gaumer
(1811-1887)
William Gaumer was born on April 10, 1811 or 1816 in Macungie Township, Lehigh County, PA, the son of Johann Dietrich "Dieter" and Anna Elizabeth (Heinly) Gaumer.
He wedded Pasida Correll (June 14, 1814-1895), also spelled "Patheda" and "Parseda." She apparently also used the names "Esther" and "Catherine" alternately over time. Or perhaps William was married twice
The couple's five known children were Benjamin Gaumer, Fianna Kistler, Adam Henry Gaumer, Mary Elisabeth Gaumer and Chathette Gaumer. The family mourned when daughter Mary died just a few weeks after her first birthday on April 30, 1846. Her tender remains are in repose in Zion Union Cemetery in Maxatawny.
Federal census records for 1850 list the couple in Weisenberg, Lehigh County, PA. William's occupation over the years was shoemaking, and in 1850 a 17-year-old apprentice shoemaker Samuel Folk lived under their roof.
The Gaumers moved to neighboring Berks County during the 1850s and settled in Maxatawny Township, where William continued making shoes. They are listed there in the 1860 U.S. Census and drew their postal mail at Kutztown.
Research by others suggests that William died in 1851, but it's clear that is not correct.
At the age of 76, on June 1, 1887, William passed away in Berks County. Interment was in Zion Union Cemetery in Maxatawny. [Find-a-Grave].
Pasida outlived her husband by eight years. She succumbed to death at the age of 81 on June 25, 1895.
~ Son Benjamin Garmer ~
Son Benjamin Gaumer (1835- ? ) was born in about 1835.
~ Daughter Sarah Garmer ~
Daughter Sarah A. Gaumer (1838- ? ) was born in about 1838. Single at the age of 22, she lived at home with her parents circa 1860.
~ Daughter Fianna (Garmer) Kistler ~
Daughter Fianna Gaumer (1842-1931) was born on June 20, 1842 in Weisenberg, Lehigh County.
She was joined in holy matrimony with Jeremiah D. Kistler (Oct. 10, 1828-1910), a native of Albany, Berks County and the son of Daniel and A. (Snyder) Kistler and stepson of Ab. Fenstermaker. Fianna was 14 years younger than her husband.
The couple bore five children, among them Ellen Jane Bachman, Charles Oliver Adam Kistler, Anna Alice Peters, Edwin M. Kistler and William D. Kistler.
Their home for years was in the Breinigsville and Weisenberg area of Lehigh County. Jeremiah made news in August 1872 when, digging a well for Hiram S. Getz at Wesnersville, he found a vein of anthracite coal at a depth of 20 feet. "Further explorations will be made shortly," said the Reading Times. "This spot is 16 miles from the nearest coal bed in Schuylkill county. If it should prove to be a success, it would be the first coal vein discovered in Berks county." Census records for 1880 show Jeremiah farming in Weisenberg and with his 73-year-old stepfather Ab. Fenstermaker in the home.
In November 1896, Fianna was the high bidder at a sheriff's sale for Nelson Barley's 47-acre farm in Weisenberg, at the offer of $100. Circa 1900, Jeremiah not only farmed but was a watch maker, and he passed along his skills to their disabled son William. Also in 1900, they provided a home for their granddaughter Bertha M. Gaumer.
Fianna was active in the Lutheran congregation of Friedens Church at Wessnersville. A story in the Times in July 1927 said that she was among a committee of people who helped clean the church in preparation for painting. She also was active in its Sunday School.
Sadness blanketed the family when Jeremiah accidentally fell down a flight of stairs at the age of 81 and fractured his spine, resulting in paralysis. He lingered for three weeks and passed away on June 11 or 12, 1910.
Fianna outlived her spouse by more than two decades. She relocated to Camden, NJ but over the Christmas holiday of 1920 spent a month visiting family and friends in Allentown. On Sept. 4, 1926, she held a sale on her farm located a half-mile west of Bucks School in Weisenberg Township, placing classified advertisements ahead of time in the Allentown Morning Call. Among the items for sale were a range, stoves, chairs, rockers, cooking utensils, beds, an old-fashioned cupboard, sink, barrels, stenners, canned goods, meat cutter, tables, corn barrels, corn sheller, shovels, rake, very old fine dinner set, clocks, store goods and antiques.
In November 1928, she and her son Charles along with LeRoy Kistler attended the funeral of Solomon Becker in Shoemakersville. During her last two years, she suffered from chronic heart problems.
When the federal census-taker made his rounds in 1930, he reported that Fianna at age 88 was the oldest woman in the township. She was confined to bed for 15 months before the Grim Reaper of Death gathered her in.
She died at the age of 89, in Weisenberg on July 19, 1931. An obituary in the Morning Call said that she was "an esteemed and aged resident of Werley's Corner, nearly all her life, and whose progeny number seventy-four, all but three of whom survive.... She was the last of the Gaumer family of children." Her survivors included a dozen grandchildren, 48 great-grandchildren and nine great-great-grandchildren. Rev. Ira Klick officiated at her funeral, with burial following in Wessnersville Church Cemetery, also known as Friedens Cemetery, in Stony Run, Berks County. The Morning Call reported that at the funeral, a casket spray of flowers was provided by her son and daughter; other sprays from the Henry Wagamans and Lucinda Wagaman; baskets from the Charles Kistlers; Francis Hartmans, Williams Schroeders and Sunday School members; and slumber robe from the family.
Daughter Ellen Jane Kistler (1861-1899) was born on Oct. 1, 1861. She was united in holy wedlock with David Bachman (Nov. 2, 1860-1949), a native of West Penn Township, Schuylkill County, PA, and the son of Peter and Maria (Miller) Bachman. The three daughters produced by this union were Alice J. Clauss, Mayme E. Geist and Minnie E. Buck. David earned a living as a carpenter. Sadness enveloped the family when, at the age of 37, Ellen Jane passed away on April 15, 1899. Her remains were lowered under the sod in Jacobs Union Church Cemetery in New Tripoli, Lehigh County. David outlived his wife by nearly half a century and wedded again to Annie Matilda Snyder (May 17, 1878-1925), daughter of David and Catharine (Kistler) Snyder. They dwelled in Kutztown, Berks County. He was rendered a widower again three days before Christmas 1925 when Annie succumbed to a combination of dry gangrene of the right foot,chronic heart valve disease and congestive heart failure. She was 47 years old at death. In his final yeas, he dwelled on 209 East Main Street in Kutztown. Having borne hardening of the arteries for several years, David suffered a heart attack and died in Kutztown 10 days later at the age of 87 on Feb. 16, 1948.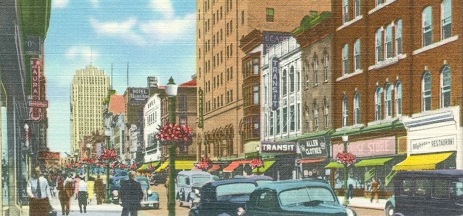 Hamilton Street, looking west, Allentown, PA
Son Charles Oliver Adam Kistler (1864-1952) was born on Oct. 12, 1864 in Stony Run, Berks County. On April 21, 1889, when he was age 24, Charles wedded Sallie S. Yoder ( ? -1949), daughter of Joseph and Elizabeth (Stoudt) Yoder of Greenawalds, Berks County. Their nuptials were held in Krumsville, Berks County, by the hands of Rev. B.S. Kroll. The couple remained together for 60 years until cleaved apart by death. They produced nine children, among them Mabel Nehf, Charles "LeRoy" Kistler, Paul Y. Kistler, Leon J. Kistler, Esther H. Fetherolf and Pauline Y. Smith. Three other daughters died during Charles and Sallie's lifetimes. The family lived in Wessnersville in 1926 and in the 1950s in New Tripoli, Weisenberg Township, Lehigh County. Charles primarily was a farmer in Weisenberg and Lyon Townships for a number of years before becoming a watch and clock repairman, a trade learned from his father. He served on the school board in Lyon Township and was a deacon and elder in the Friedens Church at Stony Point. He also was a superintendent of the Sunday School at St. Peter's Union Church Sunday School at Lynnville. Socially, he belonged to the Order of Independent Americans at New Smithsville. Charles owned a prize Tommie Parker shotgun which "always carried a great deal of respect in our family," wrote his grandson Charles H. Nehf, outdoors editor of the Allentown Morning Call. "The petted firearm -- a double barrel 'hona flint' (hammer gun) -- was his pride and joy. He successfully hunted squirrels with that gun until he was 82 or 83 years of age." He also collected "odd Pennsylvania Dutch relics," said the Morning Call, and "One of his prize pieces is a well presereved Seth Thomas clock made in London more than 150 years ago." When Charles and Sallie reached their 54th wedding anniversary in 1943 and 5th in 1944, they were pictured in the Morning Call. At his 81st birthday, in October 1945, Charles was profiled in an Morning Call article which included his photograph. Charles retired in 1947 as his health declined. The couple spent their final years sharing a home with their married daughter Mabel Nehf and celebrated their 60th wedding anniversary in April 1949. Sadness cascaded over the family when Sallie passed away in Nov. 1949. He outlived her by three years and became bedfast in mid-May 1952 in the residence of married daughter Esther Setherols. A week later, at the age of 87, having bone hardening of the arteries for a decade and chronic heart disease for the past year, Charles died on May 24, 1952. Burial was in Friedens Church Cemetery in Stony Run. Paul Y. Kistler of New Tripoli was the informant for the death certificate.
Granddaughter Mabel Kistler ( ? - ? ) was born in (?). She was united in matrimony with Richard Grover Cleveland Nehf ( ? - ? ), son of Henry Nehf. In 1949, the Nehfs dwelled at 1039 Liberty Street in Allentown. Their son Charles H. Nehf was outdoors editor of the Allentown Morning Call in the 1960s, '70s and '80s and occasionally wrote about his boyhood squirrel hunting outings with his father and grandfather Kistler. In one such column, dated Jan. 11, 1976, he wrote: "The length of our hunting jaunts has increased greatly over the past 50 years or more. Little did I dream when in my early teens I was pushing the briar patches, stumping the brush piles or kicking the corn shocks for my late father Richard G.C. Nehf, paternal grandfather 'Pappy' Henry Nehf or maternal grandfather Charles O.A. Kistler that some day I would think nothing of traveling 200 miles one way for a day or two of hunting."
Grandson Charles "LeRoy" Kistler (1896?-1954) was born in about 1896 in Weisenberg Township, Lehigh County. He was a lifelong farmer and belonged to the Friedens Church at Stony Run. Charles was jonied in marriage with Lillian Wagaman ( ? - ? ). Their three children were Irene Kistler, Charles Kistler and Edwin Kistler. They shared a home with LeRoy's parents circa 1949. After what the Allentown Morning Call referred to as "a lengthy illness," he succumbed to death in Allentown Hospital, at the age of 57, on May 12, 1954. Funeral services were held in the family house of worship.
Granddaughter Esther H. Kistler (1898-1973) was born in 1898 in Albany Township, Berks County. She was joined in wedlock with W. Daniel Fetherolf ( ? - ? ). Five offspring were born to this union -- Pauline Henninger, Anna Kerschner, Forrest Fetherolf, Daniel Fetherolf and Charles Fetherolf. Circa 1949, the family lived in New Tripoli. The family belonged to the Lutheran congregation of New Jerusalem Red Union Church in Kempton. Esther also was a member of the Blue Ridge Trail Chapter of the Daughters of America. Sadly, she died on Christmas Day 1973 in Allentown Hospital. Interment was in the family church cemetery. The Allentown Morning Call printed an obituary, stating that her survivors included 14 grandchildren and six great-grandchildren.
Granddaughter Pauline Y. Kistler (1901-1992) was born on Dec. 10, 1901 in Reading, a twin with her brother Paul. She married Robert Smith ( ? - ? ). The couple bore three children -- Robert W. Smith Jr., Barbara Lee Kressley and Alfred E. Smith. Their home in 1940 was in Lynnville and in 1949-1992 in New Tripoli. The Smiths belonged to the Lutheran wing of the New Jerusalem Red Union Church in Kempton. As her health failed, Pauline was admitted to Lehigh Valley Hospital in Salisbury Township. She was carried away by the Angel of Death at the age of 90 on Sept. 30, 1992. The Allentown Morning Call printed an obituary, with funeral services held in the family church.
Grandson Paul Y. Kistler (1901-1987) was born on Dec. 10, 1901 in Reading, a twin with his sister Pauline. On Christmas Day 1925, he wedded Margaret Wessner, daughter of George Wessner of New Tripoli. They bore a son, Donald W. Kistler. In 1949, Paul was teacher in the East Macungie Schools and circa 1930 was principal of the James Good School in Cetronia. In all, he spent 45 years as an elementary school educator and retired in 193. At some point, he went to work at the Mack Manufacturing Corporation plant in Allentown. Circa 1945, when they celebrated their 20th wedding anniversary, they lived at 913 North 20th Street in Allentown. The Kistlers were members of the Ebenezer Union Church's Lutheran congregation in Tripoli, with Paul holding a seat on the church council. They made a home in 1965 in Schnecksville. Paul died on Nov. 20, 1987, at the age of 85, with an obituary printed in the Allentown Morning Call.
Grandson Leon J. Kistler (1905-1965) was born in about 1905 in Weisenberg Township. He married Verna R.K. Wessner (1907?-1991). They were the parents of Edward Kistler and Kenneth K. Kistler. Their residence in 1940-1949 was in New Tripoli. Over the years, Leon operated a fruit farm at their home. He also was employed for 28 years by Mack Trucks Inc. of Allentown. The family were members of Ebenezer Union Church, with Leon serving as a member of the church council. He passed away at home at the age of 60 on Jan. 5, 1965. An obituary in the Allentown Morning Call noted that funeral services were held in the family church. Verna outlived her husband by 26 years and married again to Elwood N. Holben ( ? - ? ). She passed into eternity at the age of 84 on Oct. 12, 1991. Son Kenneth (1946-2018), who married Beverly E. Forster, was exceptionally active in the community, with a seat on the Northwestern Lehigh School Board for 24 years, including several years as president. He helped found the Northwestern Lehigh Educational Foundation and Northwestern Alumni Association. Other memberships he held included the boards of the Northwestern Recreation Commission, Carbon Lehigh Intermediate Unit and National Frame Builders Association and the consistory of the Ebenezer United Church of Christ. In recognition of his contributions to the industry, in 2011 he was voted into the Rural Builders Hall of Fame.
Daughter Anna Alice Kistler (1871-1938) was born on March 11, 1871 in Wessnersville, Berks County. At the age of 20, in 1891, she was united in wedlock with Albert Peters ( ? - ? ). Their offspring were Bertha Hartman and Warren J. Peters plus two others who were deceased by 1938. The couple moved in 1907 to a farm along Route 22 between Chapmans and Kuhnsville in rural Allentown. They were members of Cedar Union Church and its Lutheran wing, and Anna belonged to the Reindeer Lodge in Allentown. On the fateful day of Feb. 4, 1938, Anna was killed in a freak accident. An automobile driven by a 23-year-old woman skidded on the ice and crashed into their home, knocking down the posts holding up the front porch. Anna came out to the lawn and watched as her husband and other local men were pulling the vehicle out of the wreckage. She then stepped up onto the porch. Suddenly, 25 minutes after the accident, and without warning, the porch roof collapsed and buried her in the debris. She suffered extensive fractures of her spine and skull, rupture of her liver and bleeding and died almost instantaneously. Her broken remains were lowered into eternal rest in the burying ground of the family church. A lengthy news story and obituary appeared in the Allentown Morning Call.
Son Edwin M. Kistler (1872-1903) was born on May 11, 1872. He was stricken with tuberculosis ("consumption") at the untimely age of 30 and died in the Weisenberg Township home of Albert Peter on Feb. 17, 1903. A short obituary was printed in the Reading Times. He rests for all time in Friedens Cemetery in Stony Run, Berks County.
Son William D. Kistler (1879-1926) was born in July or on Sept. 21, 1879 in Weisenberg, Lehigh County. He was stricken as a baby with infantile paralysis and spent his life as an invalid. He never married. For the last 28 years of his life, he was unable to walk. "In spite of his affliction," said the Allentown Morning Call, he "conducted a general store and also became quite adept in the repair of watches and clocks. His means of locomotion was a wheel chair." At the age of 30, unmarried, he lived at home with his parents, and his mother "was a valuable assistance to him in the store," said the Morning Call. He belonged to his parents' church, the Friedens Church and its Lutheran congregation. He was burdened with a fatty degeneration of the heart. When he developed a neck abscess, in the first week of the new year in 1926, a septic infection set in. His health plummeted, and he succumbed on Jan. 27, 1926 at the age of 46. Interment was in the church burying ground.
~ Son Adam Henry Garmer ~
Son Adam Henry Gaumer (1843-1861) was born on Feb. 4, 1843. Tragically, for reasons not yet known, he died at the age of 18 years, nine months and nine days on Nov. 13, 1861. His remains were lowered into repose in Zion Union Cemetery. A marker was erected at the grave and inscribed in the old German script. [Find-a-Grave]
~ Daughter Chathette (?) Garmer ~
Daughter Chathette Gaumer (1848- ? ) was born in about 1848. Her life's story is lost to history for the time being.
Copyright © 2000, 2015, 2016, 2018-2019 Mark A. Miner
Many thanks to Paula (Gaumer) Tooke, Stan Garmer and Dr. Phyllis M. Correa for so graciously sharing their research discoveries for this biography.